Liberty celebrating Dre'una Edwards' commitment to Utah
September 5, 2017 - 6:15 pm
Updated September 5, 2017 - 7:12 pm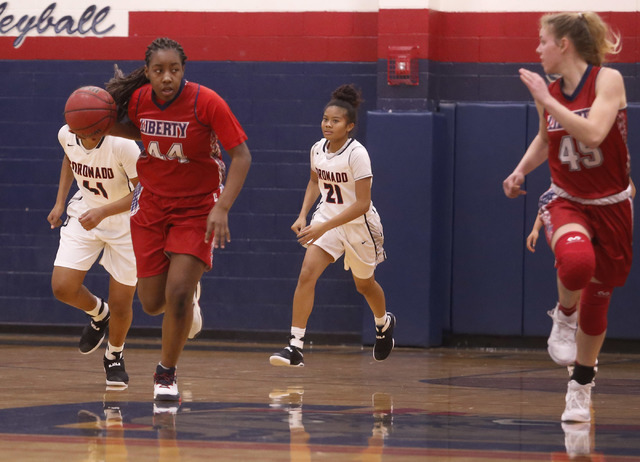 Liberty girls basketball coach Chad Kapanui used to talk to senior forward Dre'una Edwards about the Division-I schools she was interested in playing for.
Those conversations ended with the University of Utah.
Edwards visited Utah last week and issued a verbal commitment to play for the Utes on Aug. 31. The commitment is nonbinding and won't be official until she signs a letter of intent. The first signing date is Nov. 8.
"I think she went there, everything she wanted was probably available," Kapanui said. "She just loved Utah … It's good for our program, good for everything, everyone — even Utah itself."
Edwards was the Player of the Year in the Southeast League in 2016-17 after averaging 16.8 points, 14 rebounds and 2.0 blocks for the Patriots, who were 31-3 and reached the Class 4A state tournament.
"She can do everything on the court," Kapanui said. "She can grab rebounds, she can run the court. She can dribble, she's like a point guard from a post player. She's just that great. For Utah getting her, that's going to be an awesome fit."
At Utah, Edwards will play alongside fellow Las Vegan Megan Jacobs, who graduated from Bishop Gorman in 2016 and played in 31 games as a freshman for the Utes in 2016-17.
Kapanui has high hopes for Edwards' senior season at Liberty, and said the Patriots will be looking to her for leadership.
"She can be that player for us this year and make a big impact for the rest of the team," Kapanui said.
Bell cools on Rebels
Liberty senior cornerback Octavian Bell gave an oral commitment to play at UNLV on Aug. 23.
Then he realized he wanted something else.
"My dream … is to play in front of my grandma," Bell said. "That's my goal, is for her to see one of my games."
Bell is hoping to procure a scholarship offer from a school on the East Coast so he can be closer to his grandmother, who lives in Maryland and has never seen him play a football game at any level.
She's battling cancer, and the senior speedster said she's undergoing chemotherapy and cannot travel.
"She means the world to me," Bell said. "That's my main focus."
So Bell decommitted from UNLV, and said he's planning on sending film to Maryland and the University of Miami after the season with hopes of proving that he's more than just a cover corner.
"If that opportunity comes to play on the East Coast, I'll be able to take that offer," he said. "Most of the schools have been thinking of me as a coverage dude … I can hit.
"Come down and fill the hole. Meet running backs, bigger dudes. My goal is to show them what I can do."
He says UNLV's scholarship offer is still on the table, and added that he speaks to the school's coaches on a regular basis.
"I've really built a relationship with them, getting to know them and the team," Bell said. "It feels like we connected a lot."
Agassi commits to USC
Bishop Gorman sophomore Jaden Agassi committed to play baseball at the University of Southern California on Monday. Agassi is the son of tennis legends Andre Agassi and Steffi Graf.
The commitment is nonbinding, and won't be official until he signs a letter of intent during his senior year.
Losses hurt Arbor View girls
Arbor View's girls soccer team was No. 17 in the USA Today Super 25 preseason poll, but is unranked this week after losses to Lone Peak (Utah), Skyline (Utah) and Bishop Gorman.
Contact reporter Sam Gordon at sgordon@reviewjournal.com. Follow @BySamGordon on Twitter.