NIAA moves football, fall sports to spring semester
Updated July 23, 2020 - 6:35 pm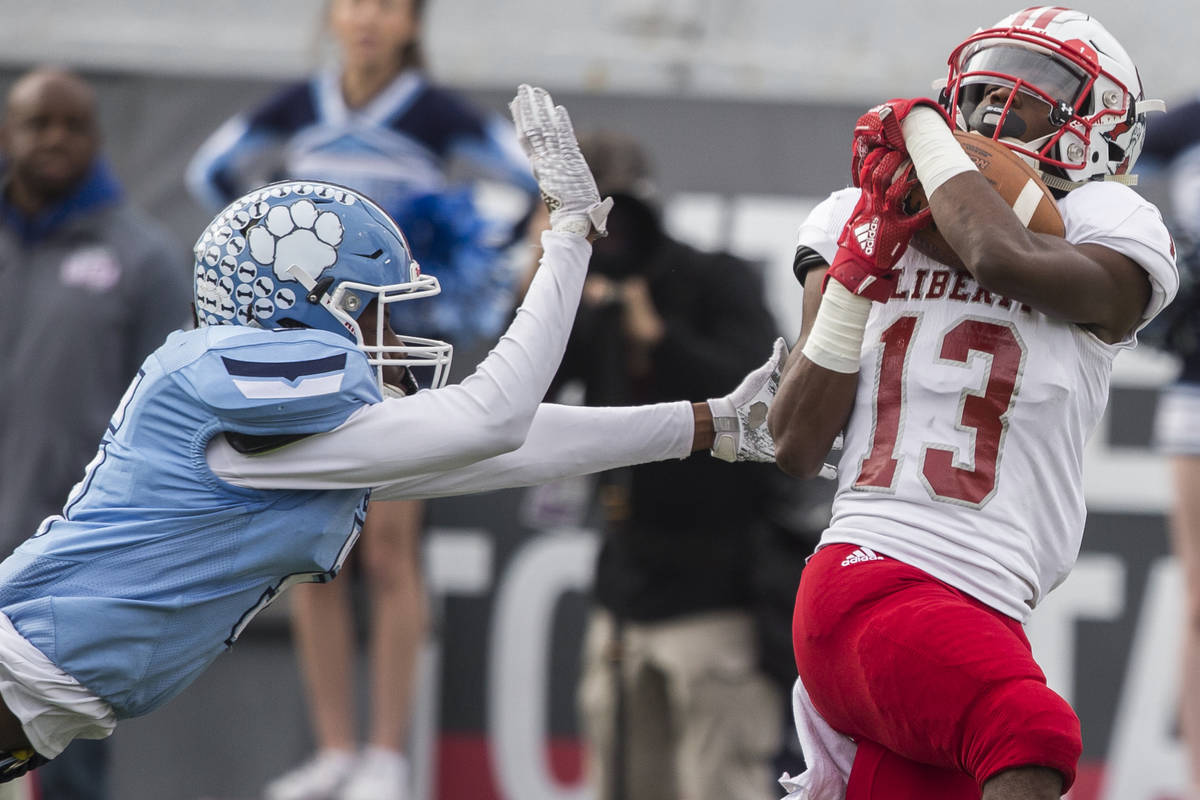 The Nevada Interscholastic Activities Association announced Thursday it will move all high school sports to the spring semester.
Each sport will have a six-week window for competition. It's not expected that any state championships will be awarded this year, but the NIAA is allowing for playoffs at the discretion of individual classifications, regions and leagues, but the six-week window would include any playoffs.
"I'm glad they decided to at least give us a chance to give us some games," Liberty football coach and athletic director Rich Muraco said. "That's all we wanted, especially with the school district coming out and ruling we were doing distance learning education. Six games is better than no games."
Muraco, the head of the Southern Nevada Football Coaches Association, sent a proposal to the NIAA with options that would allow football to be played in the fall or spring, depending on how the COVID-19 situation progressed.
But the Clark County School District's decision to only offer distance learning in the fall eliminated any hope for fall athletics to be played during their normal time.
"(The announcement) completely changed my day to be really excited about the year and thinking about the kids," Spring Valley girls basketball coach and athletic director Billy Hemberger said. "It gives them something to strive for in the first semester, and I know there's a plan in place and something to look forward to. I think the NIAA and CCSD did right by kids as an educator, coach and athletic director."
The plan will allow winter sports to begin games Jan. 15 and conclude Feb. 20. That will be followed by the fall sports, which will have games from March 5 to April 10. The spring season will run from April 16 to May 22.
On Wednesday, the CCSD suspended all NIAA sports for its member schools. During the suspension, schools will not be allowed to used their athletic facilities to host any practices, intramural contests or games in any NIAA-sanctioned sport.
The NIAA's out-of-season regulations, which are normally in place during the summer, will be effective until Jan. 1.
When the NIAA shut down spring sports in March, it put out updates for the rest of the school year with plans for a shortened season if time allowed. Some coaches had grown frustrated with the school year fast approaching that there had been no definitive information from the NIAA or CCSD.
Thursday's announcement alleviates those concerns.
"I know going back to the spring it sucked when it was shut down, but there were contingencies put in place where we knew if we were back in the classroom by this time, we knew we could have this much of a season," Palo Verde boys and girls volleyball coach Phil Clarke said. "For fall, we were just like, 'What's going on?' whether it was school or sports. Kids were asking if we had workouts, and I didn't have any answers for them. That was the hard part. I think coaches were in agreement that if there was any way to give the kids a season, we'll take it."
Contact Jason Orts at jorts@reviewjournal.com or 702-387-2936. Follow @SportsWithOrts on Twitter.
High school schedule
Winter season sports
(Basketball, bowling, flag football, wrestling)
Practice begins Jan. 2
First contest may be held Jan. 15
Last contest Feb. 20
Fall season sports
(Cross country, football, girls golf, girls volleyball, soccer, tennis)
Practice for football begins Feb. 13
Practice for all other sports begins Feb. 20
First contest may be held March 5
Last contest April 10
Spring season sports
(Baseball, boys golf, boys volleyball, softball, swimming and diving, track and field)
Practice begins April 3
First contest may be held April 16
Last contest May 22