NIAA suspends all sanctioned sports
Updated March 13, 2020 - 5:18 pm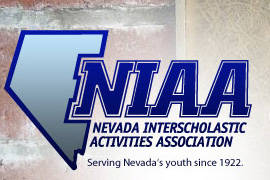 The Nevada Interscholastic Activities Association announced Friday the suspension of its sanctioned sports for all of its member schools effective Monday and until further notice because of concerns over the coronavirus.
The action came after a meeting of the Legislative Commission, which consists of superintendents of the Nevada school districts with NIAA member schools.
"The action of the NIAA in impending the charge of the Legislative Commission is taken in consultation with public health officials to implement best practices in slowing the spread of COVID-19 and therefore aid in protection of students and the general public," the NIAA statement said.
The NIAA's announcement came on the heels of Clark County School District suspending all of its sports Thursday.
During the suspension, NIAA member schools are not allowed to compete in games, conduct practices or hold meetings. The use of athletic facilities is allowed for scheduled classes such as P.E.
The NIAA stated it enacted its suspension is in part to reduce competitive inequity among member schools when the suspension is lifted.
Contact Jason Orts at jorts@reviewjournal.com or 702-387-2936. Follow @SportsWithOrts on Twitter.