BASEBALL: Palo Verde survives late Shadow Ridge charge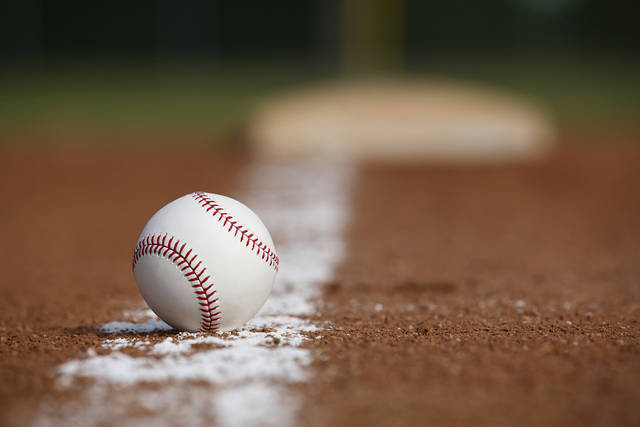 Palo Verde's baseball time survived a six-run, seventh-inning rally by host Shadow Ridge on Wednesday to hold on for a 10-8 win.
Jaret Godman was 3-for-5 with a triple, a double and two runs for the Panthers, and Ryan Merino went 3-for-5 with a double, an RBI and a run scored. Teammates Asher Bouldin and Chandler Kochan each doubled.
Justin Lee went 2-for-4 with a triple, a double and four RBIs to lead the Mustangs.
Las Vegas 6, Foothill 3 — At Las Vegas, winning pitcher Trey Chauncey went 3-for-4 with a two-run homer and pitched six strong innings with six strikeouts to lift the Wildcats over the Falcons.
Nathan Freimuth and Diego Delgado each hit a double for Las Vegas, which broke a scoreless tie with two runs in the fourth and two more in the fifth.
Tommy Dirk had two hits for Foothill.
Bishop Gorman 9, Bonanza 3 — At Gorman, Austin Wells and Nick Matera hit back-to-back home runs as part of a six-run sixth inning for the Gaels as they ran away from the Bengals.
Wells finished 3-for-4 with a homer, a double and three RBIs. Nick Israel had a double, two RBIs and two runs for Gorman.
Brandon White pitched three innings and allowed an unearned run to get the win in relief for the Gaels.
Cimarron-Memorial 8, Faith Lutheran 3 — At Faith Lutheran, Zach Culver pitched five innings and had three RBIs to power the Spartans over the Crusaders.
Trevor Doyle had a pair of triples for the Spartans. Doyle also scored two runs and had two RBIs. Cimarron's Kenny Wexler went 2-for-3 with a double.
Rancho 14, Canyon Springs 1 — At Canyon Springs, Edarian Williams smacked a grand slam and finished with six RBIs to lead the Rams to a five-inning pounding of the Pioneers.
Jimmy Gamboa went 3-for-4 with a double and two RBIs, and Miguel Elicerio was 2-for-3 with a double and an RBI for Rancho, which scored eight runs in the top of the fourth to break a scoreless tie.
Quentin Barton went 2-for-3 for Canyon Springs.
Boulder City 10, Western 0 — At Boulder City, Kodey Rahr, Rhett Armstrong and Anthony Pacifico each scored a two runs as the Eagles routed the Warriors in five innings.
Jacob Hubel tossed a one-hitter, striking out four, to get the win.
Liberty 15, Eldorado 0 — At Liberty, Jacob Rogers wen 2-for-2 with a triple and three RBIs to power the Patriots to a four-inning rout of the Sundevils.
Kaeden Kamat-Toki went 2-for-2 with an RBI and two runs for Liberty, which enjoyed an eight-run second inning to take a 10-0 lead.
Ryan Nickel pitched three innings and picked up the win for the Patriots.
Coronado 20, Valley 1 — At Valley, Ethan Stephens was 2-for-2 with a double and three RBIs, and Landon Rowland doubled, tripled and drove in a run as the Cougars steamrolled the Vikings in four innings.
Braeden Ewing went 2-for-2 with a double and two RBIs, Joey Calvert had a double and three RBIs, and Jake McLean hit a triple for Coronado.
Bryce Cowin doubled and drove in Valley's only run.
The Meadows 19, Mountain View 1 — At Mountain View, Adam Martinez had a homer and two RBIs in the Mustangs' rout of the Saints in three innings in the Spring Slam Tournament.
Justin Tanaka picked up the win for The Meadows, pitching the first two innings, then re-entering for the final two outs.
Box scores:
Cimarron-Memorial 8, Faith Lutheran 3
The Meadows 19, Mountain View 1