BASEBALL: Talon LeBaron helps Arbor View top Shadow Ridge in extra innings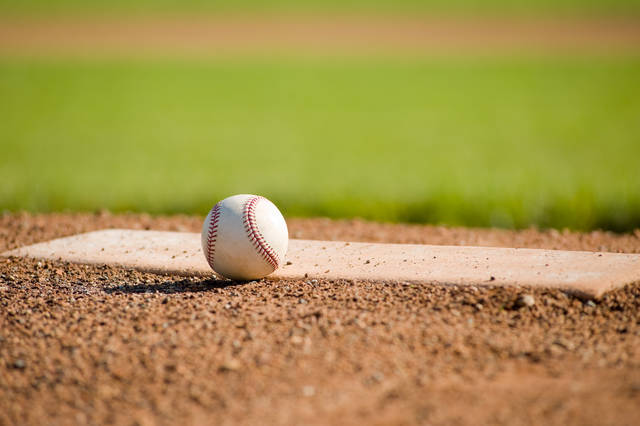 Arbor View's Talon LeBaron went 4-for-4 with two triples, a double, two RBIs and three runs scored, including the game-winning run, as the Aggies' baseball team edged host Shadow Ridge 11-10 in eight innings Monday.
LeBaron tripled to lead off the eighth inning and came around to score on an error.
Joe Fitzhugh was 3-for-4 with a homer for the Aggies, and Jesse Pierce had three RBIs.
Shadow Ridge tied the game at 10 with two runs in the bottom of the seventh. Kristian Sladana and Jesse Meyer each tripled for the Mustangs, and Dylan Baker and Noah Soltero both had a double.
Tech 5, Mojave 4 — At Mojave, Gabe Kermode singled home Jose Leon with the game-winning run in the top of the seventh, helping the Roadrunners rally to nip the Rattlers.
Kermode finished with two RBIs. Chandler Gehring doubled and drove in a run, and Sean Jones and winning pitcher Trevor Kephart each went 2-for-3 for Tech.
Elijah Glaze hit a double, and Mike Cianci had two hits for Mojave, which led 4-2 after four innings.
Spring Valley 3, Bonanza 1 — At Bonanza, Jack Sellinger went 2-for-3 with a double and a solo home run, and Jaxson Otis scattered five hits over seven innings with seven strikeouts to help the Grizzlies top the Bengals.
Jonathan Bakken went 2-for-3 with an RBI, and Kade Higgins and Bryce Bullock each hit a double for Spring Valley.
Jay DeSoto went 2-for-3 for Bonanza.
Faith Lutheran 4, Legacy 2 — At Faith Lutheran, Jacob Ortega singled and scored on an error in the fourth inning to give the Crusaders the lead, and they held on to beat the Longhorns.
Zach Phillips earned the win for the Crusaders by pitching five innings and allowing two runs. Blake Giuliani and Michael Rice pitched scoreless innings of relief for Faith Lutheran, and Rice got the save.
Jacob Crawford smacked a double for Legacy.
Bishop Gorman 13, Snow Canyon (Utah) 9 — At St. George, Utah, the Gaels hit four home runs and scored four times in the eighth inning to take down the Warriors.
Austin Wells, Nick Israel, Jorel Hingada and John Gaughan each homered for Gorman, and Wells added a double. Teammate Ryan Sepede had a pair of doubles.
Gaughan also pitched two perfect innings with three strikeouts to register the win.
Rancho 9, Eldorado 1 — At Rancho, Kagen Kennedy had two doubles, two RBIs and a run as the Rams topped the Sundevils.
Winning pitcher Tanner Ray fired five innings of one-run ball and struck out nine for Rancho.
Edarian Williams and Braeden Hedge each doubled for the Rams, and Williams scored twice.
Sierra Vista 13, Clark 1 — At Clark, Kaui Kaleopaa had five RBIs, a triple and a double in the Mountain Lions' six-inning rout of the Chargers.
Sierra Vista's Hunter Wood had a double and three RBIs, and Cooper Kitrel stole four bases and scored three times.
Alex Chavira threw a complete game for the Mountain Lions, scattering four hits and striking out eight.
Moapa Valley 12, Desert Pines 1 — At Desert Pines, Anthony Cornwall had two doubles, a triple and four RBIs to lead the Pirates over the Jaguars.
Tyler Peterson pitched 5⅓ no-hit innings for the Pirates.
Boulder City 12, Sunrise Mountain 2 — At Sunrise Mountain, Preston Van Diest went 3-for-4 with a triple and four RBIs as the Eagles defeated the Miners.
Rhett Armstrong tripled, had two RBIs and three runs for Boulder City, and Jacob Hubel had two doubles and three runs scored.
D.J. Reese had a triple and two RBIs for the Eagles, Nolan Herr doubled and had two RBIs, and Sean Jones doubled.
Palo Verde 13, Damonte Ranch 0 — At Palo Verde, Asher Bouldin went 3-for-3 with a triple, three RBIs and two runs scored as the Panthers downed the Mustangs in five innings.
Ryan Merino was 1-for-3 with a double and run scored for Palo Verde.
Palo Verde's Mike Marinch got the win by pitching four scoreless innings and striking out five.
Chaparral 15, Western 3 — At Western, the Cowboys scored six runs in the first inning and eight runs in the third to cruise past the Warriors in five innings.
Talon Greene and Jacob Mauro each finished 3-for-4 with two runs for Chaparral, which got the win from Deric Martinez. Robert O'Connor and James Cobian each went 2-for-4 with two runs for the Cowboys.
Michael Davison tripled for Western.
Del Sol 16, Cheyenne 2 — At Cheyenne, winning pitcher Chandler Miller tossed a one-hitter with eight strikeouts and went 3-for-5 with a triple and four RBIs to lead the Dragons to a five-inning rout of the Desert Shields.
Javier Borrero went 3-for-3 with a double and an RBI, Phil Talamo was 3-for-5 with a triple and an RBI, and Tyler Foreman went 3-for-3 for Del Sol, which led 11-0 after 3 innings.
Angel Astorga got the only hit for Cheyenne.
Virgin Valley 12, Pahrump Valley 4 — At Pahrump, Dylan Fuqua tripled and earned the win after pitching 6⅓ innings as the Bulldogs beat the Trojans.
Layton Woods went 3-for-4 with a double for Virgin Valley.
Wooster 6, Foothill 0 — At Foothill, Kelton McCall was 2-for-2, but the Falcons fell to the Colts.
Zach Whitely and Donavon Ratfield each doubled for Wooster.
Pahranagat Valley 15, Lake Mead 5 — At Alamo, Asher Haworth scored three times and tripled in the Panthers' win over the Eagles in five innings.
Carter Robinson and Ike Taylor each had doubles for the Panthers, and Garrett Higbee went 3-for 4.
Joseph Johnson was 2-for-3 with a double and two RBIs for the Eagles.
Mountain View 15-8, Spring Mountain 14-25 — At Mountain View, Michael Saso drew a leadoff walk in the bottom of the fourth inning and scored on a single by Isiah Johnson to give the Saints a narrow win over the Eagles in four innings in the opener.
Daniel Reyes was 3-for-4 with two RBIs, and Johnson went 2-for-3 with two RBIs for Mountain View, which got the win on the hill from Johnson.
Oliver Pallares-Mata supplied an RBI single to pace Spring Mountain.
In the second game, the Eagles erupted for 13 runs in the first inning and cruised to a three-inning win.
Christopher Ortiz and Maryun Reynolds each supplied a two-run single to lead Spring Mountain. Jacob Torres earned the win on the bump for the Eagles.
Alex Emil provided a two-run single to lead Mountain View.
Laughlin 9, Needles 3 — At Needles, California, Dylan Hetrick went 2-for-3 with a pair of RBIs, but the Mustangs fell to the Cougars.
Box scores:
Arbor View 11, Shadow Ridge 10
Bishop Gorman 13, Snow Canyon (Utah) 9
Moapa Valley 12, Desert Pines 1
Boulder City 12, Sunrise Mountain 2
Palo Verde 13, Damonte Ranch 0
Virgin Valley 12, Pahrump Valley 4
Pahranagat Valley 15, Lake Mead 5
Mountain View 15, Spring Mountain 14
Spring Mountain 25, Mountain View 8