BASEBALL: Three-run eighth inning powers Rancho over Liberty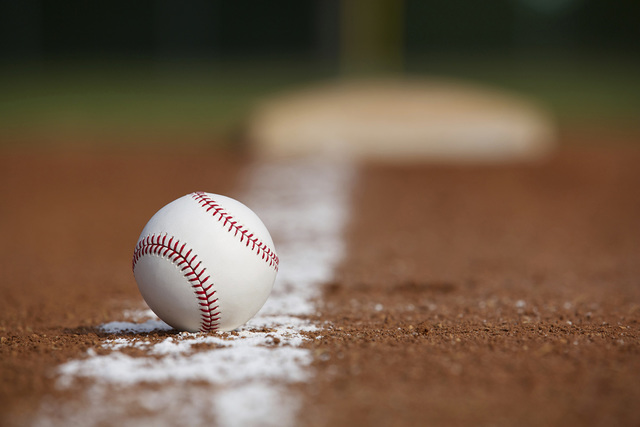 Rancho's Layton Walls provided a two-run single, and the Rams' baseball team added another run on a passed ball as part of a three-run eighth inning to defeat Liberty 4-1 on the road Tuesday.
Walls finished 3-for-4, and teammate Edarian Williams doubled twice for Rancho, which got the win in relief from Carlos Hernandez.
Kevin Clark had an RBI single that scored Jacob Rogers in the bottom of the seventh inning for Liberty.
Moapa Valley 2, Boulder City 1 — At Overton, Chase Hadley tossed six innings and allowed one unearned run before Jade Marshall recorded the save as the Pirates edged the Eagles.
Boulder City took the lead in the fourth inning when D.J. Reese knocked in Kodey Rahr. The Pirates answered in the bottom half when Anthony Cornwall walked, stole two bases and scored on an error.
Colby Longman broke up the no-hitter in the fifth with a leadoff single for the Pirates and scored on an RBI single by Hadley.
Jacob Hubel threw a complete game for the Eagles and struck out eight, allowing two hits and one walk.
Chaparral 8, Del Sol 7 — At Chaparral, Erick Villareal scored Thomas Pablo from third base on a fielder's choice in the sixth inning, and the Cowboys went on to nip the Dragons.
Villareal finished 2-for-4 with two doubles and three RBIs and picked up the save in relief of winner Connor Jarvis.
Jarvis was 2-for-3 with two doubles and an RBI, and Talon Green supplied two hits for Chaparral, which won despite committing six errors.
Bonanza 3, Durango 2 — At Bonanza, Julio Seperich tossed five solid innings, allowing five hits with five strikeouts, as the Bengals beat the Trailblazers.
Torren Brozovich had an RBI double for Bonanza. Danny Ruiz and Brandon Rivera each supplied an RBI single in the third inning for the Bengals.
Duke Pahukoa was 2-for-3 with a double, an RBI and a run to lead Durango.
Green Valley 6, Foothill 3 — At Green Valley, Drake Maningo cranked a three-run homer to help the Gators topple the Falcons.
Gavin Amelburu, Matt Gilbertson and Frankie Fitzgerald all doubled for the Gators.
Gilbertson also pitched 2⅔ innings of scoreless relief to earn the win.
Sierra Vista 8, Desert Pines 0 — At Sierra Vista, Daymien Yohner pitched six innings and combined with Hunter Wood on a two-hit shutout as the Mountain Lions topped the Jaguars.
Yohner also hit a double. Cody Culpepper doubled, tripled and drove in three runs, and Alex Chavira doubled, tripled and drove in two runs for Sierra Vista.
Raymond Minero tripled, and Jorge Milian doubled to account for Desert Pines' two hits.
Coronado 9, Las Vegas 1 — At Las Vegas High, Kyle Hall tossed five solid innings to earn the win as the Cougars defeated the Wildcats.
Garett Lake had a double and a triple with an RBI for Coronado, which used a four-run fourth inning to take control.
Noah Hemphill and Cristian Herrera each supplied two hits, and teammate Dru Pippin contributed an RBI double for the Cougars.
Nathan Freimuth had an RBI double to score Carlos Martinez for Las Vegas' only run.
Arbor View 7, Faith Lutheran 1 — At Faith Lutheran, Austin Pfeifer spun a two-hitter as the Aggies rolled to past the Crusaders.
Jesse Pierce had a triple for Arbor View, and Joe Fitzhugh, Trey Urban and Logan Santos each doubled.
Centennial 10, Palo Verde 2 — At Centennial, Garrett Holden went 3-for-4 with four RBIs to power the Bulldogs over the Panthers.
Centennial's Gino Sabey and Kyle Horton each had two runs and two RBIs.
Jaxon Hammond hit a solo home run for the Panthers.
Bishop Gorman 14, Clark 2 — At Clark, Nick Israel had a grand slam to go along with a double and five RBIs as the Gaels routed the Chargers.
Max Weckel had two doubles for the Gaels, and Jorel Hingada and Austin Wells each had one.
Thomas Campbell hit a homer for the Chargers.
Cimarron-Memorial 12, Legacy 5 — At Legacy, Jack Kannon had a double, three RBIs and three runs scored as the Spartans topped the Longhorns.
Zack Culver and Jackson Folkman each doubled for Cimarron, and Trevor Doyle scored three times.
Jordan Crawford doubled twice for the Longhorns.
Basic 13, Eldorado 0 — At Basic, John Howard Bobo was 3-for-4 with a double, triple, three runs and two RBIs to help the Wolves roll over the Sundevils in four innings.
Erik Cruz had a double and a triple for Basic, and Nick Thompson doubled and had three RBIs.
Mario Gonzales went 2-for-2 for the Sundevils.
Silverado 13, Canyon Springs 0 — At Canyon Springs, Caleb Hubbard went 2-for-4 with two doubles and three RBIs, and Kevin Pindel fired a one-hitter with eight strikeouts as the Skyhawks blanked the Pioneers in five innings.
Sam Pope was 2-for-3 with a double and two RBIs, and Patrick Ballinger supplied two hits for Silverado, which also got a double from Thomas Keller.
Quenton Barton doubled for Canyon Springs' only hit.
Lake Mead 19-16, Spring Mountain 0-2 — At Lake Mead, Mark Costolo struck nine for the Eagles in a three-inning no-hitter of the Golden Eagles.
Costello also went 3-for-4 with a double and four RBIs, and teammate Ryan Kennedy doubled, scored three times and had two RBIs.
In the second game, Joseph Johnson was 2-for-4 with a double, three runs and two RBIs, and combined with Ryan Kennedy on a five-inning no-hitter.
Laughlin 10-8, Calvary Chapel 5-1 —At Calvary Chapel, the Cougars swept the Lions in a doubleheader.
Box scores:
Arbor View 7, Faith Lutheran 1
Cimarron-Memorial 12, Legacy 5
Lake Mead 19, Spring Mountain 0
Lake Mead 16, Spring Mountain 2
Moapa Valley 2, Boulder City 1
Sierra Vista 8, Desert Pines 0
Silverado 13, Canyon Springs 0