Bennett pitches Liberty to second straight state Legion title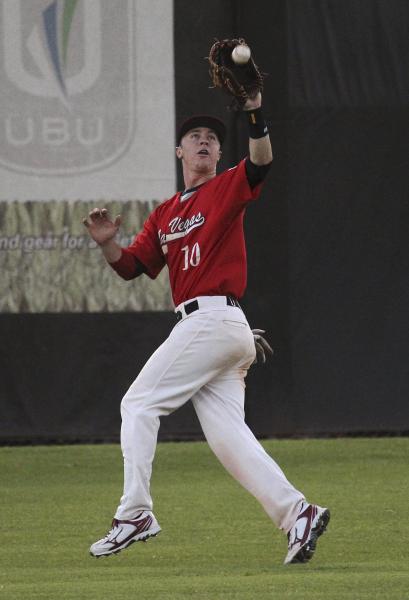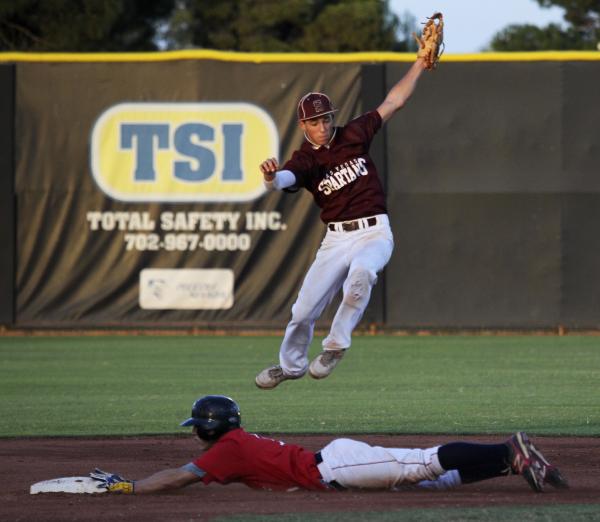 Liberty baseball coach Mike Eshragh sent his players onto the field Saturday intending to prove that his squad's 2012 summer championship was no fluke.
The Patriots convincingly made that point.
Nathan Bennett tossed a complete-game five-hitter to lead top-seeded Liberty to its second consecutive American Legion championship with a 5-2 victory over third-seeded Cimarron-Memorial in the state tournament title game at UNLV's Wilson Stadium.
The win lifted the Patriots into the Western Region tournament, which starts Thursday in Surprise, Ariz.
"Back-to-back is unbelievable," said Eshragh, whose squad has overcome Bishop Gorman's longtime stranglehold on the championship. "All the hard work we put in this season paid off. It's very rewarding to come out on top two summers in a row."
Eshragh gave much of the credit to Bennett.
"That was a gut check for him," Eshragh said. "He wanted the ball and he wanted to close that game out."
Bennett (10-1) retired 15 consecutive batters spanning from the third inning to the eighth.
"That was probably my biggest start ever," said Bennett, who struck out six while allowing no walks. "I wanted a complete game. That's what I was telling everyone all day."
Liberty (29-3) struck first, taking a 1-0 lead in the first inning after leadoff hitter Preston Pavlica walked and advanced to third base on a steal and a wild pitch, and scored on a fly ball by Jesse Keiser.
The Patriots stretched their lead to 2-0 in the second when Mike Vargas doubled off the center-field wall and scored on Griffin Kelly's fielder's choice.
But the Spartans (38-10) got both runs back in the third with four consecutive singles. A wild pitch by Bennett allowed the tying run to cross the plate.
"We got a little off on our pitch calling," Bennett said of his third-inning communication with catcher Nicholas Rush. "I just hung a couple breaking balls. It was my fault."
Liberty answered in the bottom of the inning when Joshua McCollum singled, moved to third on a throwing error and scored on a fielder's choice to give his team the lead for good.
Bennett and Cimarron starter Joshua Nuernberg settled down from there, and the score remained 3-2 until Daniel Skelly and James Martz had back-to-back RBI singles in the seventh to extend the Patriots' lead to 5-2.
Cimarron was unable to put a serious threat together the rest of the way.
Eshragh said his team benefitted from Friday's day off that resulted from coming out on top of the tourney's winners' bracket. In particular, the break allowed Bennett a fifth day of rest between starts.
"That absolutely helped," he said. "We've only got 12 guys on our roster, so we don't have the luxury of a lot of arms."
Skelly went 3-for-4 with an RBI to lead Liberty's offense, and teammate Ethan Ibarra went 2-for-3.
Nicholas Borowski led Cimarron with two hits.