Centennial's Frank Sessa helps Sunset end on positive note with all-star victory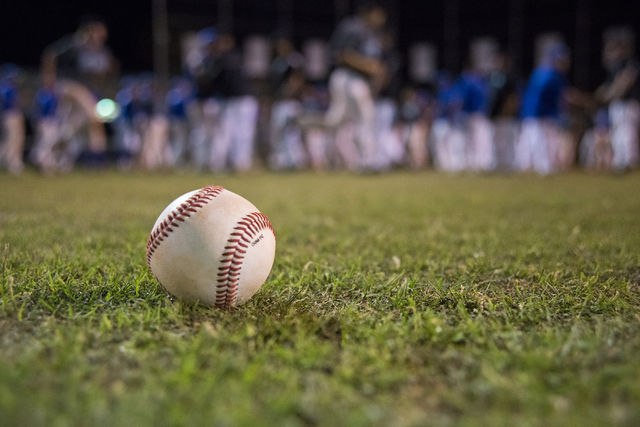 Centennial's Frank Sessa didn't end his senior season the way he would have liked to, as his Bulldogs lost to Sunrise Region champion Basic in the Division I state final.
The standout first baseman, though, feels a little better after redeeming the Sunset Region in Thursday's all-star game.
Sessa hit a three-run home run in the third inning to lead the Sunset to an 8-3 win over the Sunrise in the Division I All-Star Game at the College of Southern Nevada.
"I just wanted to have fun and take in the moment," Sessa said. "To be able to play with all of these guys — they're the best in the state, so it was fun."
Sessa, who will play at Dominican University (Illinois) next season, took a 1-and-0 pitch off Foothill's Trentin Price over the left-field fence to give the Sunset a 5-0 lead. The Sunset pitching handled it from there.
"Just looking for something to hit," Sessa said. "I was looking for a fastball and he gave it to me. So it ended good."
Eight Sunset pitchers combined to throw a five-hitter.
Gorman's Alex Tisminezky, who is committed to San Diego State, was the starting pitcher for the Sunset. He struck out one and got two flyouts in a scoreless first inning.
The Sunrise was held scoreless until the sixth inning, when Green Valley senior Jake Leonard hit an RBI single to left field to score Silverado's Alex Grafiada from second base.
Leonard went 2-for-2 with two RBIs, and Grafiada was 1-for-2 with two stolen bases and two runs to lead the Sunrise.
"It was really nice to come out here and have fun," Leonard said. "Instead of ending my high school career on the loss against Basic. It's kind of nice to come out here again and have fun with some of my teammates and some of the guys we played against."
Gorman's Myles Denson, who has committed to Arizona State, was 2-for-2 with an RBI, and Palo Verde's Mitchell Rathbun added an RBI double for the Sunset, which also got two singles and an RBI from Centennial's Bryce Rheault.
Shadow Ridge's Chris Opolka went 1-for-2 with an RBI triple and also pitched two innings of scoreless relief for the Sunset.
"I grew up with all of these kids and finally got to play with them again. It's awesome," Opolka said. "It was surreal. I'm honored to be out here and compete with these guys."
Despite the loss, Leonard had some parting words for the Sunset.
"The Sunrise is still better," he said.
DIVISION I-A
Sunset 13, Sunrise 6 — Mojave's Otto Hernandez went 2-for-2 with a walk, a stolen base, three runs and two RBIs, and the Sunset scored in every inning except the third to top the Sunrise.
Pahrump Valley teammates Willie Lucas and Parker Hart each doubled for the Sunset, and Spring Valley's Jaxson Otis finished with three RBIs.
Spring Valley's Jonathan Bakken (two singles), Nick Rupp (three walks, two runs) and Bryce Bullock (two RBIs) also contributed for the Sunset, which led 10-3 after five innings.
Del Sol's Zach Trujillo and Boulder City's Kodey Rahr each went 2-for-2 with an RBI to lead the Sunrise. Chaparral's Mark O'Connor doubled, and Tech's Logan Campbell added a two-run single in the third inning for the Sunrise.