Class 1A: Indian Springs captures first state title since 1973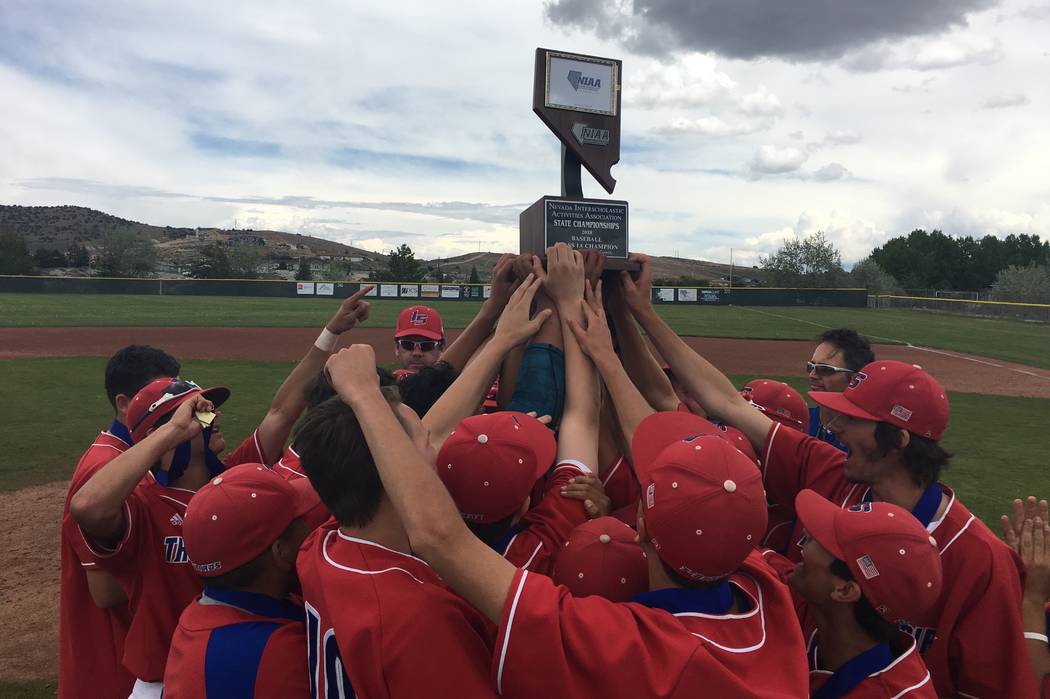 RENO — Donnie Hickman couldn't help but beam with pride.
He is one of a few who knew what the Indian Springs baseball team was feeling. He was a member of the last Thunderbirds team to win state, way back in 1973. It's been a long wait, but it came to a satisfying end Saturday.
Indian Springs blasted Pahranagat Valley 12-2 in six innings in the Class 1A final at North Valleys High School to claim the program's first state championship in 45 years.
"Every year I've been reading the papers or waiting for somebody," Hickman said. "We had a great team. These guys are a better team than we were."
The Thunderbirds (19-5) won the Southern Region title, but fell to Pahranagat Valley (20-8) on Friday and needed to win twice Saturday to capture the title.
Elyas Jones pitched a complete game and Wrench Perry had a homer and four RBIs to power the Thunderbirds to a 9-1 victory in Game 1.
After a brief hiccup, Game 2 was just as smooth. The Thunderbirds booted the ball around in the third, and two errors led to two Panthers runs.
Then in the third, things just looked easy for Indian Springs.
Zackary Williams scorched a two-run double to the left-center gap, and Dylan Pollock hit a two-run homer two batters later to make the score 6-2. The Thunderbirds scored twice in the fourth and four times in the sixth.
Bailey Larkin started the Indian Springs sixth with a homer, his team batted around, and a fielding error allowed Perry to score to trigger the 10-run rule and end the game.
Larkin was 3-for-3 with a homer, three runs, two RBIs and a stolen base.
"It's definitely video game numbers, man. I'm playing better than my character on "The Show" right now," said Larkin, who transferred to Indian Springs this year. "It means so much to them out here. Just to come out and be a part of it, it's an honor."
The history is what everyone was talking about on the field. But a more recent history was important, too. Indian Springs lost last year's title game to Pahranagat Valley after the Thunderbirds could not beat the Panthers twice.
"I said, 'This might be something you'll remember for the rest of your lives if you come back through the losers bracket,'" Indian Springs coach Eric Hague said. "This year might have been our turn. They got us last year, but I'm so proud of the kids."
Contact Justin Emerson at jemerson@reviewjournal.com or (702) 387-2944. Follow @J15Emerson on Twitter.
Box scores:
Indian Springs 12, Pahranagat Valley 2
Indian Springs 9, Pahranagat Valley 1