Close-knit Liberty ready for regional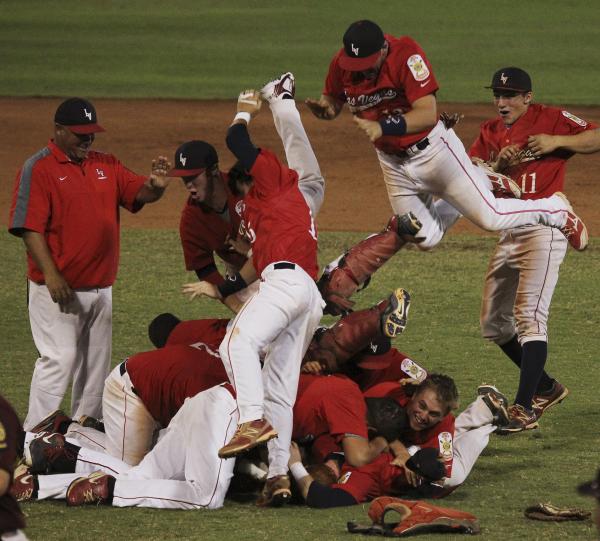 Liberty baseball coach Mike Eshragh knows he isn't taking the biggest team to the American Legion Western Regional tournament.
He hopes, though, that he's taking the closest and most talented group.
The Patriots, who have just 12 players on their roster, will compete in the Western Regional for the second straight year, opening play in the double-elimination tournament at 9 a.m. today against Albuquerque (N.M.) in Surprise, Ariz. The tournament winner advances to the American Legion World Series from Aug. 16 to 20 in Shelby, N.C.
"We always have the least amount on the roster of any team in the city," Eshragh said. "We have great players, but if we didn't have the chemistry, we wouldn't get as far as we could."
Unlike many of the teams the Patriots will face, all of Liberty's roster comes from its high school. It's basically the same group that finished third in last year's regional.
"Some of us have been playing together since we were 6 years old," senior outfielder Jesse Keiser said. "We've been playing together forever, and we're like one big family."
That family carries a 29-3 record into the regional after winning its four state tournament games by a combined score of 30-13.
"Going into the summer, I knew we had a roster to do something special," Eshragh said. "The three games we dropped we're close to the point where we feel like we shouldn't have lost those games."
With only 12 players, Eshragh doesn't have much flexibility. Legion rules don't allow him to pluck kids from the school's silver team, which also won its state title.
The Patriots also aren't particularly deep on the mound, but what they lack in quantity they make up for in quality. Dan Skelly (12-0) and Nate Bennett (10-1) probably will start Liberty's first two games.
"We have a pitching rotation set, and nothing really ever changes with our lineup, except who is on the mound," Eshragh said. "We're not blessed with enough arms. We have arms who we believe will get the job done and allow us to compete every single game."
Eshragh said his team is just as capable of winning one-run games as it is exploding for 10 or 12 runs and giving its pitching staff wiggle room.
"If we just get enough base runners on and execute at the plate, we're going to be fine," he said. "We actually want to make a run at this and actually make it to the World Series in North Carolina. We're happy, but we're not satisfied."