Desert Oasis, Gorman spotless in 5A state baseball openers — PHOTOS
Updated May 18, 2023 - 10:18 pm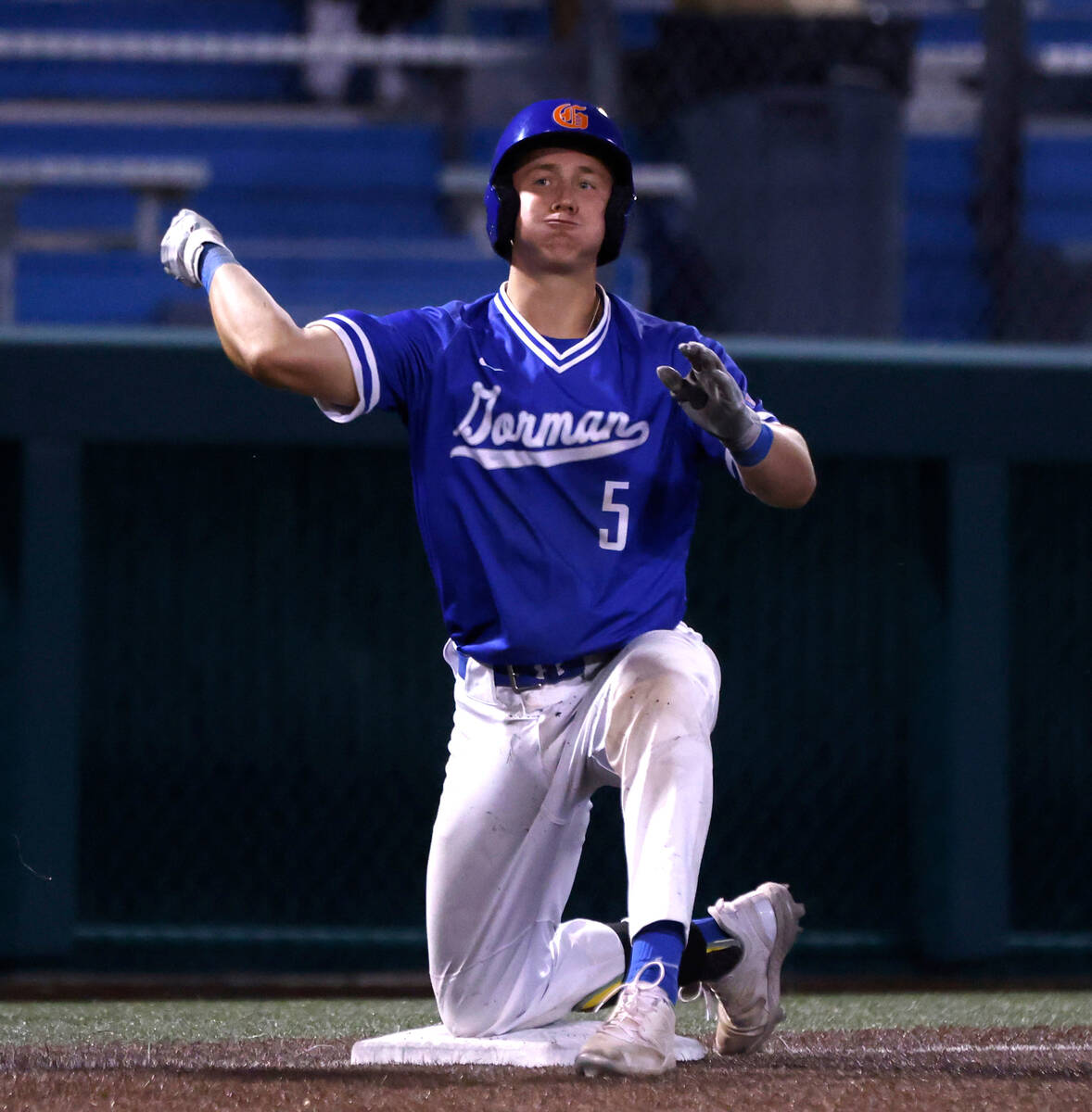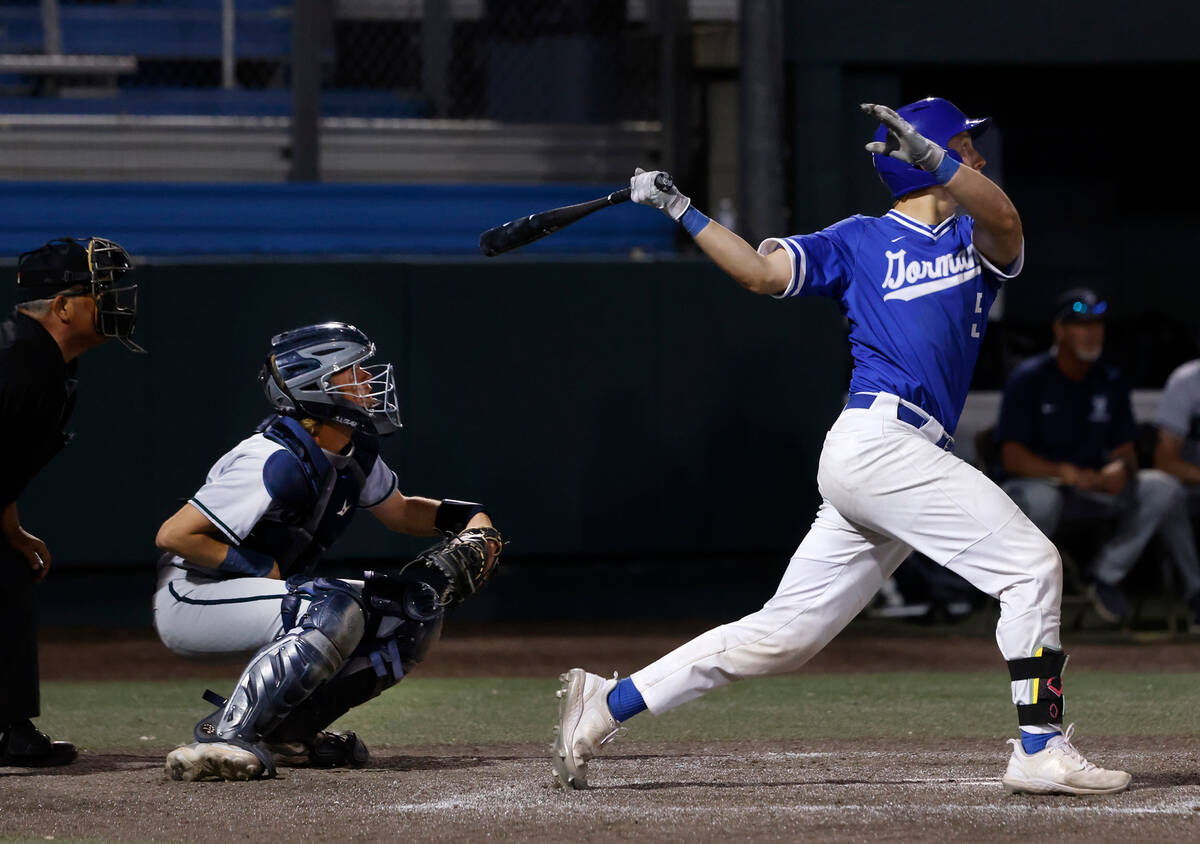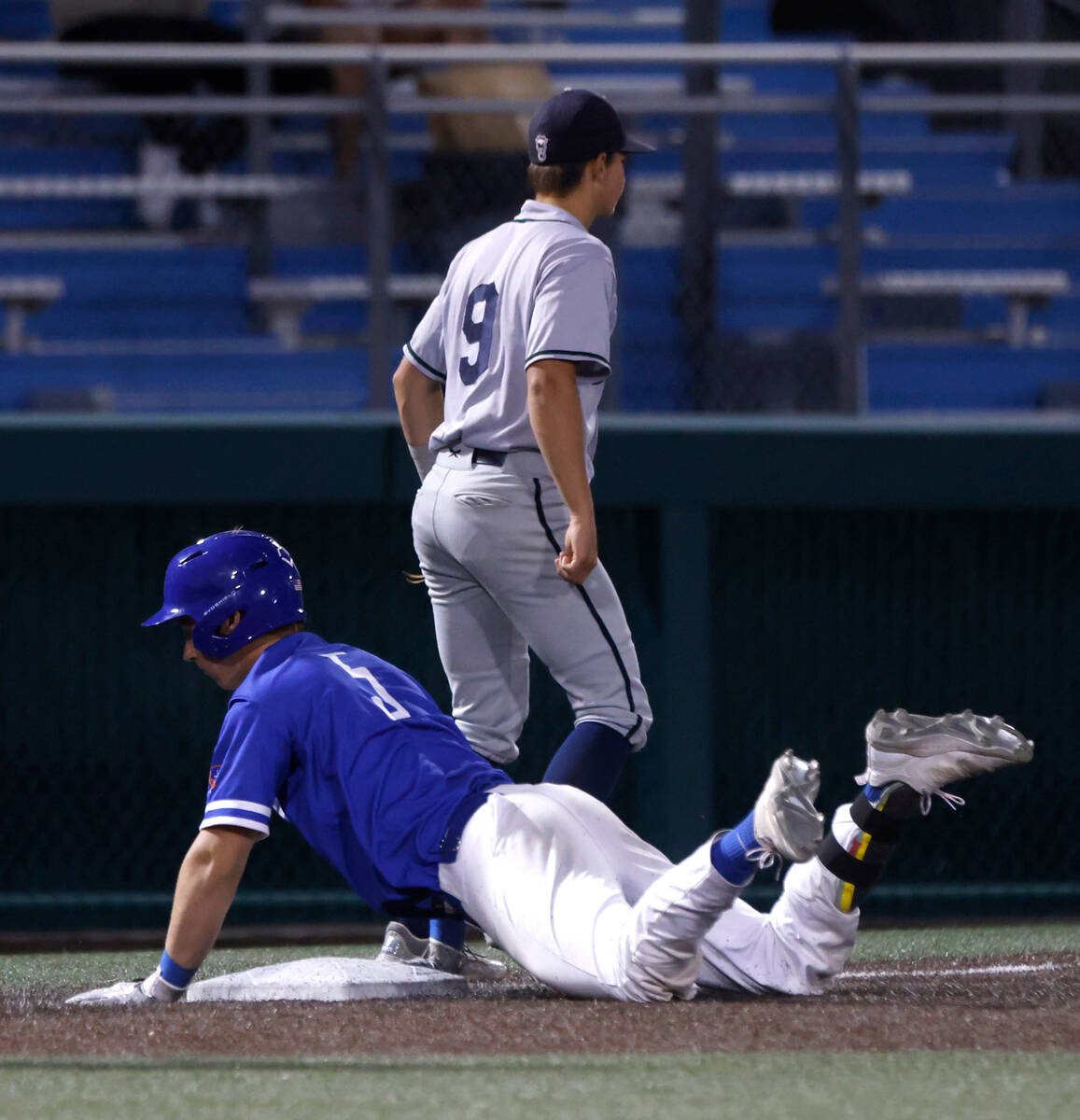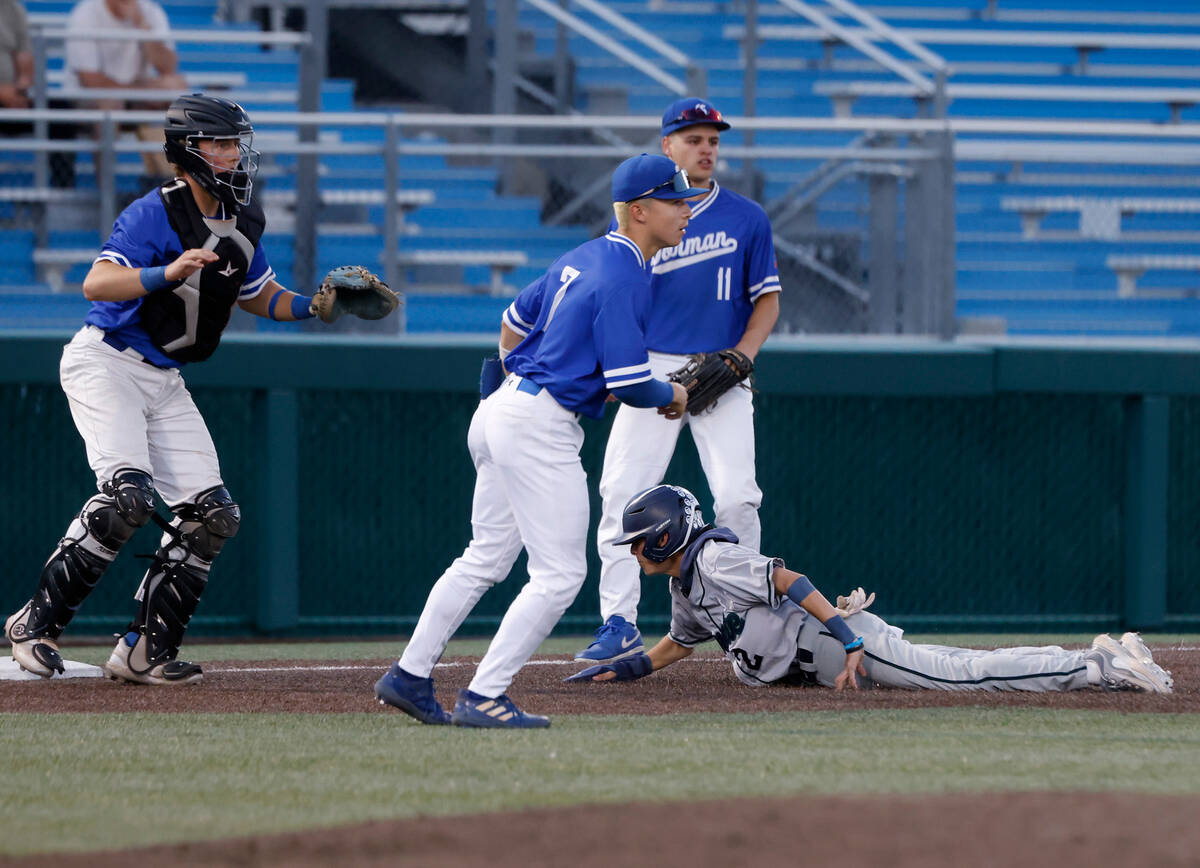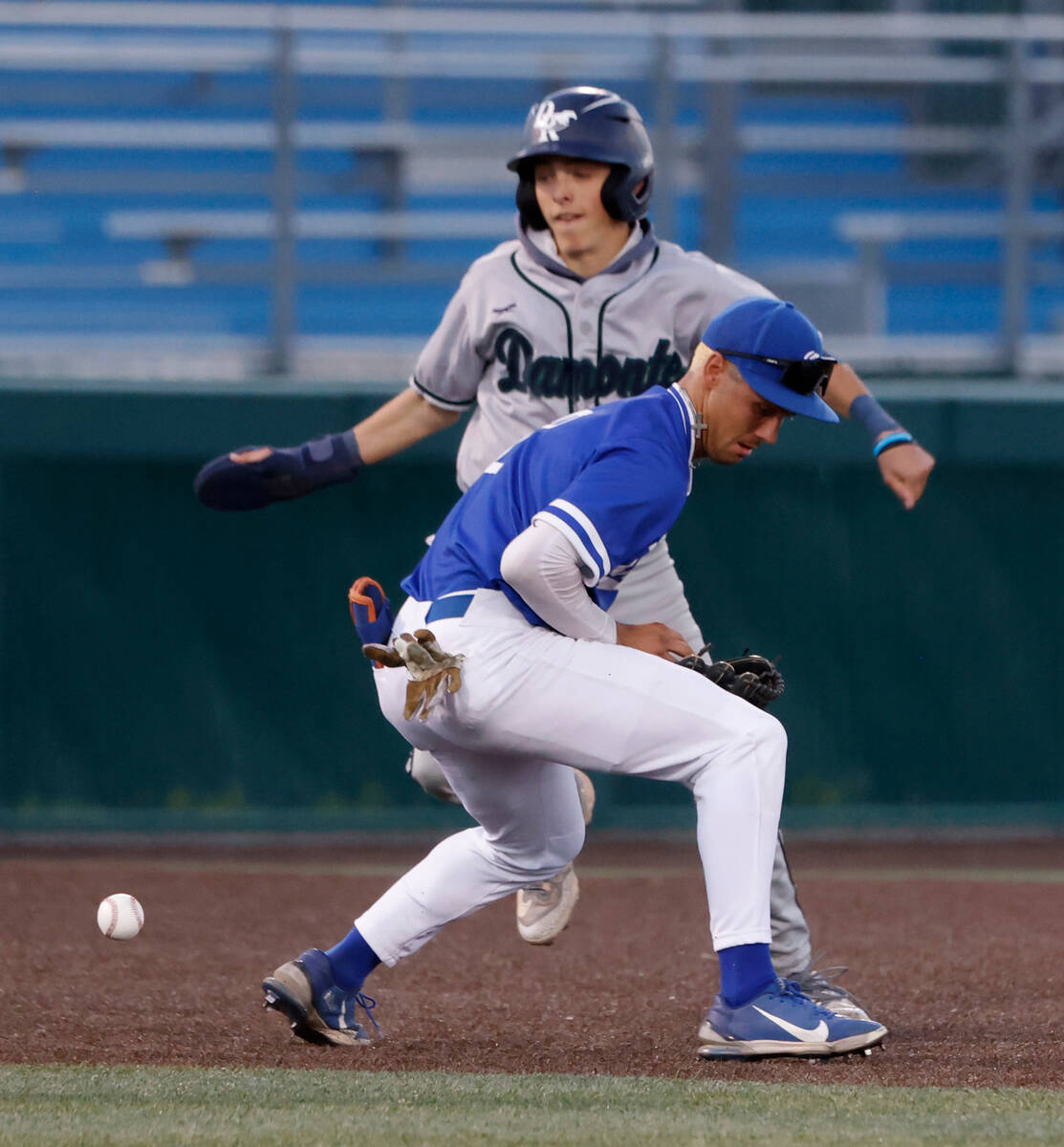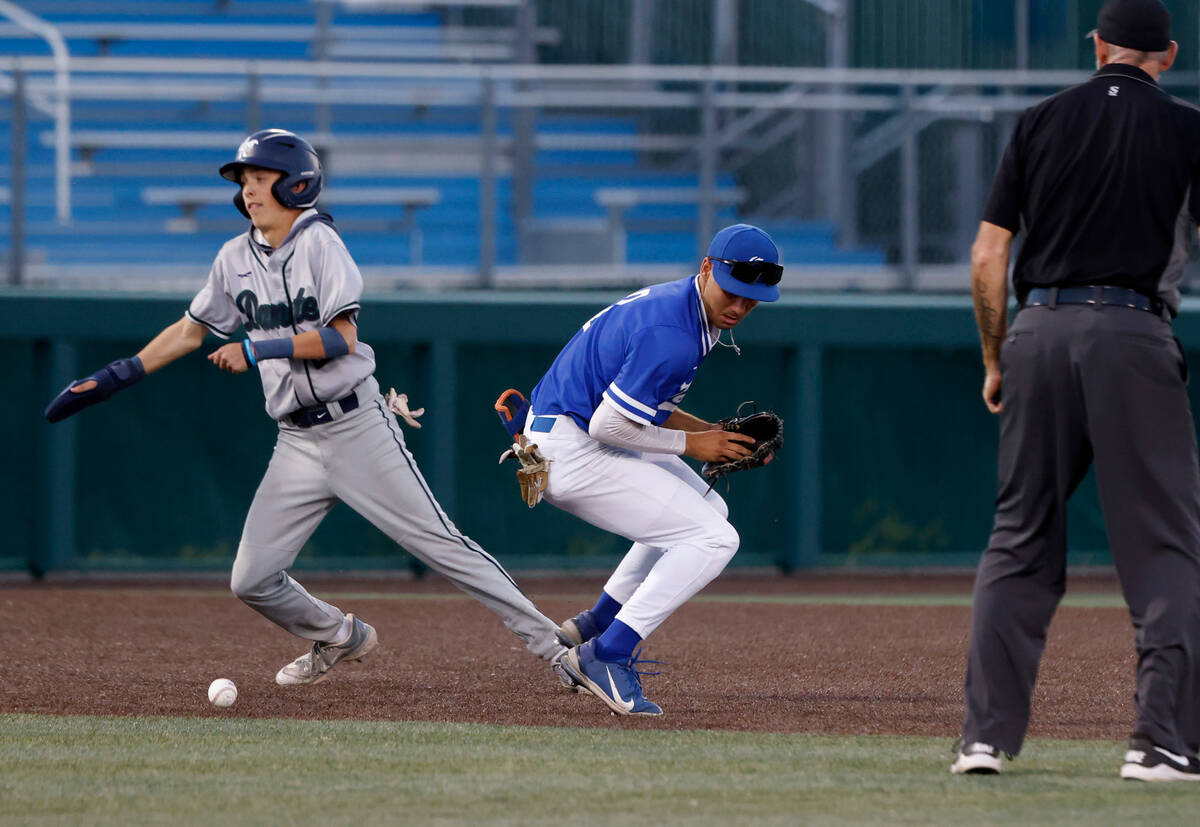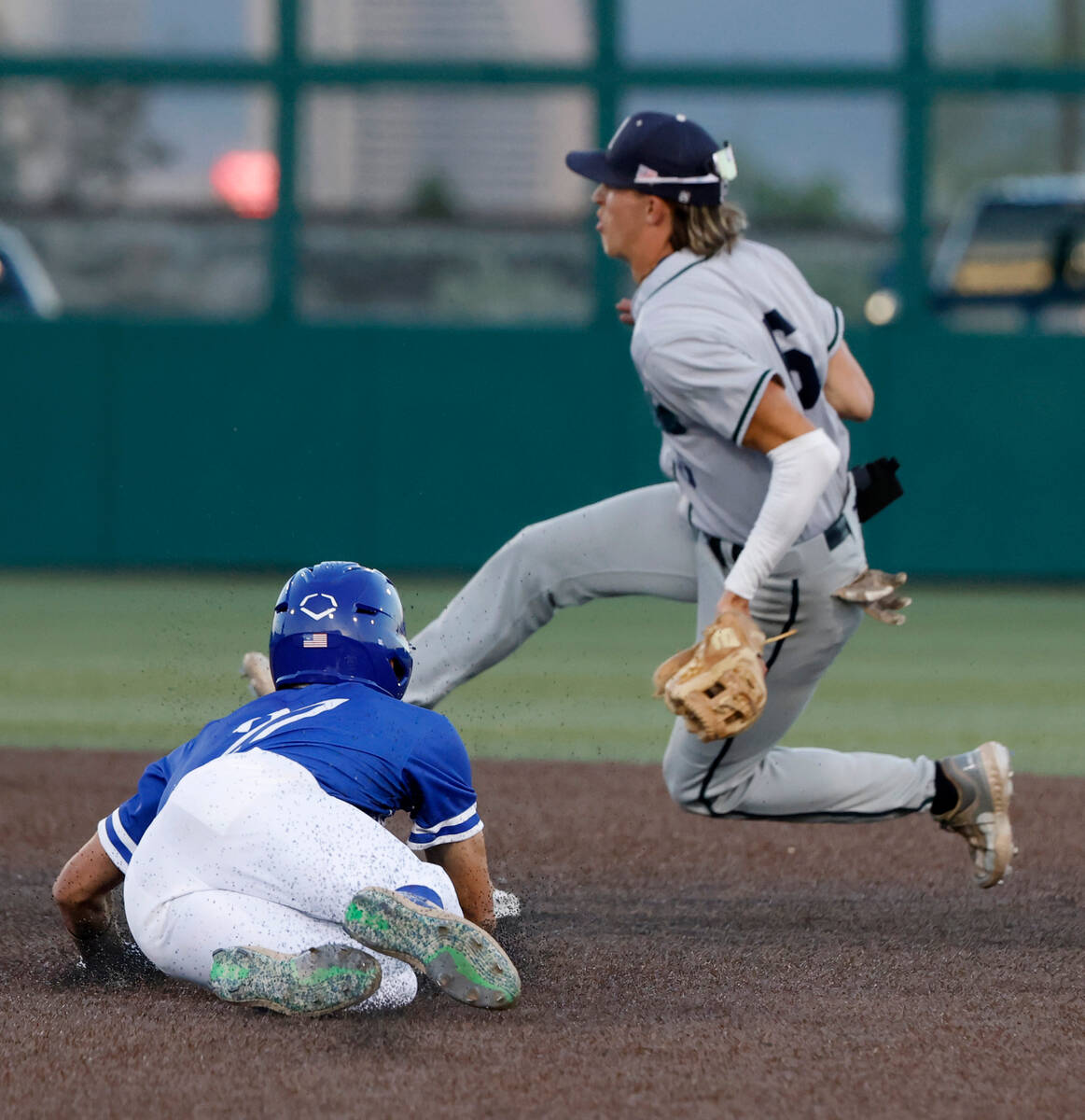 RENO — Tyler Kennedy kept thinking about the countless hours of work he and his Desert Oasis teammates put in just to qualify for the Class 5A state baseball tournament.
The Diamondbacks' senior right-hander reminded himself of that as he faced a pair of bases-loaded situations in the second and third innings against Northern champion Bishop Manogue in an opening-round tournament game Thursday.
Kennedy buckled down in both instances and kept Bishop Manogue off the board, and Desert Oasis managed just enough offense to pull off a 2-0 win at UNR's Peccole Park.
"I felt great all day," Kennedy said. "I felt loose, felt strong. Everything was just easy."
Desert Oasis (27-12) will play Bishop Gorman (33-2) — which rolled to a 10-0 win over Damonte Ranch in the other opening-round game — in a winner's bracket game at 4 p.m. Friday. The winner will advance to Saturday's state title game.
Bishop Manogue (26-8) and Damonte Ranch (16-14-1) will play in an elimination game at 1:30 p.m. The winner will play the Desert Oasis-Bishop Gorman loser in another elimination game at 6:30 p.m. to determine the second spot in the title game.
Kennedy threw six-plus shutout innings on 104 pitches. He struck out six and allowed five runs.
"We didn't come all this way just to come all this way," Kennedy said. "We came here to win. I wasn't going to let us lose."
With Desert Oasis leading 2-0 in the bottom of the seventh, Kennedy allowed two leadoff singles.
Diamondbacks coach Paul Buboltz pulled Kennedy as he approached the 110-pitch limit and brought in senior right-hander Seth Graham-Pippin to get the final three outs. The Southern California commit retired the next three batters on nine pitches.
Designated hitter Seth Lyons led off the top of the fourth with a double and scored on an Ethan Kelly single. The Diamondbacks added another run in the seventh when Connor Jacobs, who led off the inning with a double, scored on a wild pitch.
"It just feels great to be able to go out there and put up that kind of performance for my guys," Kennedy said. "For them to be able to get those runs for me against a good pitcher, (Bishop Manogue)'s guy was a good pitcher, too — it's great."
Gorman received standout pitching from its starter, Kaden Soder. The senior right-hander scattered two hits in five shutout innings and struck out eight. Soder, an Oregon commit, kept Damonte Ranch hitless through 4⅔ innings.
Soder had plenty of run support, as the Gaels' bats got the best of Damonte Ranch ace Dylan Rogers, a UNLV commit.
Gunnar Myro's RBI single in the second ignited a three-run rally, and he scored in the fourth on a Nolan Eberwein single. The Gaels added three more runs in the fifth to put the game out of reach as it ended in the sixth due to the 10-run mercy rule.
"Today we swung the bats really well and put some pressure on (Damonte Ranch)," Gorman coach Chris Sheff said. "Once we got up 4-0, we were able to kind of relax offensively and swing the bats pretty well."
Aiden Pollock and Eberwein each had two RBIs for the Gaels, who had eight players drive in runs.
Sheff said he expects to see Graham-Pippin in the Gaels' fifth meeting this season with Desert Oasis.
"It'll be a good baseball game," Sheff said. "(Desert Oasis) is a good club, and we'll have to play well to win."
Desert Oasis handed Bishop Gorman its first loss of the season behind a strong outing from Graham-Pippin in a 2-1 victory on March 22. The Gaels won the last three meetings by five runs or more, including twice in the Southern Region playoffs. But in all four meetings, the Diamondbacks held an early lead.
"We all know after beating them early in the year that we're just as good as them, and we're ready to prove it again," Kennedy said.
Contact Alex Wright at awright@reviewjournal.com. Follow @AlexWright1028 on Twitter.