DIVISION I BASEBALL: Skelly, Patriots rally to move into championship game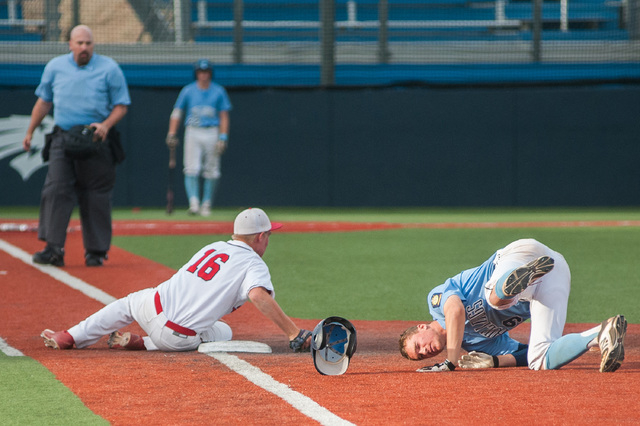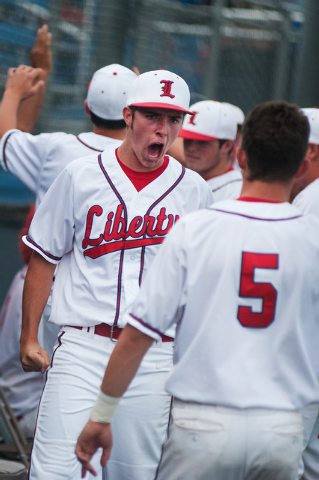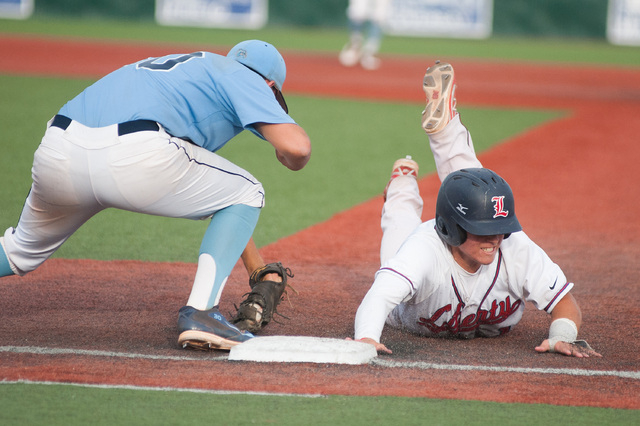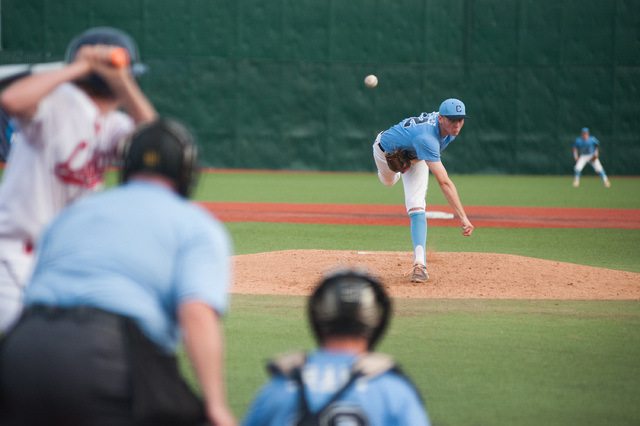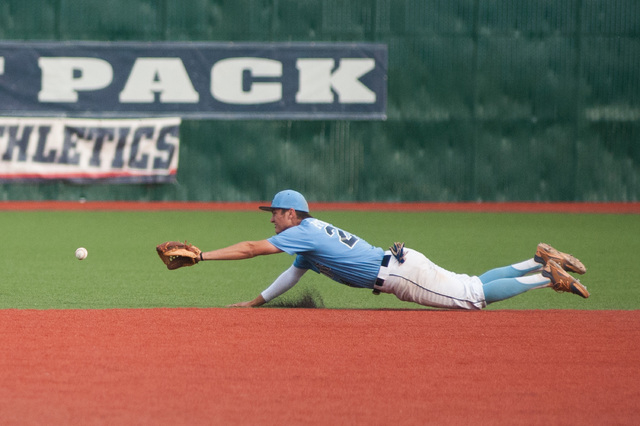 RENO — Sometimes it takes more than talent to win a big game.
Liberty baseball coach Nick Didier said it was senior pitcher Dan Skelly who gave his team the missing ingredient on Friday.
Skelly threw a five-hitter, and the Patriots scored a run in the top of the seventh to edge Centennial 3-2 at Peccole Park to move into the Division I state championship game.
"Dan Skelly gave me his heart today," Didier said. "He manned up, and he got the job done. What an outstanding job."
Liberty (30-5) plays Centennial (27-12) at 1 p.m. Saturday for the title. Centennial would have to win twice to win the double-elimination tournament.
Skelly also had an RBI single in the sixth to score Jay Martz to tie the game, 2-2.
Liberty's rally in the seventh started with two outs when Josh McCollum reached on a throwing error on Centennial shortstop Tanner Wright.
Jesse Keiser followed with a single up the middle to put runners at the corners. Martz, who threw a two-hitter on Thursday, then singled through the left side to plate the go-ahead run.
"That's our seniors right there, and they stepped up," Didier said. "To win any kind of championship or be in a championship game or even in this tournament, seniors have to play their best. And our seniors have definitely stepped up and done the job for us so far. But it's not over by any means."
Skelly looked like he might be done early when Centennial jumped on him for three consecutive extra-base hits in the third inning.
Wright lined a double down the right-field line, and fellow freshman Kyle Horton followed with a double that one-hopped the wall in center.
Jake Portaro then tripled into the gap in left-center field to score Horton for a 2-1 lead. Skelly walked the next two batters, but got Will Loucks to ground into a 4-6-3 double play to end the inning.
"We were fortunate that ball was on the ground," Didier said. "In that one inning they busted out their sticks and kind of smacked it around a little bit on him, but he kept his composure and got the ground ball we needed and that's how we were able to escape."
Skelly, who struck out three and walked three, conceded he had his doubts in the inning.
"I was getting down on myself a little bit," Skelly said. "But then I just picked my head up and realized that I had a team that believed in me and a coaching staff that believed in me. And we all pulled on the same end of the rope and at the end of the day, we got the job done."
Liberty had opportunities earlier, but Centennial starter Loucks picked runners off at second base in the first and fourth inning, and also got an inning-ending double play in the fifth.
"We were just taking a big step, and right when they took that step, they backdoored us," Didier said of the two pickoffs. "They have a good move and they caught us napping a little bit."
Still, Liberty was able to come through with the rally when it needed it.
"It's Patriot baseball, I guess," Didier said. "We want to be dramatic, and it was."
Martz was 2-for-3 and added a sacrifice fly in the first inning to lead the offense. Skelly and Keiser each also went 2-for-3 for Liberty.
The Patriots are looking for their first state title in their first appearance in the state tournament.
"As a kid coming up playing baseball my whole life, this is what you dream for," Skelly said. "Not playing in the MLB, but winning a state championship with your teammates that you love the most."
Centennial 11, Reno 10 — The Bulldogs scored seven runs in the first two innings and held off a pair of rallies to beat the Huskies.
Reno (34-5) got within a run at 11-10 with a five-run sixth inning rally. The big blow was a two-run double by Sullivan Cauley that cut the lead to 11-10. The Huskies also got on an RBI double by Garrett Gouldsmith and RBI singles by Joe Bath and Jeremy Peterson, who was 3-for-4 with a homer and three RBIs.
But Jake Portaro came on with one out and the tying run at second and struck out Cooper Krug and got Brock Tsukamoto to line out to center to end the inning.
Reno got a leadoff single from Joey Clark in the bottom of the seventh, and Gouldsmith bunted him to second for the top of the order. Portaro struck out Matthew Young and Bath to end the game.
"We were looking for somebody to step up," Centennial coach Charlie Cerrone said of Portaro. "We had an issue in the first game, and we brought him back in this game and he was able to get the job done."
The Bulldogs plated five runs in the first and chased Reno starter Tsukamoto after he had recorded just one out.
Tsukamoto didn't allow a hit, but struggled mightily with his control. He hit the leadoff batter, and after a strikeout, Horton reached on an error by shortstop Jake Clark.
Tsukamoto then walked the next three batters without throwing a strike and he was lifted in favor of Matthew Lawn. Loucks greeted Long with a two-run single, and another run came home on an RBI ground out by Josh McKibbin for the 5-0 advantage.
Centennial added a pair of runs in the second on RBI singles by Horton and Cooper Powell.
Reno got to within 7-5 with the help of Peterson's solo homer, his third of the tournament.
Reliever Krug shot down Centennial in the middle innings, striking out six consecutive batters at one point, but a pair of errors in the sixth helped the Bulldogs score four more runs to pull ahead, 11-5.
Krug struck out nine and allowed one earned run in 4 1/3 innings of work.
"We've tried to prepare these guys for this, because if you get in the losers' bracket of a short tournament, this is how the games look a lot of times," Cerrone said. "We did talk to them about how their emotions were up and down in this game already, and we'll talk to them about it again tomorrow."
Reno 4, Damonte Ranch 1 – Peterson hit a two-run homer to left, and the Huskies eliminated the Mustangs (26-14).
Box scores: