Drachler brothers key on offense, defense for Spring Valley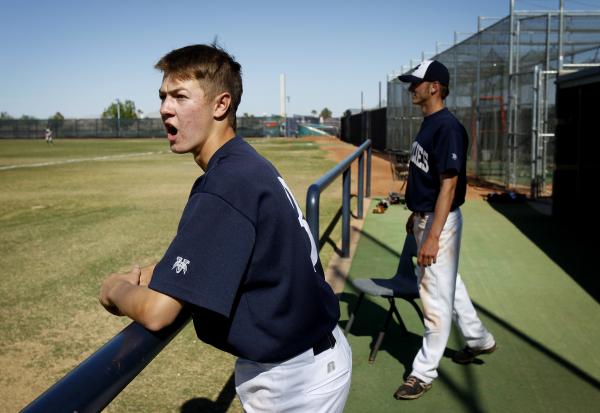 When Spring Valley's Dylan Drachler took the mound on opening day this season, the highly touted baseball pitcher had reservations about his freshman batterymate.
"I thought it would be hard for him," said Drachler, a Utah-bound senior. "I didn't know if he could handle it."
After all, no one on the diamond knew the anxious catcher better than him.
Big brothers are like that.
Zane Drachler, the Grizzlies' 15-year-old catcher, spent last summer making a strong enough impression on the Spring Valley coaching staff to earn a starting spot on the varsity squad. This is the first time the brothers have played together at any level.
"He's actually impressed me a lot," Dylan Drachler said. "He's doing a lot better than I expected as a freshman."
Grizzlies coach Paul Bassett said Zane Drachler's ability to make quick adjustments meshed well with his brother's workmanlike philosophy.
"I just think they have that brotherly bond together," Bassett said. "They kind of know what each other is thinking. They can go home and share stories and talk about it. I think Dylan's been a great leader and a great example for Zane to look up to."
The siblings credit their time playing ball in the street as kids, as well as their experience at the Las Vegas Baseball Academy, for their rapid development. Although the duo have developed an undeniable connection on the field, they admit their brotherly love isn't always strong.
"Outside the diamond, we fight a lot like normal brothers," said Dylan Drachler, a 6-foot-1-inch left-hander. "But baseball has definitely brought us closer. When we get on the field, I'll rip into him every now and then, but I feel like I have to take a step back and realize he's a freshman. He's going to make mistakes."
Zane Drachler's missteps behind the plate have been minor, his brother says.
"It just feels right when I'm back there. I like being able to control the game and being involved in every play," said Zane Drachler, who has thrown out 16 of 25 potential base stealers this season as of April 22. "I've been working hard to get here."
In the Grizzlies' Northwest League opener April 2, Dylan Drachler tossed a no-hitter, striking out 14 in a 1-0 loss to Palo Verde.
"Zane caught the whole game," said Dylan Drachler, a Class 4A all-state selection in 2012. "I don't think that will ever happen again. He might catch a no-hitter, but he'll never catch a no-hitter from me again. It was crazy."
Dylan Drachler commands a fastball that sits from 86 to 88 mph, a sharp breaking ball that floats around 76 mph and a deceptive delivery that leaves plenty of hitters baffled. He is 2-3 with 58 strikeouts and a 0.91 ERA in 38 1/3 innings this season.
"He's just not scared of competition," Bassett said. "He wants the baseball on the mound every day it's his turn to throw. He's not scared to throw."
Dylan Drachler, who projects to be selected from the eighth to 10th rounds of June's Major League Baseball draft, said about 20 clubs have contacted him.
"I would love to go with the draft," said Dylan Drachler, who is batting .487 with 17 RBIs. "But if it doesn't work out, Utah's not a bad thing to fall back on. … I'm just going to try to play until I can't play anymore."
In the meantime, he has taken the role of tutoring his brother.
"It's a huge benefit," Zane Drachler said. "If you ever just want to go work on something, you just ask your brother to go help you out. He's taught me everything I know."