Garrett Holden's one-hit outing lifts Centennial past Spartans
March 28, 2017 - 10:13 pm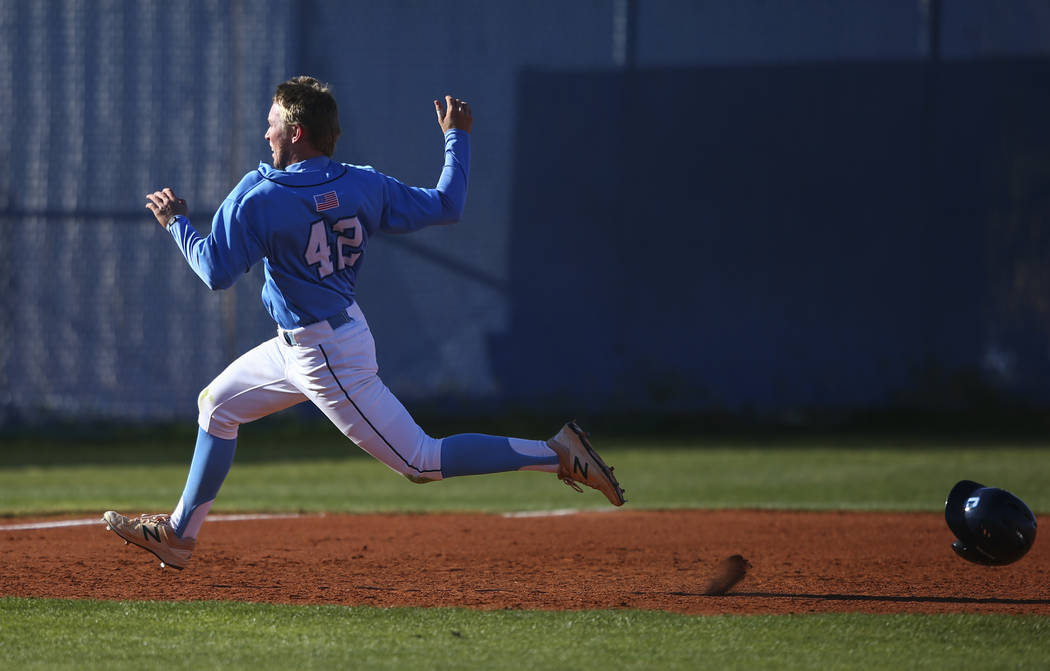 While his counterpart from Cimarron-Memorial was struggling Tuesday, Centennial pitcher Garrett Holden was a model of efficiency.
Holden fired a one-hitter, and the Bulldogs took advantage of seven walks to claim a 10-0 five-inning baseball victory over the visiting Spartans.
"He's pitched well this year, but that's the best game he's pitched," Centennial coach Charlie Cerrone said.
Holden needed just 57 pitches to get through five innings. He only struck out two, but he didn't walk anyone and kept the ball down, recording 11 ground ball outs. Getting those ground balls was key on a windy afternoon.
"If they lifted the ball to right field, there was a good chance it was dropping," Holden said. "And you could hit a super-high pop fly and it would go out."
While Holden was rolling, Cimarron starter Cody Koslowski struggled with his control.
Koslowski walked six in 2 1/3 innings, and the Bulldogs finally broke through with a six-run third inning. Koslowski walked four in the third.
"We haven't been hitting very well this year," Cerrone said. "Normally the walks hurt us, but this game today we were lucky and fortunate, and the walks helped us."
Koslowski walked the first two batters in the third before Jake Rogers delivered a two-run triple to make the score 2-0. After another walk, Austin Kryszczuk lined an RBI single to left. The Bulldogs added a sacrifice fly by Zack Simon and a two-run single by Nik Dobar in the inning.
The Bulldogs (8-3-1, 6-1 Northwest League) added four runs in the fourth, highlighted by a two-run double from Holden.
Rogers was 2-for-2 with two triples to lead the offense.
"Jake's been coming on for about a week and a half now," Cerrone said. "And he's a better kid than he is a baseball player. And he's a good baseball player."
The win gave the Bulldogs sole possession of first place in the Northwest League. Centennial will complete the three-game series against the Spartans (7-4, 5-2) with games at Cimarron on Wednesday and Friday.
"It's good to get the first game of the series," Cerrone said. "But today doesn't mean anything. Cimarron's been a great program for 20-plus years in this town, and it'll be a different ballgame tomorrow."
Contact prep sports editor Damon Seiters at dseiters@reviewjournal.com or 702-380-4587. Follow @DamonSeiters on Twitter.
Box score:
Centennial 10, Cimarron-Memorial 0