Gorman, Desert Oasis to play for 5A baseball state title— PHOTOS
Updated May 19, 2023 - 11:50 pm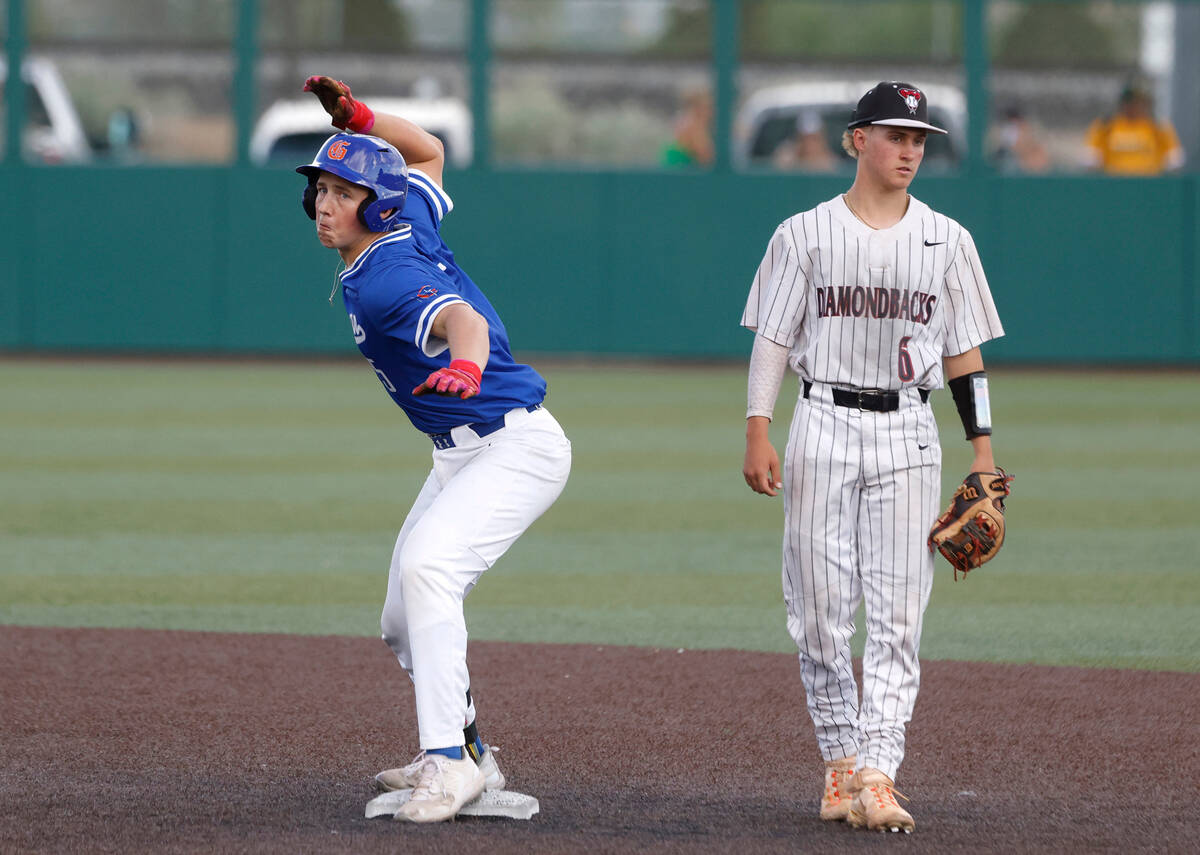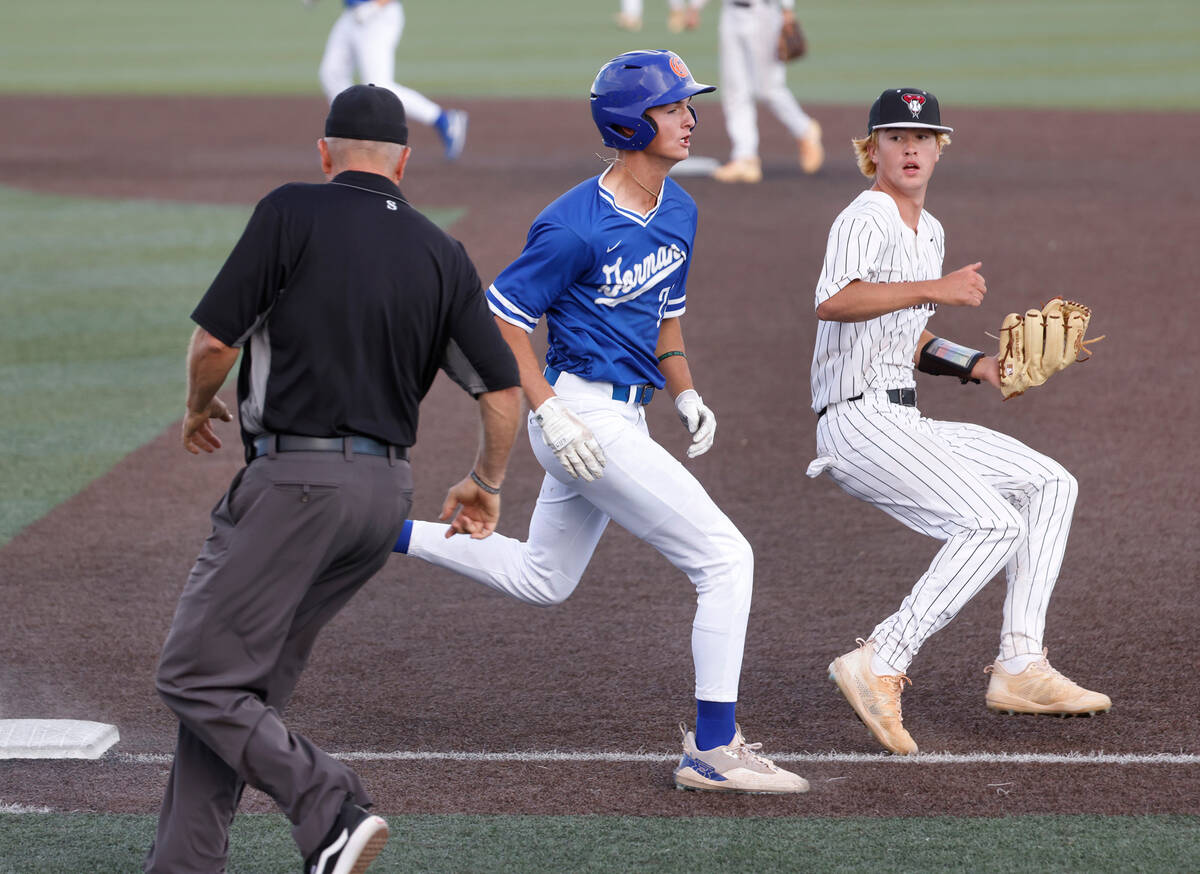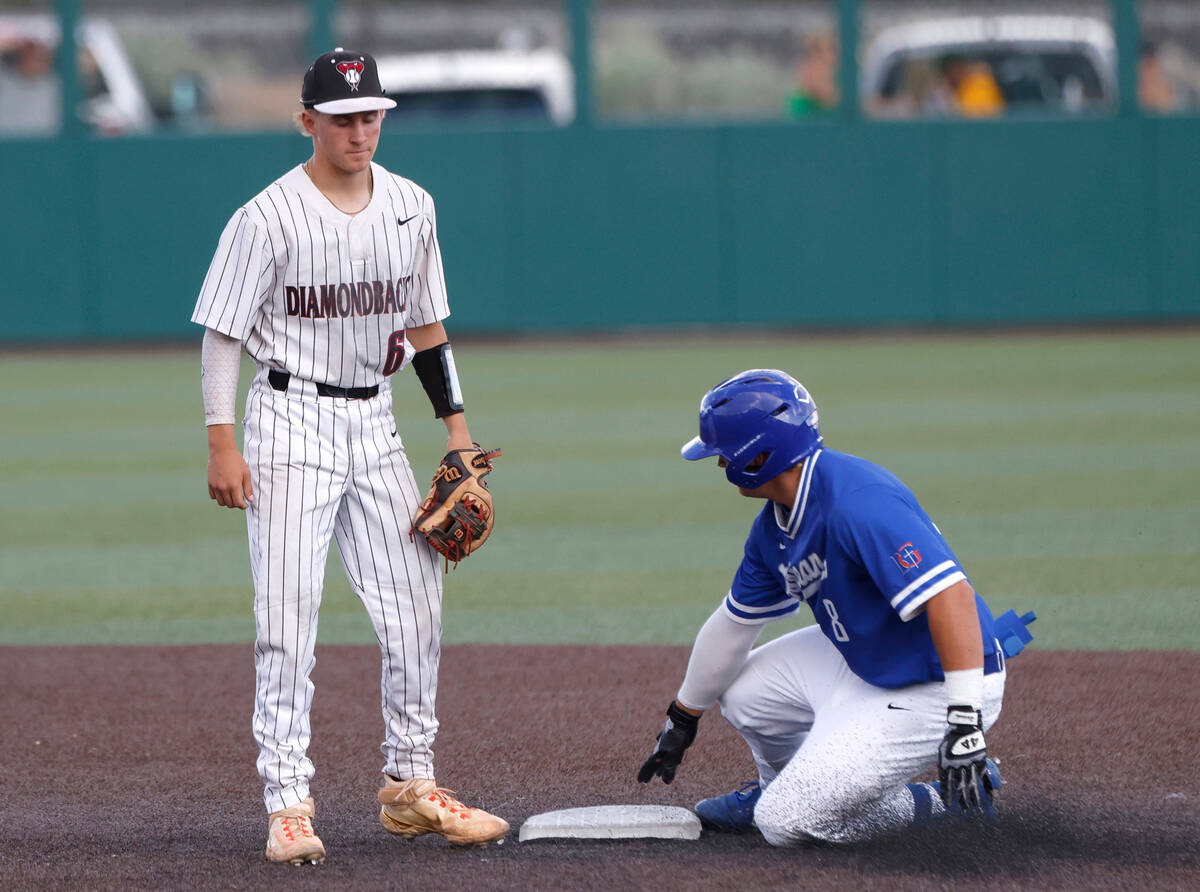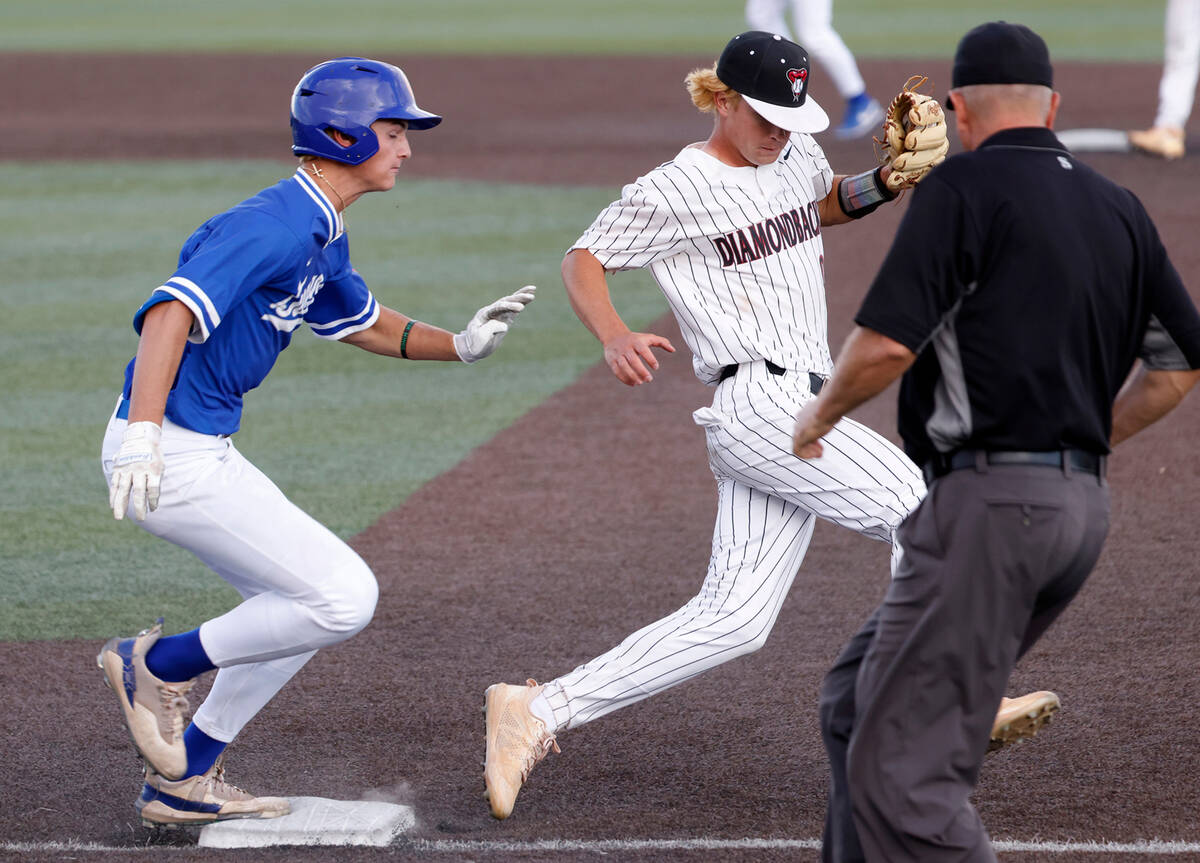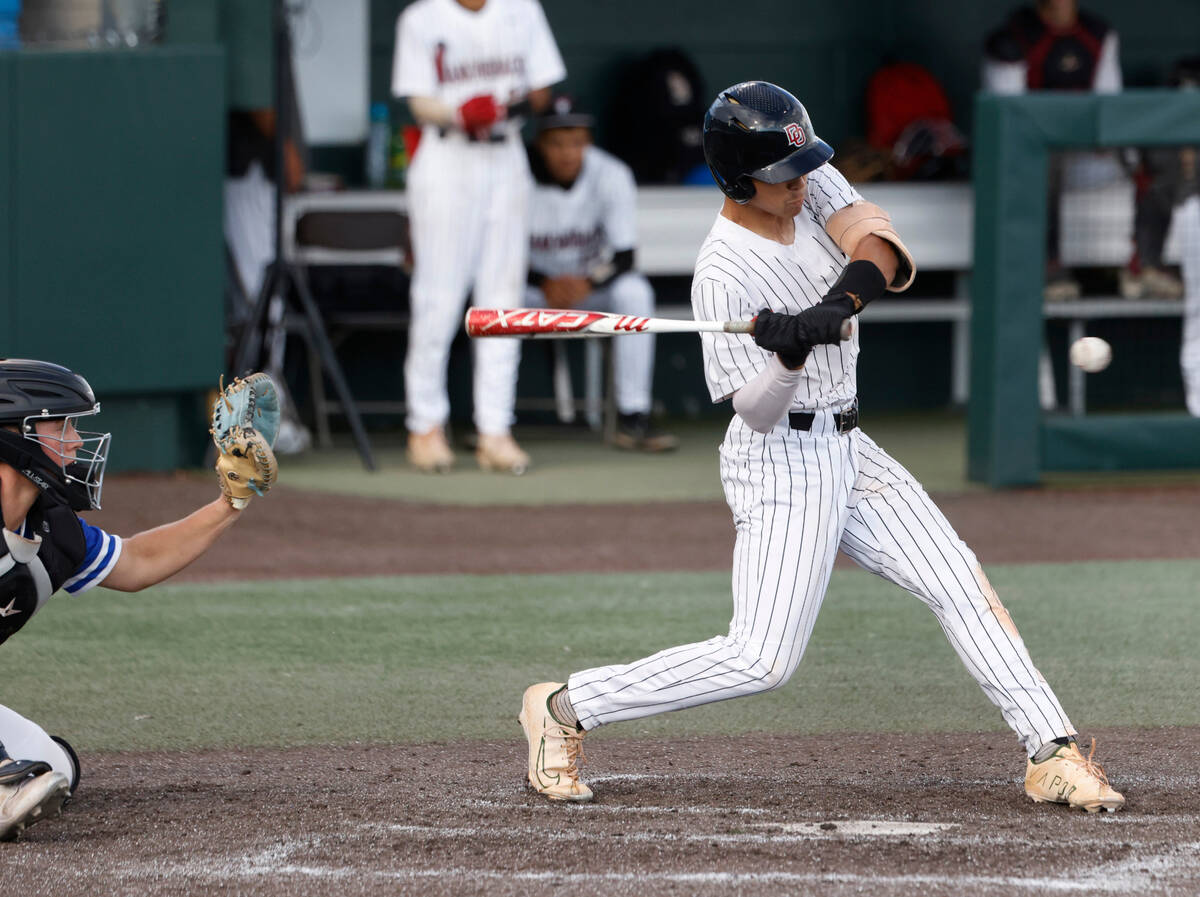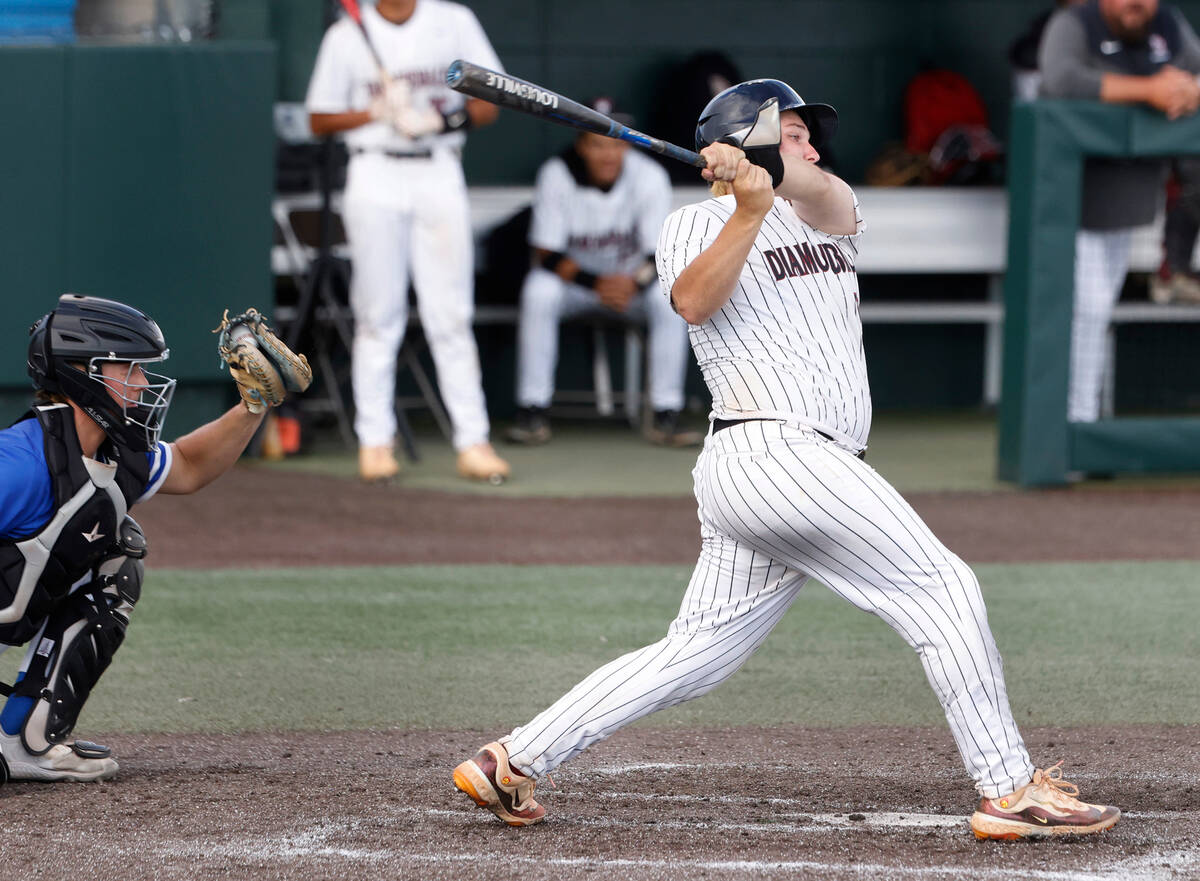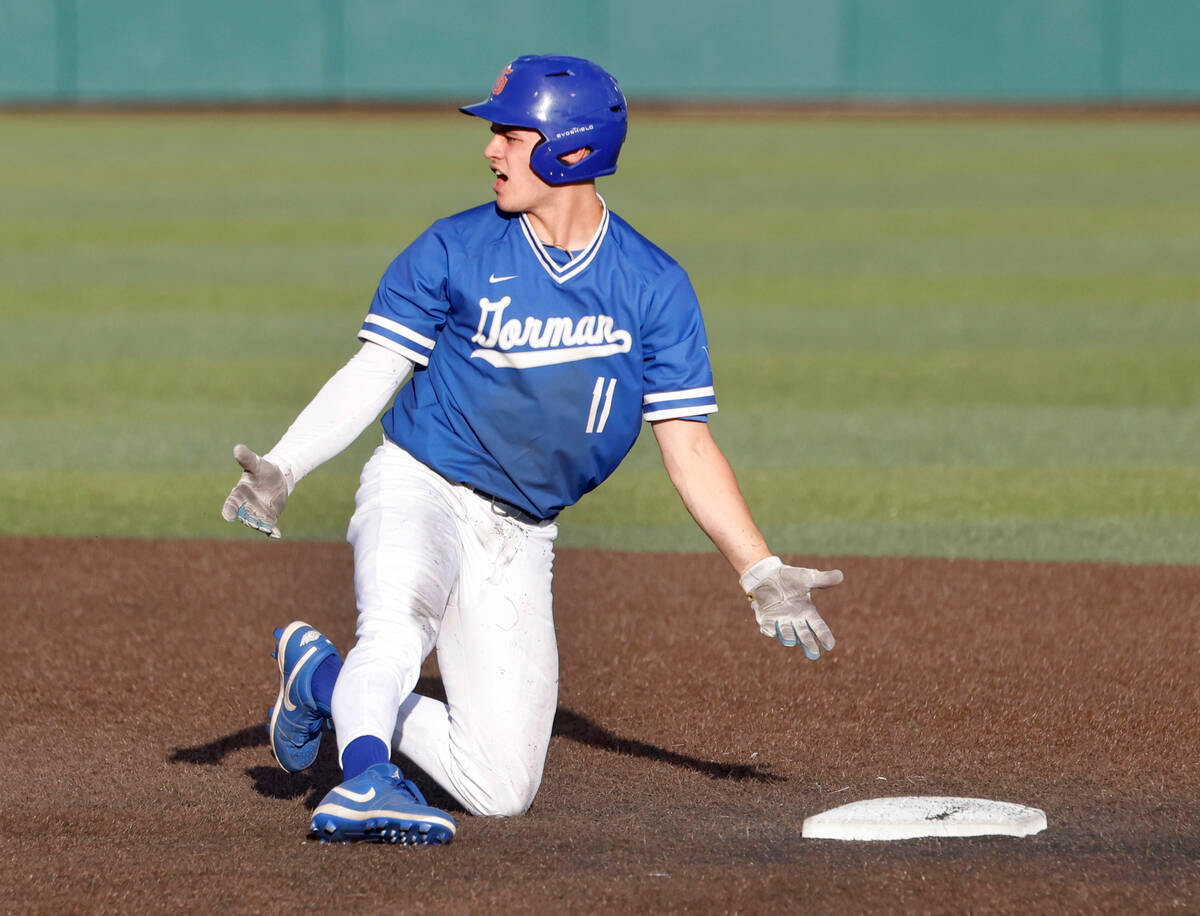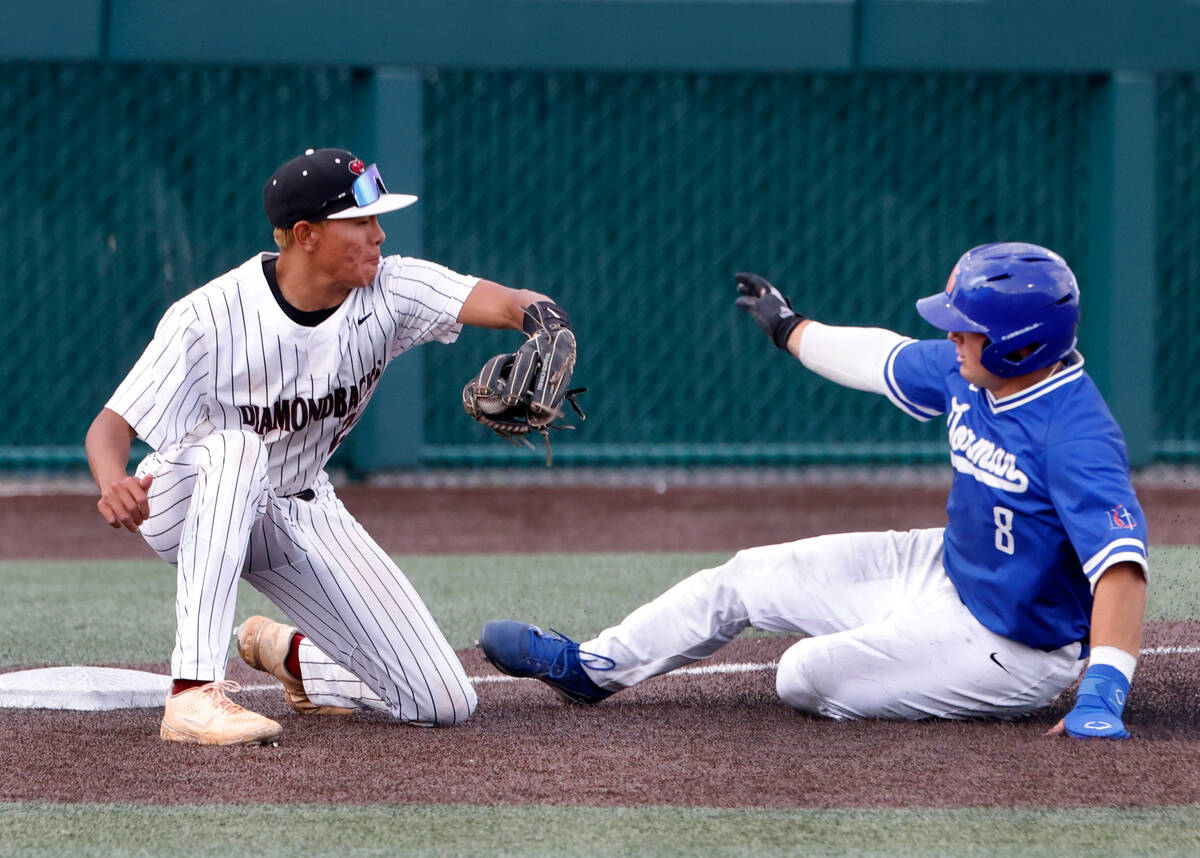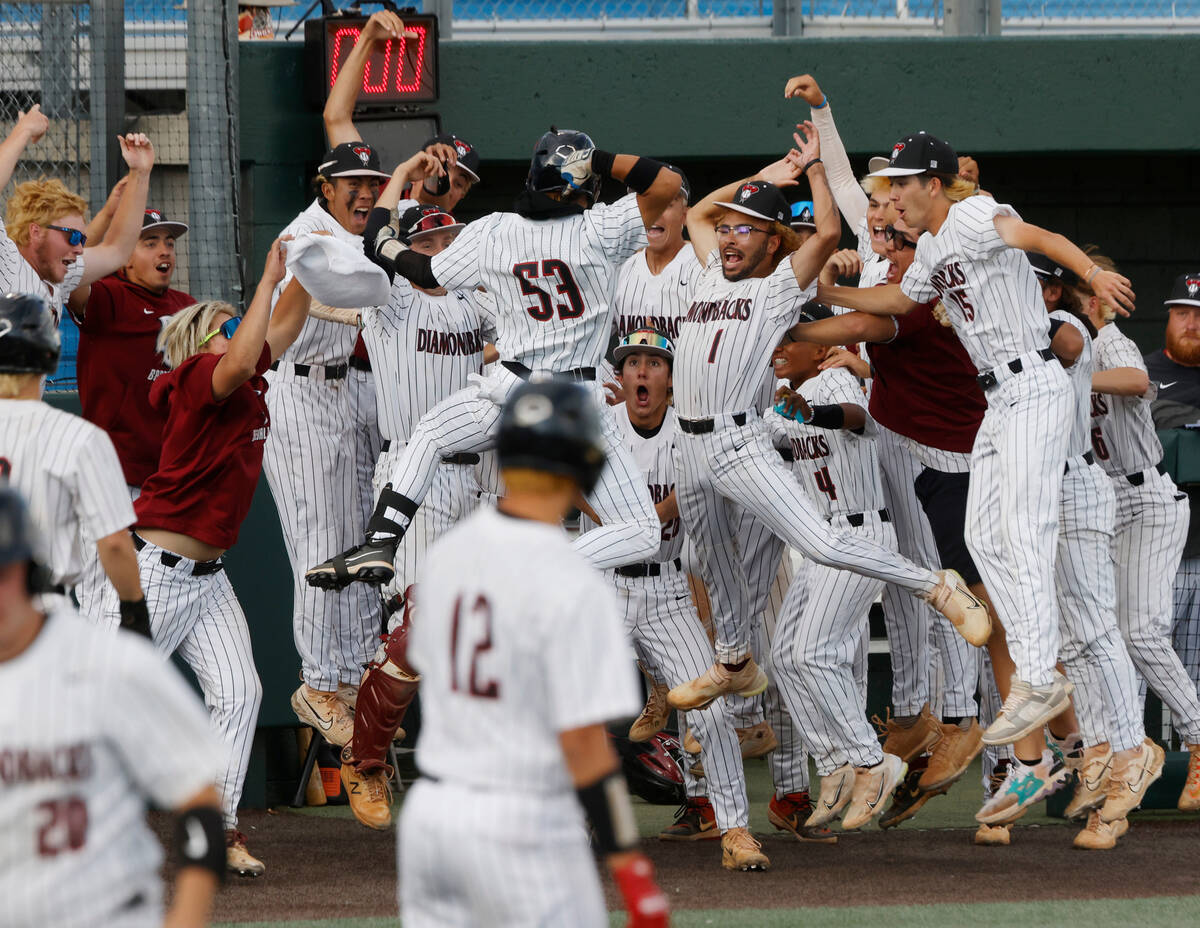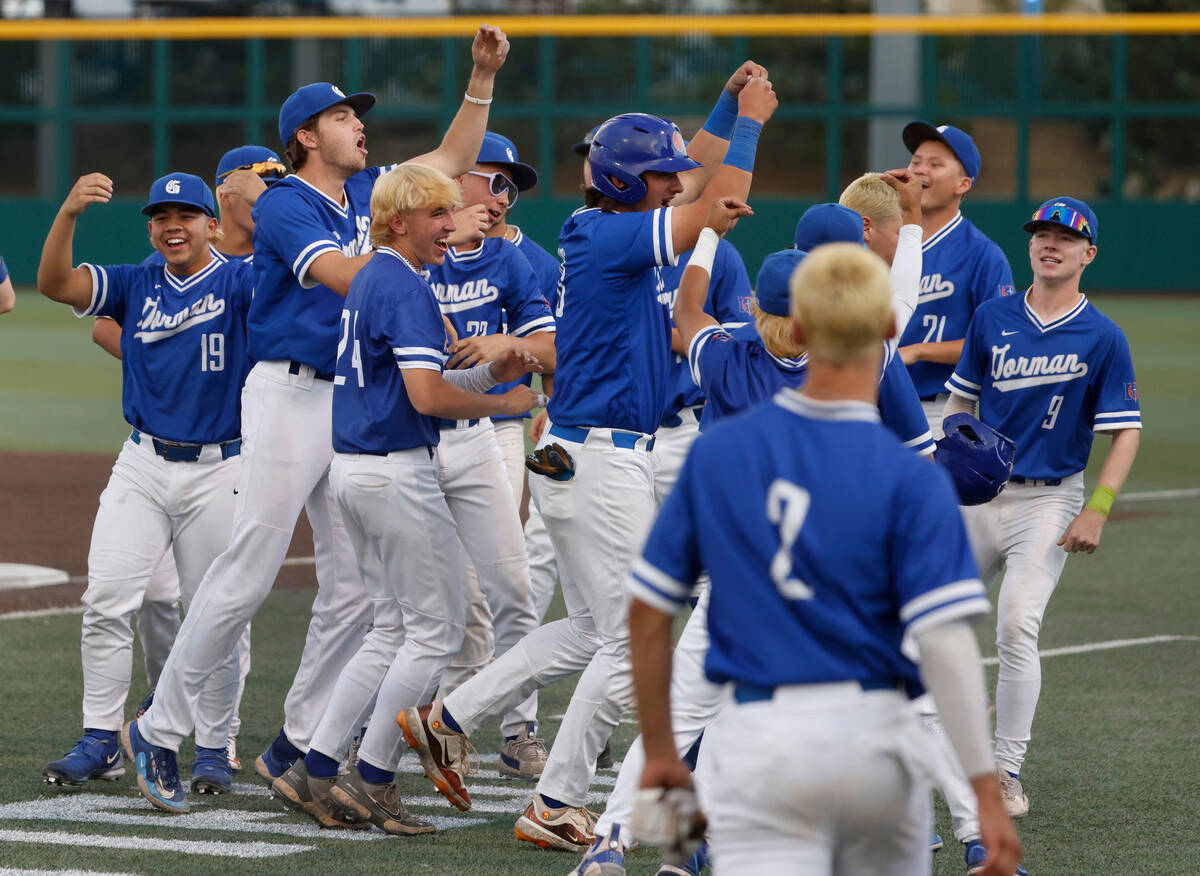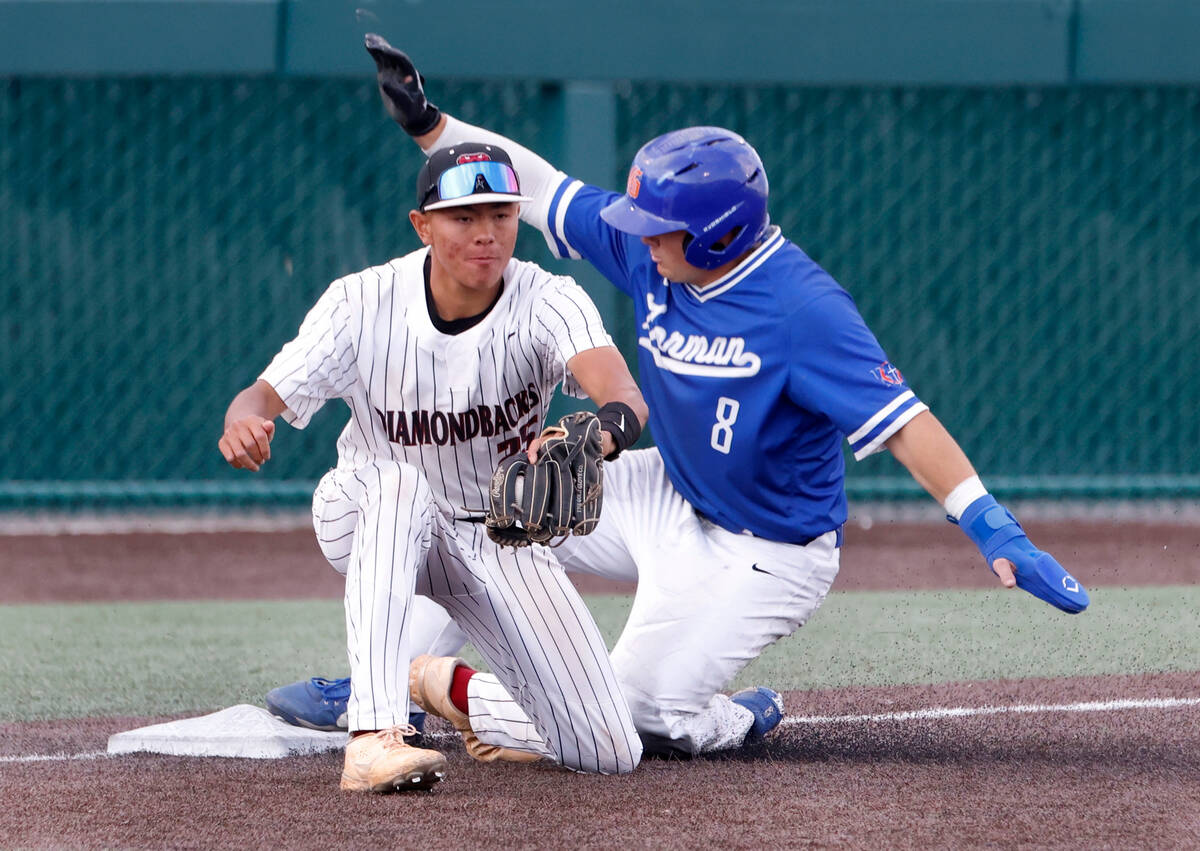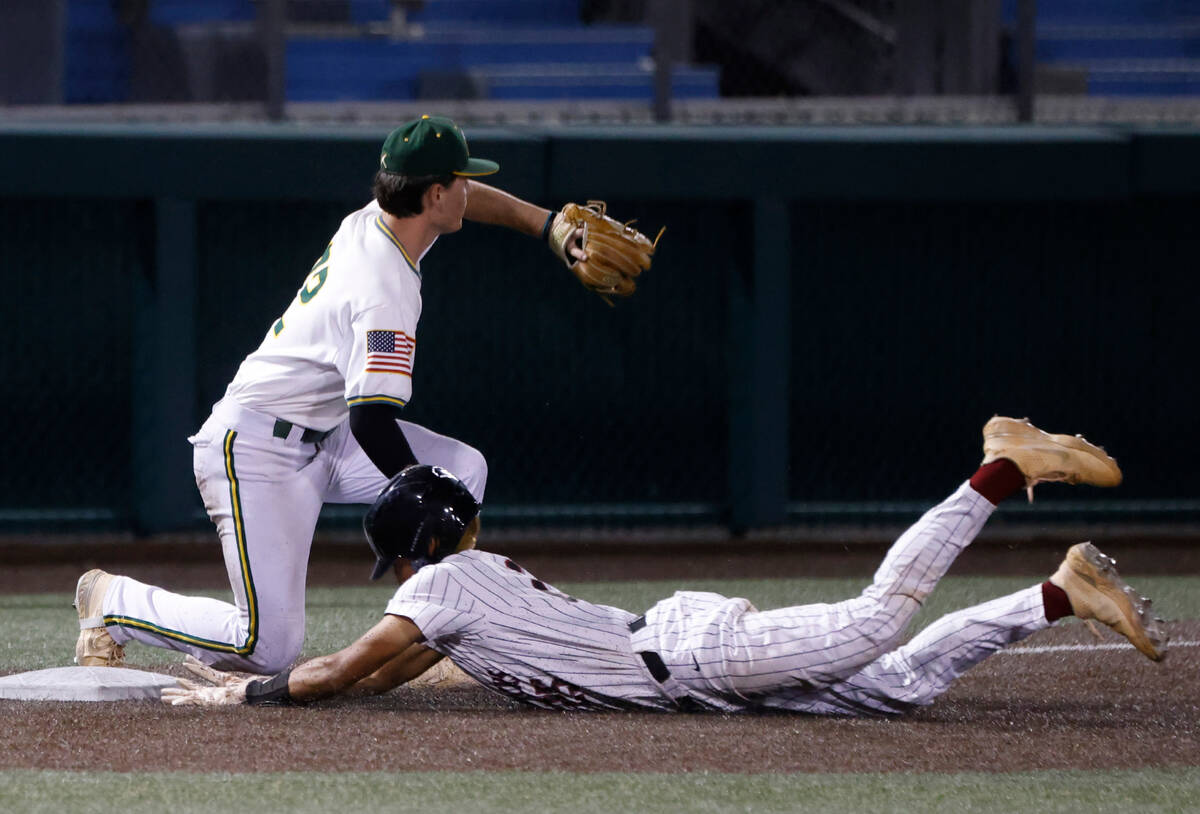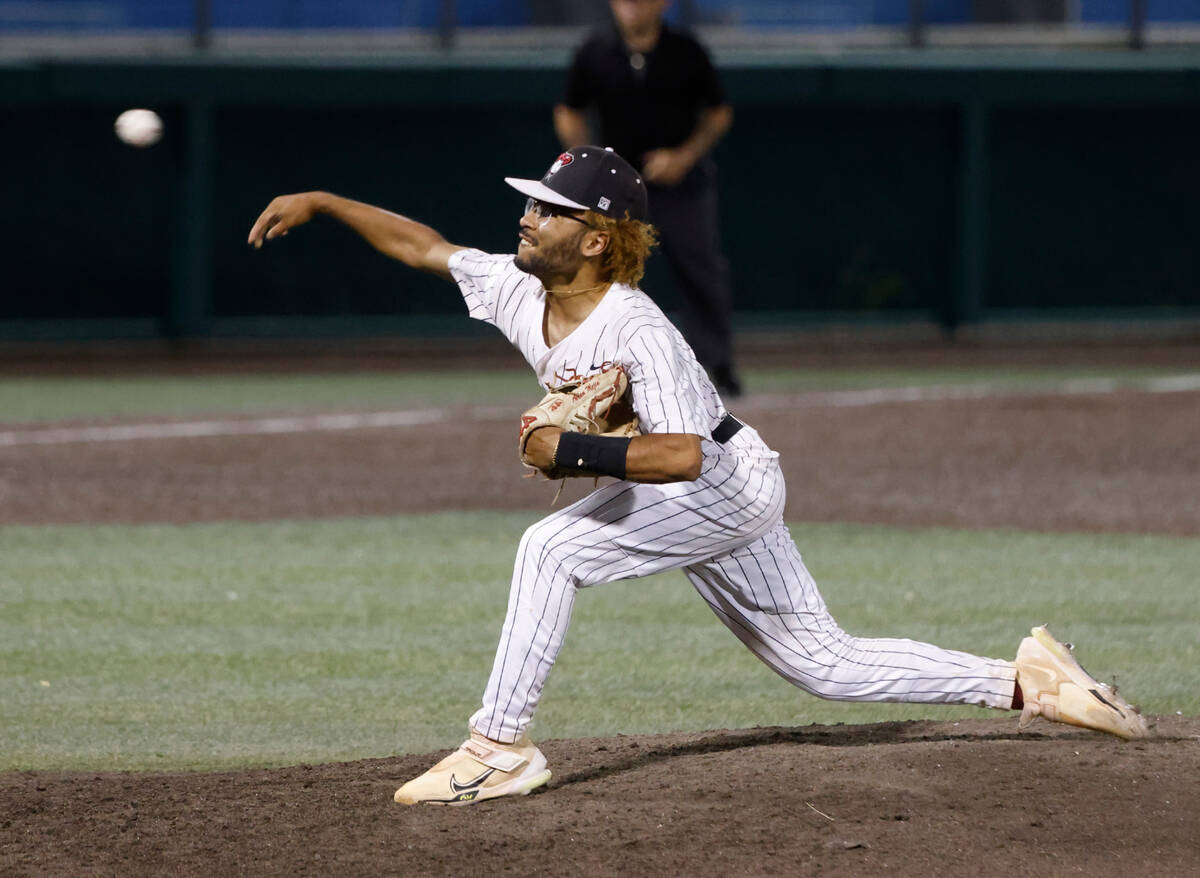 RENO — Burke Mabeus was ready when Desert Oasis pitcher Seth Graham-Pippin gave him a pitch to hit Friday at the Class 5A state baseball tournament.
Before the game, the Gaels' junior catcher and his coaches discussed that the Diamondbacks' ace right-hander would throw a soft slider.
In the bottom of the fourth inning with the bases loaded, Mabeus didn't miss it.
Mabeus crushed a double to left-center field that cleared the bases during a six-run inning as the Gaels rolled to a 12-2 win over Desert Oasis at UNR's Peccole Park to advance to Saturday's state title game. The game ended after five innings due to the 10-run mercy rule.
Gorman (34-2) will again play Desert Oasis (28-13) — which defeated Northern champion Bishop Manogue 19-4 in four innings in an elimination game late Friday — at 12:30 p.m. for the chance to win its first state title since 2015.
"This is one of our goals, to win the state title," Gorman coach Chris Sheff said. "And now we put ourselves in a position where we have to win one game to win a state title. So we're pretty excited to be playing Saturday, and we will give it a run tomorrow."
Despite the game starting more than two hours behind schedule after other state tournament games earlier in the day went long, the Gaels' offense wasn't rattled. Seven Gaels recorded hits, and all nine batters reached base.
"We worked hard in the fall. Our coaches really drilled it into us that we have to situational hit," Mabeus said. "We're going to stay on top of the ball and shoot it the other way. I think our guys are doing nothing short of that."
Sheff said he wasn't surprised with the Gaels' offensive output, given the way they've produced offensively the last few weeks.
"We've swung pretty well the last two weeks and probably are swinging the best we've swung all year so I'm not surprised," Sheff said. "I thought we would swing well today. A lot of guys are having good at-bats right now."
Mabeus led the Gaels, going 2-for-3 with four RBIs and two runs scored.
"He's our backstop — which is important — he's caught his butt off all year," Sheff said of Mabeus. "He's had big hits and huge at-bats. His demeanor is what leads this club. He's strong-minded and wants to beat people. The year he's having has been great."
Gorman led 3-0 through three innings. Starting pitcher Kamdyn Perry successfully retired Desert Oasis the first time through the order but had trouble in the fourth.
After leadoff hitter Jake Cook reached on an error, Jet Gilliam cut into Gorman's lead with a two-run homer that just cleared the left-field fence. Perry settled down after allowing a pair of two-out singles and got out of the inning with limited damage.
The Gaels didn't waste any time answering back. They sent 12 batters to the plate in the fourth, scoring six runs on five hits.
They scored their first two on an error and a bases-loaded walk. Mabeus stepped to the plate with the bases loaded and saw the pitch he was looking for.
"I was ready for it," Mabeus said. "We looked at the report and oftentimes (Graham-Pippin threw a soft slider), I was ready for that."
Mabeus' bases-clearing double and Gunnar Myro's RBI single in the inning chased Graham-Pippin, who had given Gorman one of its two losses earlier in the season in a complete-game effort.
Desert Oasis' pitching had no answers for Gorman's bats. The Gaels added four more runs in the fifth. Nolan Eberwein's RBI single gave the Gaels a 10-run lead and ended the game.
Gorman, which has won 23 straight games, lost in last year's title game. Now the Gaels have the opportunity to win the ninth state title in school history.
"We're just going to play our game," Mabeus said. "It's one more game, and we've proven that we're one of the best teams in the nation. We're going to go out there and play calm, do our thing and bring a lot of energy."
Desert Oasis routs Manogue
Moments after losing to Gorman, Desert Oasis had to regroup for an elimination game against Bishop Manogue.
Desert Oasis came out of the gates firing, scoring five runs in the first inning. Ethan Kelly drove in two runs on a bases-loaded double with no one out to start the rally.
The rout was on as the Diamondbacks rolled to the 19-4 win over Bishop Manogue — which rallied to beat Damonte Ranch 6-5 in an earlier elimination game – to keep their state title hopes alive. The game ended after four innings due to the 15-run mercy rule.
Desert Oasis will play Gorman for a sixth time this season Saturday for the title. The Diamondbacks, who won a state championship in 2019, will have to win twice to claim the title.
Despite Bishop Manogue scoring three in the bottom of the inning, Desert Oasis couldn't be stopped. The Diamondbacks scored twice in the second and added five more runs in the third.
A seven-run fourth inning gave the Diamondbacks a 16-run lead.
After Desert Oasis beat Gorman on March 22, the Gaels have won the last four meetings, outscoring the Diamondbacks 41-9, with two games ending via the 10-run mercy rule.
Contact Alex Wright at awright@reviewjournal.com. Follow @AlexWright1028 on Twitter.