Gorman disposes of O'Gorman
March 30, 2016 - 10:18 pm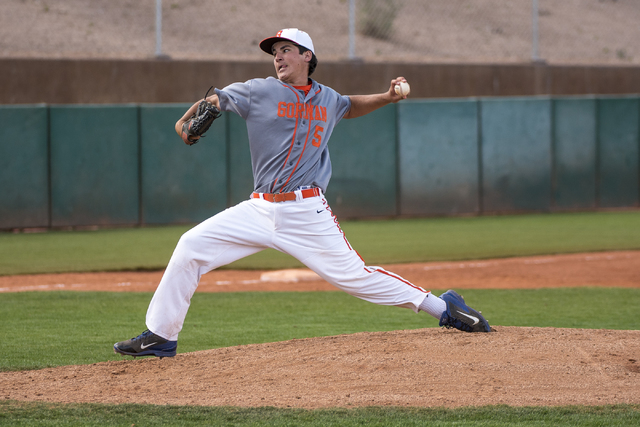 The first pitch to Beau Capanna in the bottom of the first inning was drilled to left field, drawing worrisome murmurs from the visiting fans who made the trip from South Dakota.
The hard line drive sailed well foul, but it foreshadowed what was to come Wednesday afternoon for Bishop Gorman's baseball team.
The host Gaels put several hard-hit balls in play and took advantage of five errors to claim an 11-1 five-inning victory over O'Gorman (South Dakota) in the opener of the Bishop Gorman Desert Classic.
Nicholas Israel homered and drove in three runs, and Austin Wells went 2-for-3 with a double, a run and an RBI for the Gaels (10-1).
"We came back from that long tournament in Tucson (Arizona), and won that, and we played well towards the end," Gorman coach Gino DiMaria said. "It's been a long stretch of games, so right now, the intensity is still there, which after a while it can kind of wear you down."
Gorman senior left-hander Brian Coffey allowed one hit against the Knights (0-2) — a bloop, run-scoring single to center in the first inning by Hunter Thompson — and pitched around three errors.
Coffey fanned the side in the second inning and finished with nine strikeouts. He retired 12 of the final 13 batters, and the only runner during that stretch was quickly erased when Elliot Barnes reached on a throwing error and was tagged out after a brief rundown between first and second base.
"I like the pitching performance from Brian Coffey," DiMaria said. "He controlled the game, most of it."
Gorman's first eight batters reached base as the Gaels scored five runs in the first. Wells ripped a run-scoring double into the right-field corner, and Jordan Sadovia and Israel drew bases-loaded walks before Braxton Wehrle's run-scoring single.
"I notice that first (tournament) game, you come out, you don't know what to expect from the other team. We've never seen them," DiMaria said. "And we kind of set the tone right away putting up five in the first inning. With our pitching staff, a (five)-run lead from the get-go is a pretty good lead for us to be able to hold on to for the win."
The Gaels scratched out four runs in the third, capitalizing on four errors by O'Gorman. Sadovia led off the fourth with an infield single, and one batter later, Israel blasted an 0-and-1 pitch over the right-field fence for a 10-run lead.
"We were aggressive at the plate," DiMaria said. "When we're aggressive, we hit well. When we're passive, we struggle a little bit."
Contact reporter David Schoen at dschoen@reviewjournal.com or 702-387-5203. Follow him on Twitter: @DavidSchoenLVRJ
Box score:
Bishop Gorman 11, O'Gorman (S.D.) 1