Gorman rolls to 5A state baseball title, first since 2015 — PHOTOS
Updated May 20, 2023 - 6:21 pm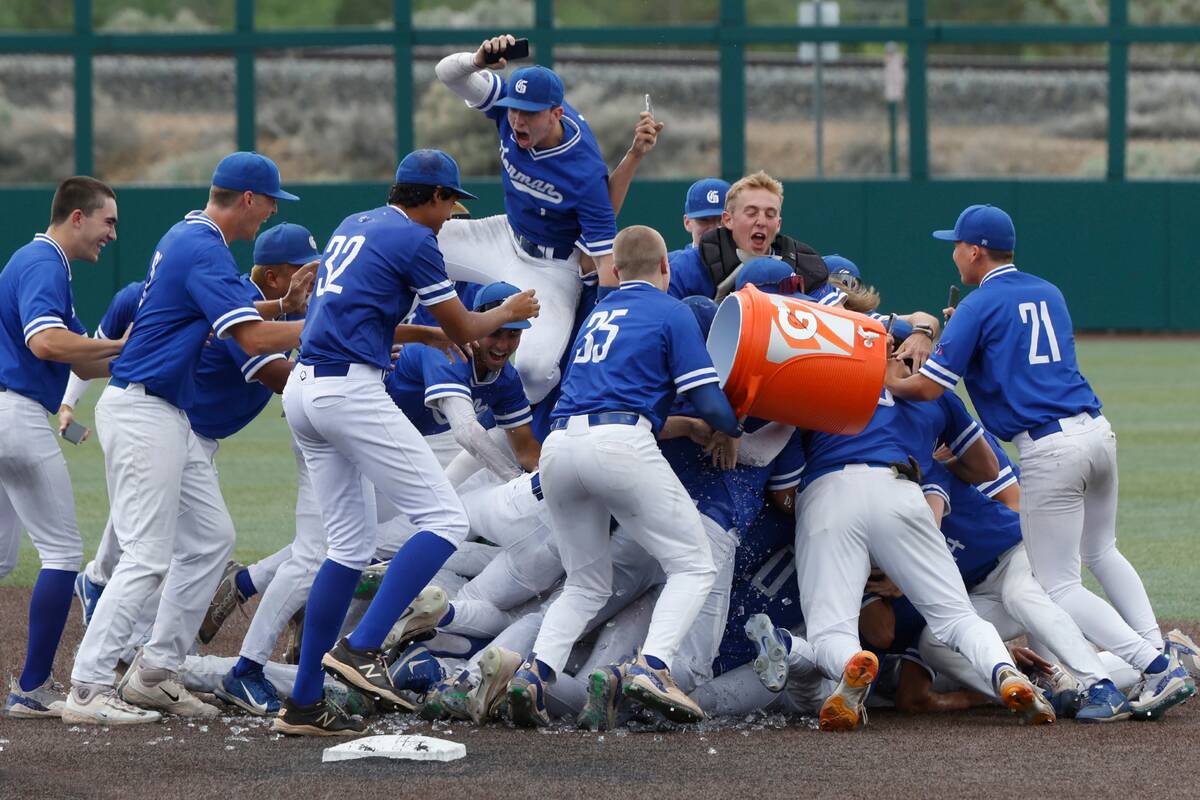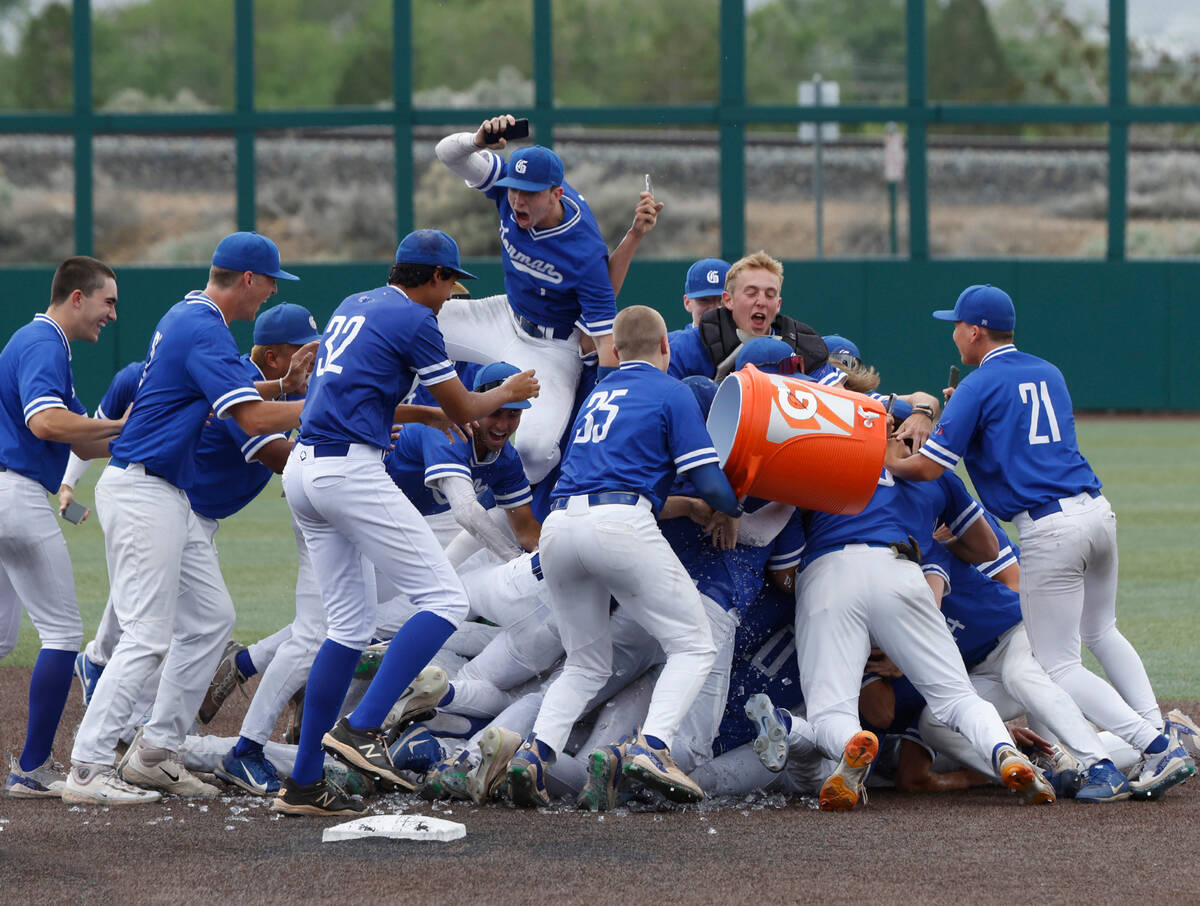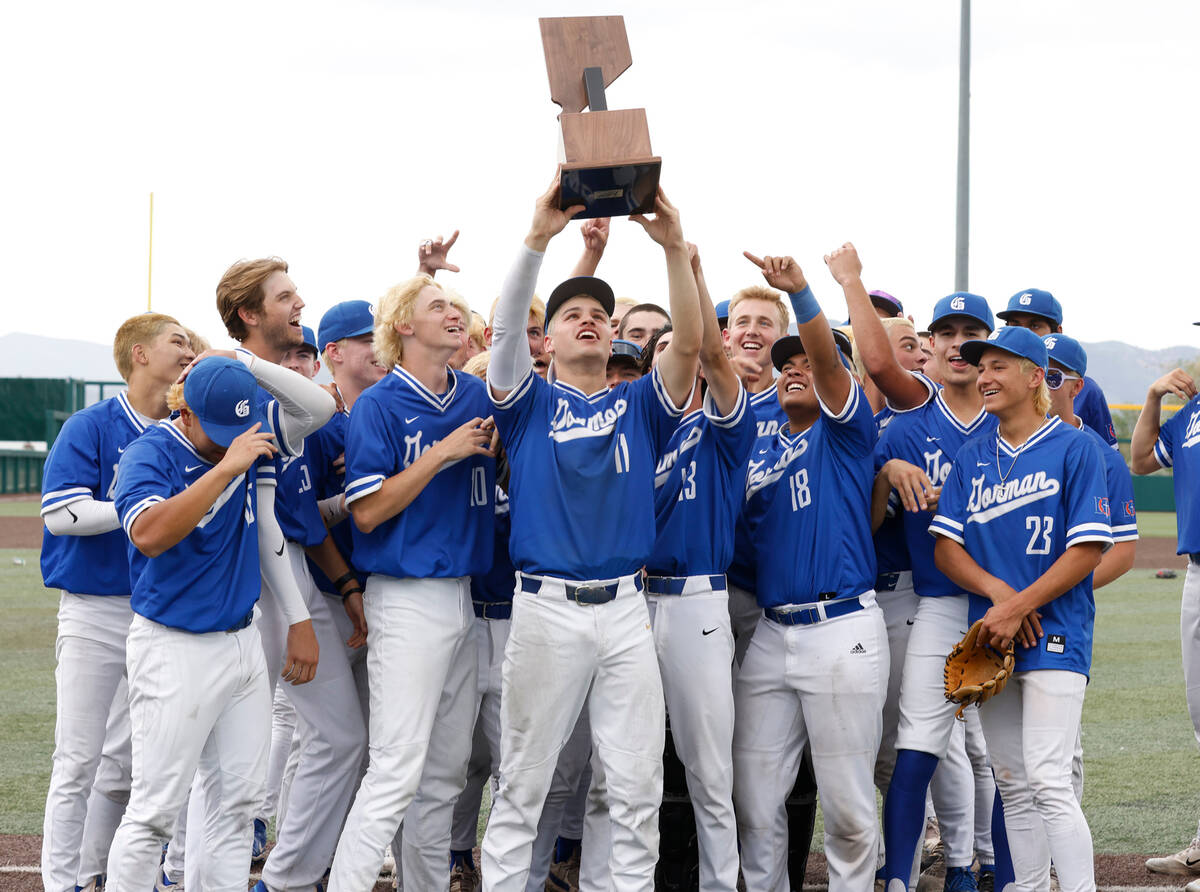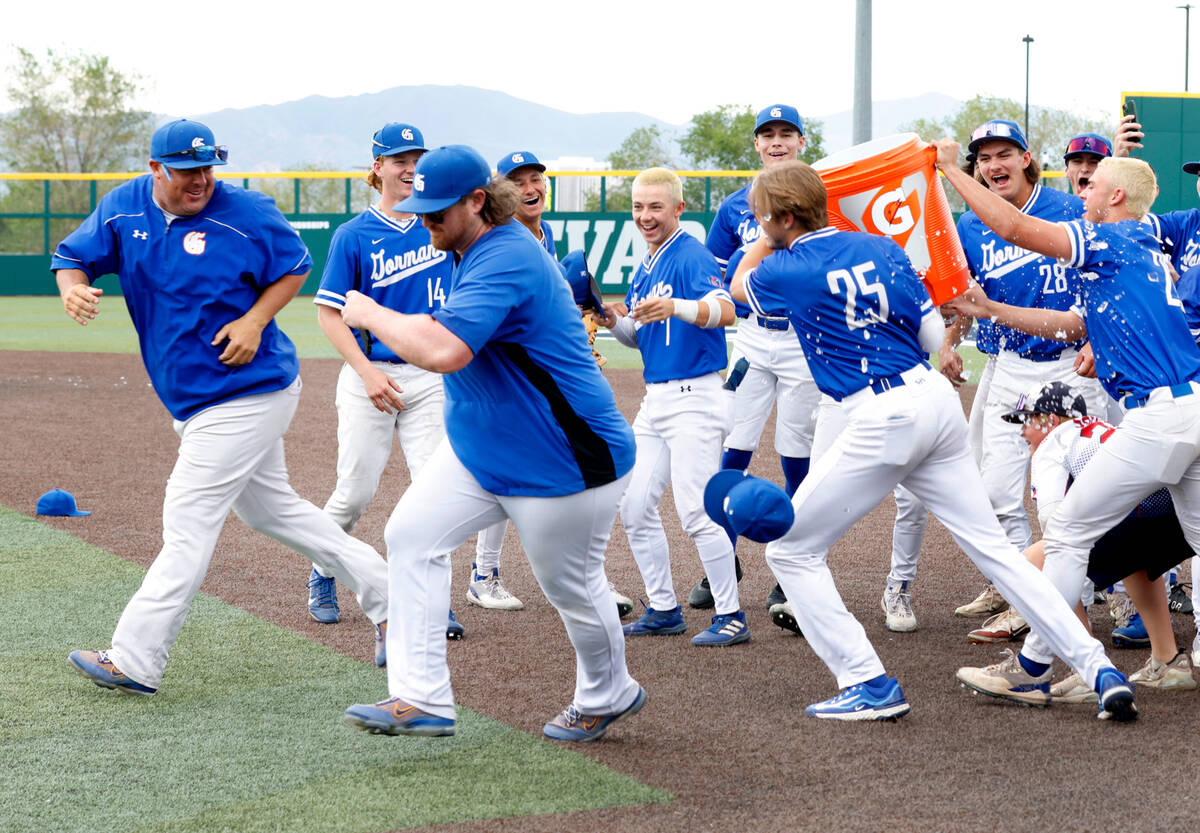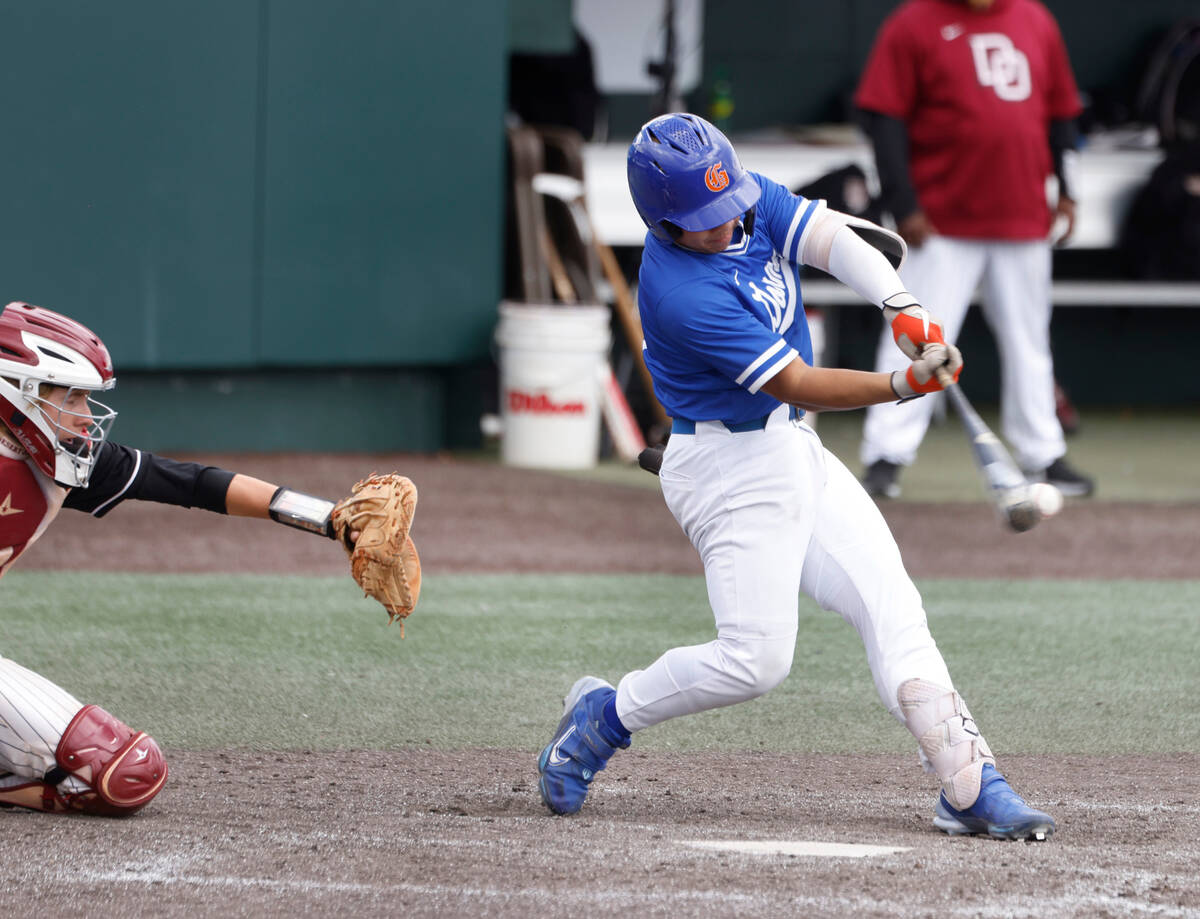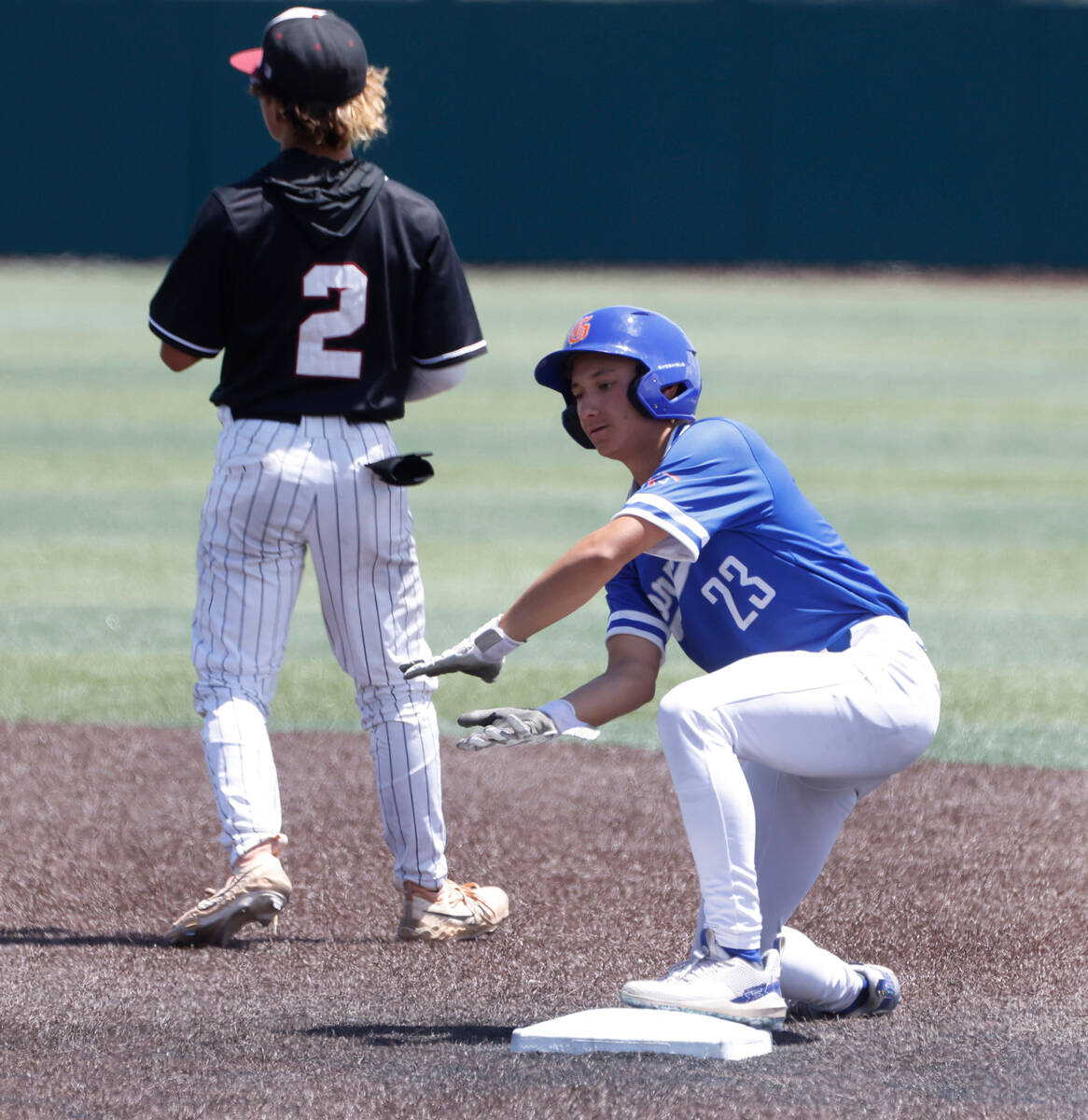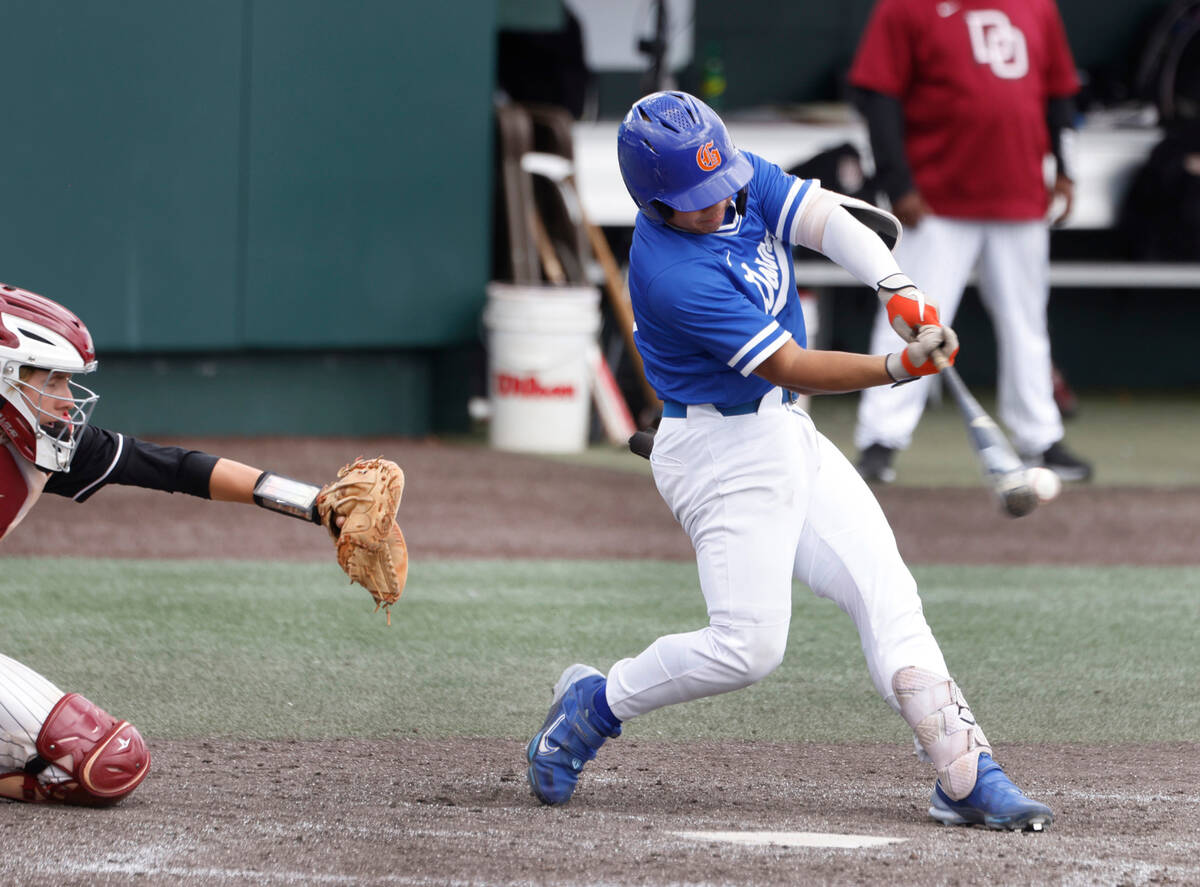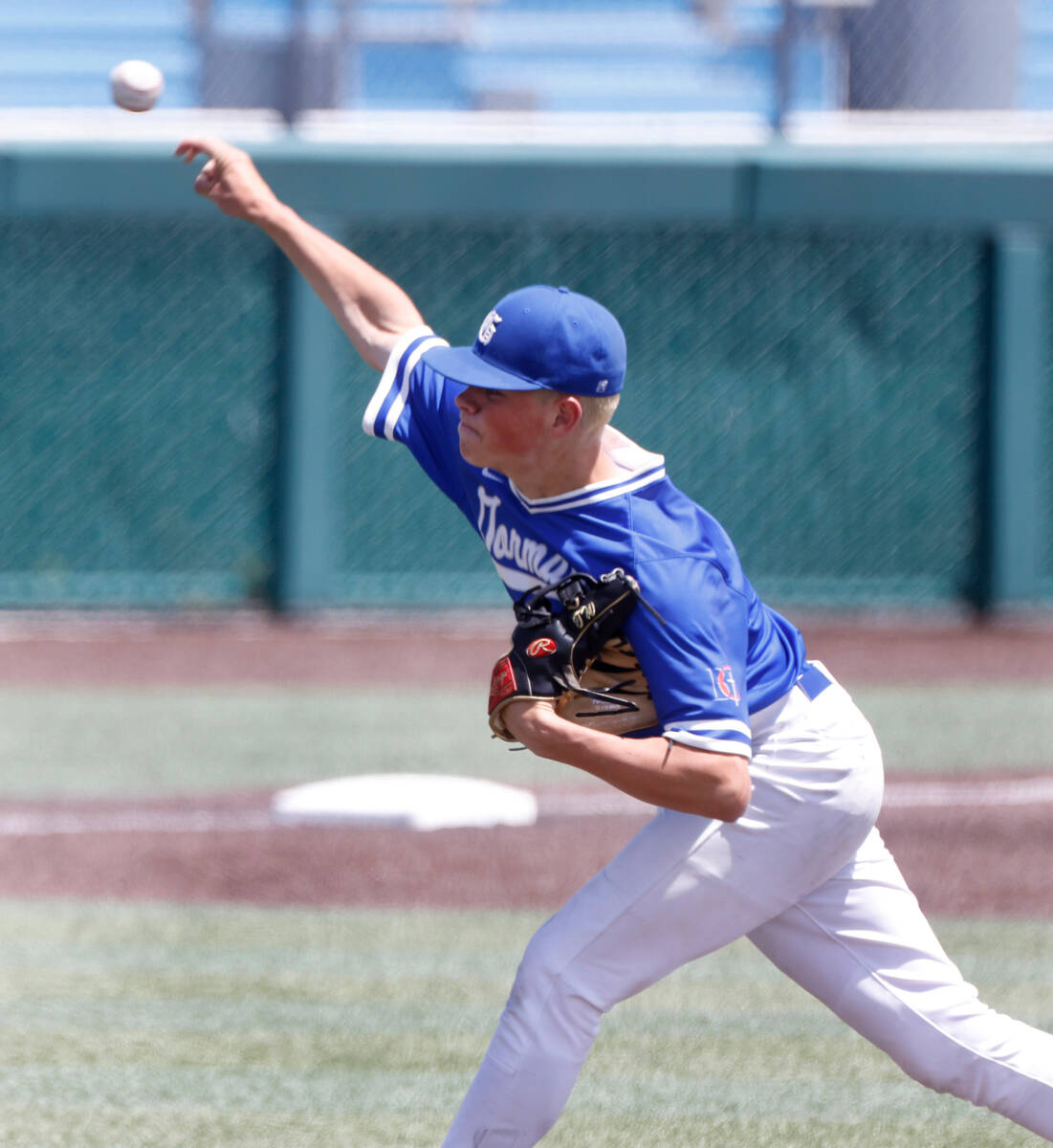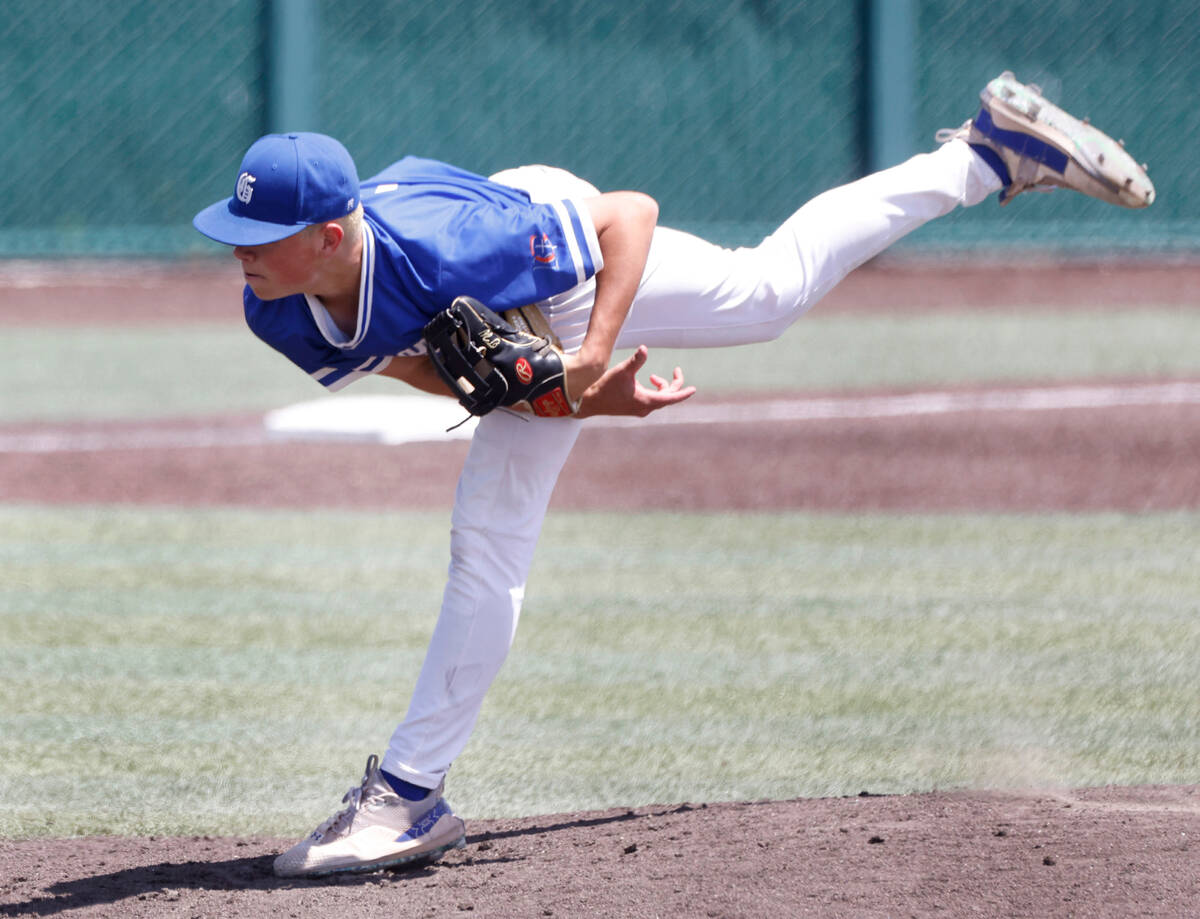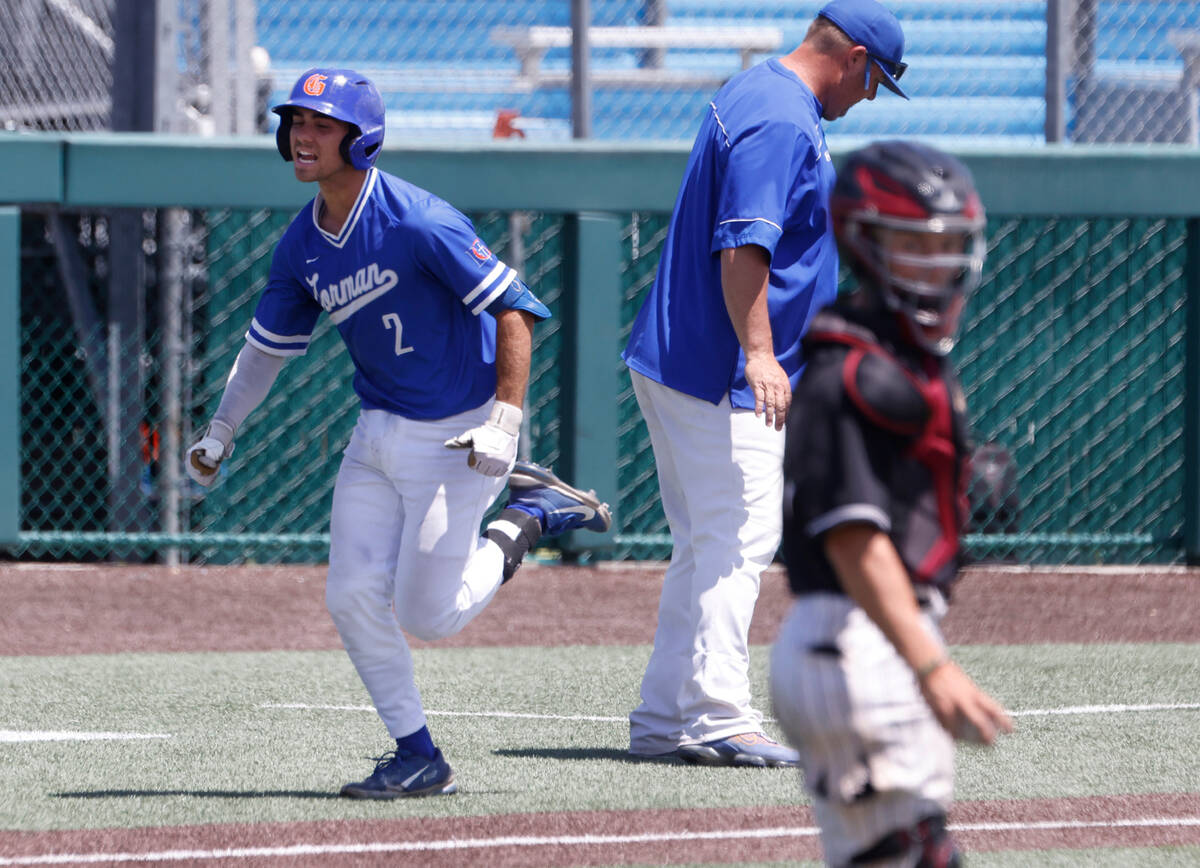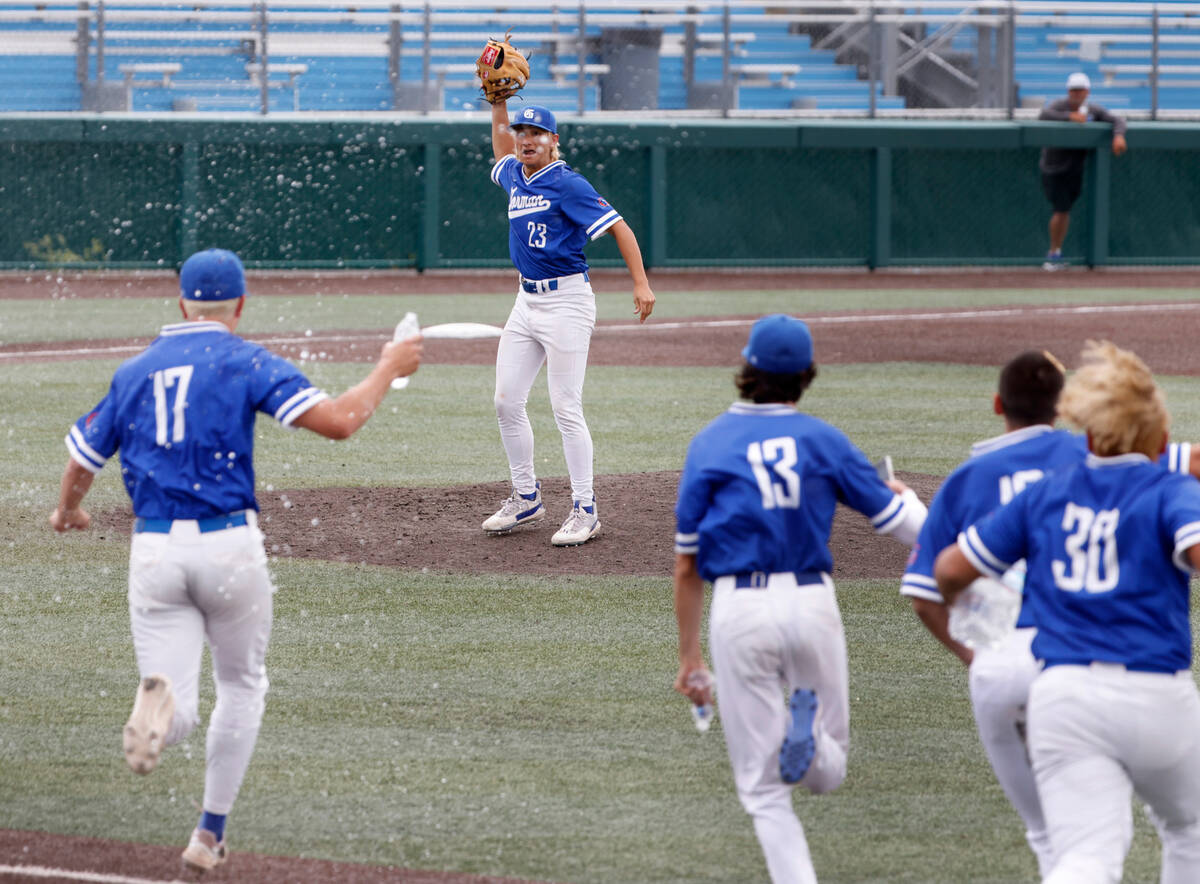 RENO — Gray rain clouds rolled across UNR's Peccole Park late in Saturday's Class 5A state baseball championship game.
The rain just missed the sixth meeting between Bishop Gorman and Desert Oasis.
It didn't miss much.
Gorman capped off a dominant season and left no doubt it was the state's top team with a 10-1 victory over Desert Oasis, claiming the ninth state title in school history, but the first since 2015.
The Gaels (35-2) used a six-run second inning to pull away from Desert Oasis (28-14), and they never looked back on their way to their 24th straight win.
"I've really enjoyed getting back into the high school game, and they've been a fun group," said Gorman coach Chris Sheff, who won five consecutive state titles (2006-10) during his first stint as the Gaels' coach.
"They've been a fun group, they're a unique group, and they had a lot of fun this year," he added. "They did a lot of fun things, and then they played great baseball on top of it, so it's even more fun."
When the skies did open up, it didn't dampen the Gaels' celebration.
Wearing their championship medals, and with most of them having their hair dyed blonde for the postseason run, the Gaels celebrated their state title as the rain came down.
"It feels awesome," junior shortstop Maddox Riske said. "We've been working for this for so long. We're super close, and it's just a blast to be around all these people and have a great year."
Riske led the Gaels, going 2-for-3 with a grand slam in the big second inning.
"It was thrilling, man," Riske said. "I knew the job was to get something in the outfield. The last four at-bats I had with a runner on third, they've always thrown me a fastball to lead off the at-bat. I was ready to hop on it."
Gorman found itself trailing Desert Oasis early, as it had in four of the teams' previous meetings. Senior designated hitter Seth Lyons doubled to right-center, scoring senior center fielder Jet Gilliam to put the Diamondbacks up 1-0 in the first.
After standing a pair of runners on base in the first, Gorman didn't miss on its scoring opportunity in the second. The Gaels' three hitters at the bottom of their lineup all reached base to set up Riske for his grand slam.
Junior catcher Burke Mabeus and senior third baseman Gunnar Myro each drove in a run to cap off the Gaels' offensive explosion.
It was plenty of offensive support for Gorman starter James Whitaker. The sophomore right-hander tossed six innings, allowing one run on three hits with five strikeouts.
"Our pitchers were great all year, and we would manage enough runs to win," Sheff said. "Then down the stretch in regionals and at state we got hot with the bats, which really made things a lot easier."
Anthony Marnell and Myro each added two RBIs for the Gaels. Marnell, a senior designated hitter and Oregon State commit, was 2-for-3 with two doubles. Myro, a senior third baseman and UNLV commit, was 2-for-4.
The Gaels lost to Basic in last year's title game. Sheff said as he returned to Gorman that he knew he would have a good team and needed to make sure everyone jelled together. He said he was happy to see the players buy in and put forth the effort to win the title.
"It's awesome being here with this group of guys for four years and working hard with them," Myro said. "It's awesome and was just a great experience with all of them."
If there was one misstep for the Gaels, it was missing Sheff on their first attempt to drench him with the water cooler.
After successfully dodging his players' first attempt in the Gaels' infield celebration and playfully egging them on to try again, Sheff stayed put near the dugout and let them douse him with water in celebration.
"Actually, it felt great," Sheff said, dripping wet and with a smile. "It's been hot all day, so it felt pretty good."
Contact Alex Wright at awright@reviewjournal.com. Follow @AlexWright1028 on Twitter.