Pitcher's best outing helps Centennial scrap for victory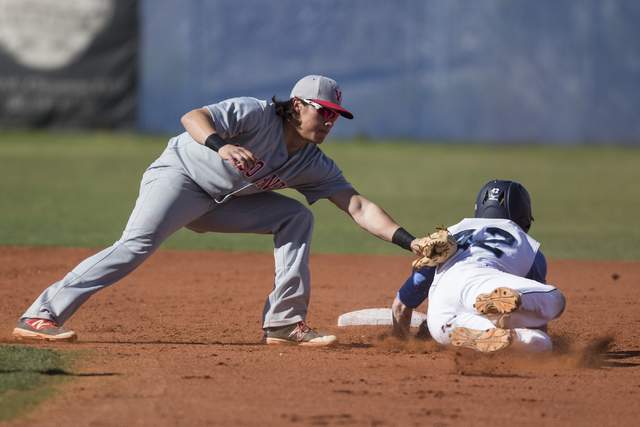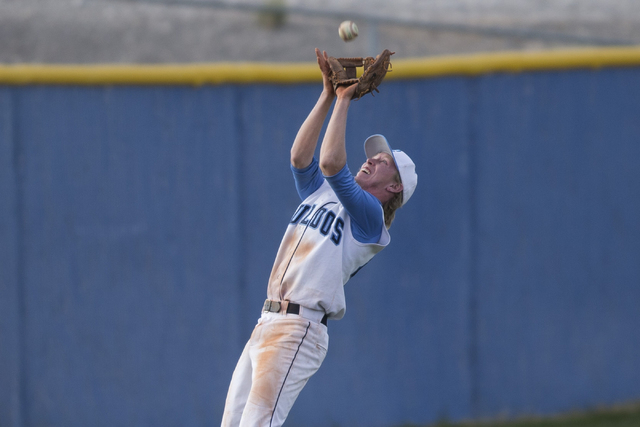 Centennial's Hayden Rosenkrantz didn't have the most impressive ERA entering Thursday's game against Arbor View.
You never would have guessed it by the way he pitched.
Rosenkrantz, who carried a 4.61 ERA into the game, limited the Aggies to three hits in 6 1/3 innings, and the Bulldogs made the most of four hits to claim an 8-2 home victory.
"That's the best he's thrown for us this year," Centennial coach Charlie Cerrone said. "He's still coming off an injury (from) last year, and he let it go today."
The fifth-ranked Aggies (9-6, 4-1 Division I Sunset League) were behind Rosenkrantz's fastball all day and often made contact just above their thumbs. That led to soft grounders and popups, and Rosenkrantz had a no-hitter after five innings. He finished with six strikeouts.
But he struggled with his control to start the sixth, hitting Nick Roeper with one out and walking Nick Quintana. Joe Fitzhugh then turned on a fastball and ripped it to left field for a two-run double. Rosenkrantz bounced back to strike out Ryan McHale and got Dylan Anderson to ground out to second to get out of the jam.
Third-ranked Centennial (12-5, 3-2) didn't do much with the bat, either, but took advantage of Austin Pfeiffer's wildness. Arbor View's starter gave up only one hit but walked six in three innings.
The Bulldogs scored in the third after Pfeiffer walked Hayden Grant with one out. Bryce Rheault bunted to third, and Anderson's throw was wild, allowing Rhealt to reach and courtesy runner Cole Moreno to go to third.
Austin Kryszcuk then hit an 0-and-2 pitch through the right side for an RBI single, and Rhealt scored on a sacrifice fly by Kyle Horton. Centennial added two runs in the fourth without the benefit of a hit, as Pfeiffer walked the first two batters and followed that with two wild pitches, the first allowing Garrett Holden to score. Reliever Jaxon Sproul uncorked a wild pitch on his first delivery, allowing Jake Rogers to score to make it 4-0.
Centennial scored three times in the fifth, and the only hit in the inning was an RBI double by Rogers.
"That's what we've been trying to do because we're really still inexperienced and we're still finding our way," Cerrone said.
"I like our kids. They're working hard. They're still making inexperienced mistakes, but we're doing enough, and hopefully we keep continuing to get better."
Arbor View threatened in the seventh, loading the bases on an error and singles by Brandon Stevens and Jayce Gardner.
Rogers, who balked home the winning run in a 4-3 loss to Shadow Ridge on Tuesday, relieved Rosenkrantz and struck out Roeper. He then got Quintana, who leads the area with six home runs, to ground out to second to end the game.
"He came in and wasn't afraid of the situation," Cerrone said. "Ironically, he's the one who came in the other day and balked. He was just ready to go back out there and did a fine job."
Contact prep sports editor Damon Seiters at 702-380-4587 or dseiters@reviewjournal.com. Follow him on Twitter: @DamonSeiters
Box score: