Rams rally past Titans in ninth to win state title
August 2, 2014 - 11:41 pm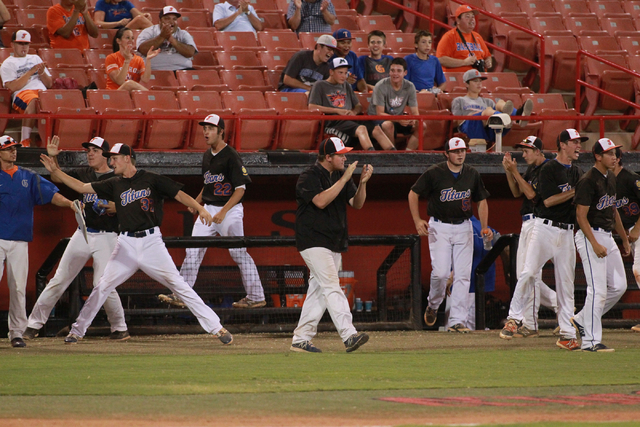 Before Saturday, Rancho High had not won a baseball championship at any level since 1976.
The Post 8 Rams took care of that problem in dramatic fashion, rallying in the ninth inning to beat Bishop Goman 9-8 in the championship game of the American Legion state tournament at UNLV's Wilson Stadium.
The win lifted the Rams into next week's Western Regional tournament in Surprise, Ariz.
Christian Munoz had a go-ahead two-run single in Rancho's five-run ninth inning to lead the rally, and Richard Coughlin added an insurance run by following with an RBI single to make it 9-7.
"Growing up and being a Rancho alum, this has been a long time coming," said an emotional Rancho coach Tom Pletsch.
Pletsch said he knew his team was not out of it despite heading into the ninth trailing 7-4.
"I told them that if we could get one or two runners on, we'd have a chance," Pletsch said. "The kids came through."
The Titans jumped all over Rancho starter Andrew Wieger in the first inning, grabbing a 4-0 lead thanks to RBI singles by Matt Hudgins, Austin Cram and Myles Denson.
But Wieger settled down over the next three innings, and his offense cut the deficit to 4-2 with a three-hit third inning capped with scoring singles by Kavion Kealoha and Jose Verdugo.
But Titans starter Jack Little, who scattered seven hits over 6 1/3 innings, also recovered, retiring 11 of the next 12 Rancho hitters he faced.
Gorman got a gift when Cadyn Grenier was the beneficiary of a three-base throwing error to lead off the fifth inning. Brandon Wulff made the Rams pay by following with a sacrifice fly to extend the Titans' lead to 5-2.
But Rancho chased Little in the seventh, capitalizing on doubles by Coughlin and Juan Cruz-Sanchez to cut the Titans' lead to 5-4.
The Titans immediately returned the favor in the bottom of the inning, going up 7-4 with the help of a two-run double by Hudgins.
That set up Rancho's big ninth.
"We hit the ball hard the whole game, but errors cost us," said Pletsch, whose squad had six defensive miscues. "We had things going, but we just couldn't get it done at the right time until the end."
The Rams committed two ninth-inning errors and gave up an unearned run before Wieger worked out of a jam to earn the win.
Hudgins went 2-for-4 with a double and three RBIs to lead the Titans' offense.
Coughlin came off the bench to go 3-for-5 with a double and an RBI to lead Rancho.