REGION BASEBALL: Postseason bid heralds bright future for Sunrise Mountain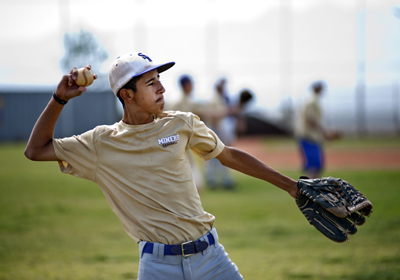 Finishing the regular season with a 10-13 record and going 7-7 in the Northeast League might not sound like a supreme accomplishment.
But for a Sunrise Mountain team that was 4-45-1 in its first two seasons, it was monumental.
Now the Miners, who had won only two league games in two seasons, are taking another step Tuesday as they make their first postseason appearance at Silverado (21-8-1) at 3:30 p.m. in the Class 4A Sunrise Region tournament.
"After only winning (four) games the last two years the school was open, it feels good to come out here and make it and show what we could do," senior Mike Estrada said.
Showing others how much the team has improved has been a satisfying reward for the Miners.
"It's almost like a dream," senior Ricardo Corral said. "A lot of people tell you that you couldn't really make it that far and then you show everyone up. It's a great feeling."
Senior Daniel Guardado said opponents have been surprised to see a more competitive Sunrise Mountain team.
"I think they're amazed," he said. "I think they're kind of weirded out."
First-year head coach Shawn Dickson, an assistant last season, hopes making the playoffs is just the first step for the program.
"We're just trying to build something here," Dickson said. "This should be the first step, and they should be proud of themselves. But I don't want them to think they've reached their goals and become complacent. I want them to keep moving forward and say, 'That was great,' no matter what happens this week and then try and get back or see how far we can go."
Dickson said the team hasn't been as uptight on the field this season, and that relaxed attitude has helped the Miners succeed.
"Come game time I want them to leave it all on the field and have no regrets, but you've got to keep it loose," Dickson said. "It's a game."
Not only is Sunrise Mountain playing looser, but Dickson and the players said the team has grown much closer this season.
"We became more of a team this year," Corral said. "We became more family oriented. We're like brothers in arms now. We fight every game together. If we win or lose, we go through it all together."
Now that the Miners have surprised many by making the playoffs, they plan to turn more heads by making a push for the region title.
"We're capable of getting there, we really are," Corral said. "We all have that heart for baseball. Just a lot of us have to start to believe in ourselves just a little bit more. That's what a lot of people are doing now seeing that we made it to playoffs. Everyone's believing that we can make it farther than everyone expected us to."
The Sunset Region tournament also begins Tuesday at host sites. Both double-elimination tournaments run through Saturday, with the region champions advancing to next week's state tournament in Reno.