Roundup: Bonanza shuts out Clark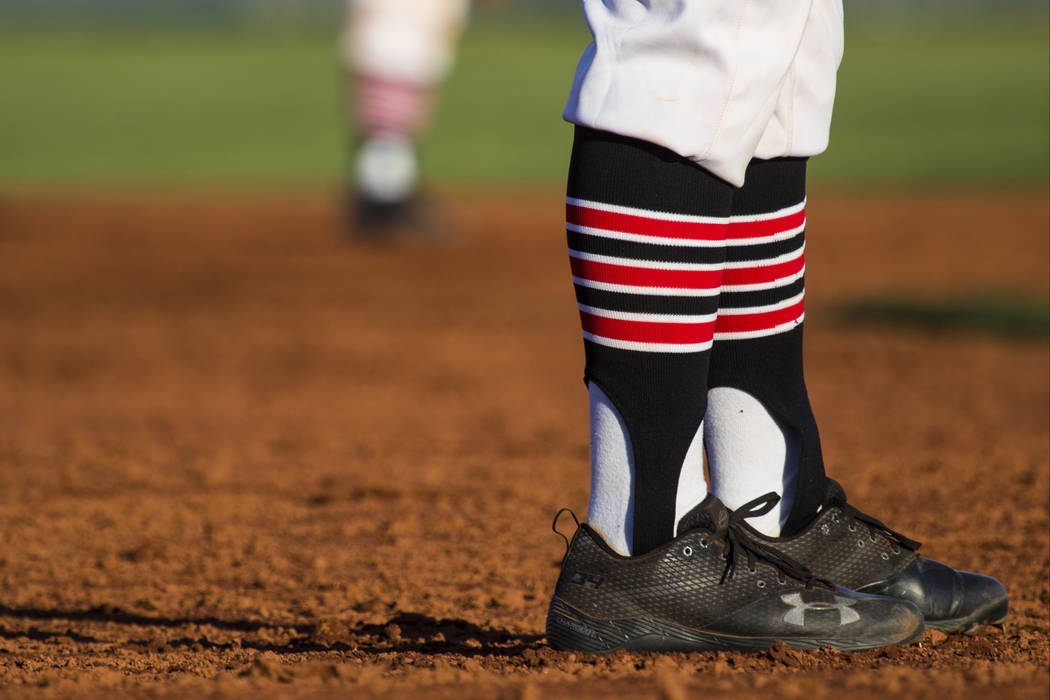 Evan Walling fired a four-hit shutout as Bonanza's baseball team held on for a 3-0 road win over Clark on Tuesday.
Walling struckout eight and walked four. Ryan Webster was 2-for-3 with two RBIs for the Bengals.
Elijah Fuchs went the distance for Clark, allowing three unearned runs on two hits. Fuchs struck out six and walked two.
Desert Oasis 8, Durango 7 — At Desert Oasis, Steven Giatti was 3-for-3 with a double and two RBIs and the Diamondbacks scored twice in the fifth to beat the Trailblazers in a game shortened to five innings by rain.
Cole Schaefer was 2-for-2 with an RBI for Desert Oasis.
Duke Pahukoa went 2-for-3 for Durango.
Palo Verde 7, Legacy 0 — At Palo Verde, Jacob Godman was 3-for-3 with a triple, double and four RBIs for the Panthers against the Longhorns in a game called in the fourth inning because of rain.
Godman pitched a two-hit shutout with five strikeouts.
Nate Bartlett doubled and had two RBIs for the Panthers.
Bishop Gorman 14, Sierra Vista 1 — At Sierra Vista, three pitchers combined on a five-inning no-hitter as the Gaels routed the Mountain Lions.
Dutch Landis struck out four and walked one in two hitless innings. Brandon White walked two in two innings, and Cesar Sedano allowed an unearned run in his inning of work.
Ryan Sepede went 3-for-3 with two runs and an RBI for Gorman. Carson Wells was 3-for-4 with two runs and two RBIs, Christian Lamar was 2-for-4 with a run and three RBIs and Austin Wells tripled and drove in three runs for the Gaels.
Centennial 14, Spring Valley 2 — At Spring Valley, Austin Kryszczuk was 3-for-3 with a double, two triples, three RBIs and two runs as the Bulldogs routed the Grizzlies in five innings.
Zachary Hare went 2-for-2 with two runs and two RBIs, and Garrett Holden drove in two runs for Centennial, which scored 10 runs in the second inning.
Four Centennial pitchers combined on a one-hitter.
Kevyn Fernandez had Spring Valley's hit.
Pahranagat Valley 14, Mountain View 2 — At Alamo, Garett Higbee was 2-for-2 with a triple, two runs and two RBIs as the Panthers beat the Saints in five innings.
Five Pahranagat Valley pitchers combined on a one-hitter.
Hugo Fajardo doubled and drove in a run for Mountain View.
Lake Mead 7, Adelson School 0 — The Eagles won by forfeit in a game that originally was rained out in March.
Postponed — Several games were postponed by rain on Tuesday. Desert Pines at Cheyenne and Faith Lutheran at Shadow Ridge will be made up at 3:30 p.m. Wednesday.
Liberty at Canyon Springs will be played at 3:30 p.m. on Friday, and Pahrump Valley at Western was rescheduled for 9 a.m. Saturday.
No reschedule date was set for Cimarron-Memorial at Arbor View.
Box scores:
Bishop Gorman 14, Sierra Vista 1
Centennial 14, Spring Valley 2
Pahranagat Valley 14, Mountain View 2