SIGNING DAY: Gaels to stay together
November 13, 2013 - 10:48 pm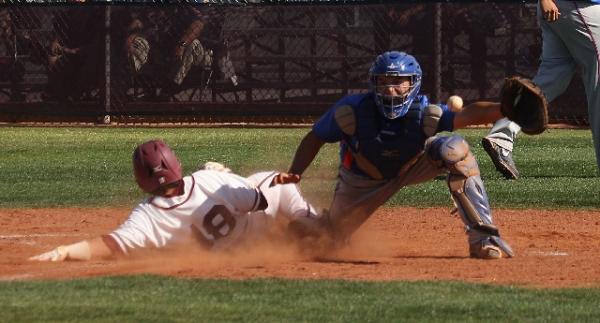 Michael Blasko and Cole Krzmarzick kicked around the idea of attending the same college, but the seniors on the Bishop Gorman baseball team weren't serious about it initially.
Then they heard the recruiting pitch from first-year UNR coach Jay Johnson.
"It just felt like the right place for both of us," Blasko said.
Blasko and Krzmarzick committed to the Wolf Pack on the same day in late July, and on Wednesday they each signed a national letter of intent with UNR during a ceremony in Gorman's gymnasium in front of about 150 well-wishers.
In all, Gorman had 12 athletes in six sports sign letters of intent on the first day of the early signing period, which excludes football, soccer and track and field/cross country and continues through next Wednesday.
"Any time you can play with one of your old teammates and someone you already know … it's pretty cool," Gaels coach Nick Day said. "They're both good hitters. They both can already hit college pitching."
Blasko, a catcher, was a first-team all-state pick as a junior after hitting .443 with five home runs and 40 RBIs. He was a member of the Cincinnati Reds' Area Code Games last summer and said he chose the Wolf Pack over Air Force, Arizona, Brigham Young, Southern California, Texas Tech and UNLV.
"It definitely feels like the whole world is off my shoulders," Blasko said. "This felt like a long time coming. My freshman year, colleges started looking, and now it's all over, so it's a good feeling."
Blasko is a potential pick in the Major League Baseball draft in June, though he lacks ideal height at 5 feet 10 inches. He is the only catcher in UNR's 16-player signing class and is in line to see early playing time.
"Michael is regarded as one of the best high school players in Nevada," Johnson said in a statement announcing UNR's recruiting class. "He is terrific with the catch and throw from behind the plate, and he has surprising pop for his size. Michael is a tremendous leader who is very respected by his teammates, coaches and opponents. He is going to have a great future here at Nevada."
Krzmarzick, a 6-2 outfielder, spent his first two years at Gorman stuck behind third baseman Joey Gallo, the 39th pick in the 2012 draft by the Texas Rangers. Krzmarzick emerged as a junior and was a second-team All-Southwest League pick after hitting .456 with four homers and 34 RBIs.
"Cole is one of the top high school hitters in Nevada, as evidenced by his big junior season last year," Johnson said in the statement. "He is a very physical offensive player who has feel for the barrel and will only improve throughout his career here at Nevada."
Krzmarzick also was recruited by BYU, San Francisco, UC Santa Barbara and Utah but said he was sold on Johnson's vision for the UNR program. Johnson was an assistant at San Diego before taking the job in Reno and helped recruit several valley players to USD, including former Bonanza star Kris Bryant, who was drafted No. 2 overall by the Chicago Cubs in June.
"Definitely my relationship with Coach Johnson played a role in it," Krzmarzick said. "I want to progress with my hitting, and (the Mountain West) is a big-time hitter's conference, so that will help a lot."
Several local athletes signed with Division I schools Wednesday, though the universities have yet to release their names. Among the names released were basketball standouts Kelly Oubre of Findlay Prep (Kansas) and Diontae Jones of Clark (Wyoming).
"Diontae has the potential to play both small forward and power forward," Wyoming coach Larry Shyatt said in a statement. "He's been well coached and understands the level of discipline needed in college basketball. We are excited about his abilities on both ends of the floor."