SUNRISE BASEBALL: Burger keys fifth-inning rally, Gators set up date with Patriots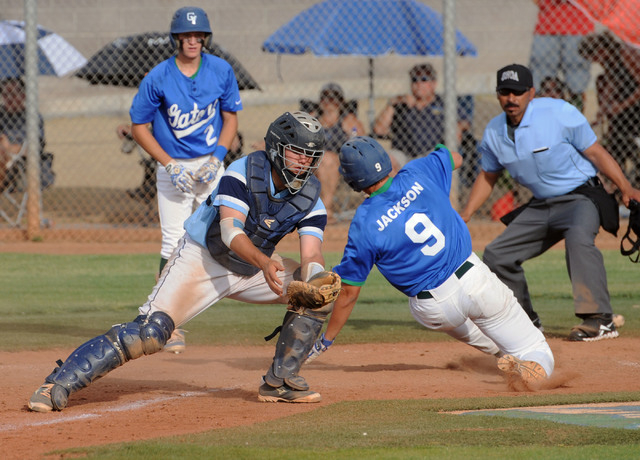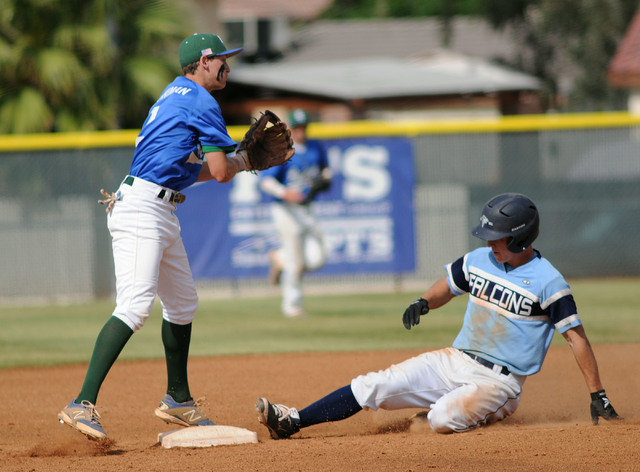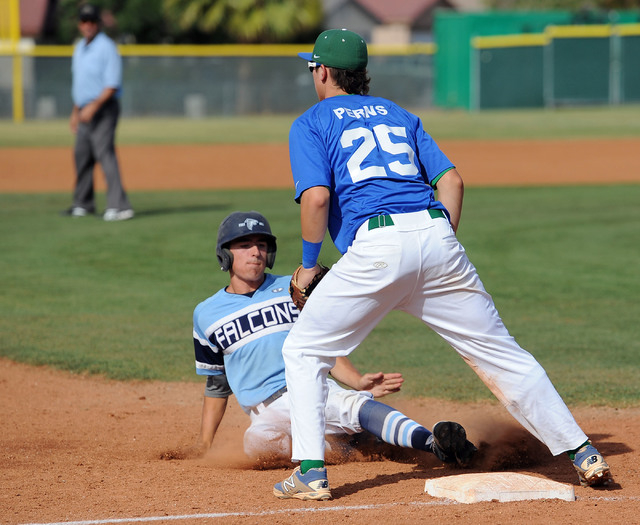 John Burger's swing certainly wasn't the prettiest of the fifth inning for Green Valley's baseball team.
But it might have been the most important.
Burger hit a slow roller to third to lead off the bottom of the fifth with the Gators trailing visiting Foothill, 6-0. When Falcons third baseman Kaelli Maruyama couldn't come up with the ball cleanly, it started an eight-run rally for Green Valley, which held on for an 11-9 win to move into the Sunrise Region title game.
The Gators (26-8) play Liberty (27-4) at 1 p.m. Saturday at Green Valley. Because Liberty is undefeated in the tournament, the Gators would have to win twice to take the title.
"I told them before that inning, 'It's a 0-0 ballgame,'" Green Valley coach Corey Gehlken said. "As soon as we started getting that line moving, I said 'That's the plan. Baserunners, baserunners, baserunners.' "
The Gators had seven hits in the inning, but the biggest came from senior shortstop Keaton Smith, who blasted the first pitch he saw over the fence in left-center field for a three-run homer that tied the game, 6-6.
"We had a couple big hits, and then the big tying home run with Keaton just shifted the complete momentum to our side," Gehlken said. "And we kept it going. The energy was just through the roof in there."
Smith's hit came after an RBI double from Cody Milner, and RBI singles by Troy Cropper and Jarrett Perns cut the lead to 6-3.
"I was just trying to hit something hard, that was about it," Smith said. "He threw me something middle in, and I swung.
"I got all of it."
Anthony Hatch followed Smith's big blow with a triple off the top of the fence in left, and Ryan Jackson doubled to the gap in right-center to give the Gators the lead.
Burger then singled up the middle to make it 8-6.
Smith said he could feel the momentum swing after his homer.
"I really think it went from all of them to all of us after that," Smith said.
Green Valley added three runs in the sixth, highlighted by a two-run single by Hatch to make it 11-7.
Foothill didn't fold, scoring three runs in the seventh and bringing the go-ahead run to the plate. But Jarrett Perns, who pitched just four innings during the regular season, struck out Rickey Kinney with two on to end the game.
"Jarrett throws strikes and does a good job, and he's a competitor," Gehlken said. "And he's clutch for us on the offensive side.
"He's been our go-to guy a couple times, and it worked out well for us today."
It was all Foothill early, as the Falcons scored in each of the first four innings to take a 6-0 advantage.
Collin Dobrolecki's three-run homer to right center in the third was the big blow.
"They just had a great approach early in the game," Gehlken said. "They were finding the little holes. And then the big hit by the Dobrolecki kid with two strikes. I think that kid only hits home runs when he has two strikes. (That was) a great job by that kid."
Jack Fredericksen led off the seventh with a single through the right side, and Bligh Madris walked. Dobrolecki then singled home Fredericksen and chased Green Valley ace Keola Paragas, who allowed four runs in three innings of relief, to get the win.
Perns came on and got Ryan Moyes to ground out, and he struck out Zack Avery with runners at second and third. But Nick Cardinale hit a two-run single to make it 11-9, and an error brought up Kinney, representing the go-ahead run.
Cardinale was 4-for-4 with two doubles, a triple, two runs and two RBIs to lead the Falcons. Dobrolecki finished 2-for-4 with four RBIs, and Austin Wilson was 2-for-3 with two RBIs to help support a 14-hit attack.
Hatch was 2-for-4 with two runs and two RBIs, and Perns went 2-for-3 with a run and an RBI for Green Valley. Gehlken said his team knows knows it has a long road to win the region title and get a berth in the state tournament.
"Our goal is to scratch and fight and try to get by that first one, and once you do that, it's an even playing field," Gehlken said. "All guns a go."
Foothill 9, Basic 3 — Moyes went 4-for-4 with two doubles, a triple, a homer and four RBIs as the Falcons beat the Wolves earlier Friday.
Cardinale was 2-for-4 with a double and two RBIs, and Dobrolecki went 2-for-4 with three runs and an RBI for Foothill, which took control with a four-run first inning.
Mikey York and Ryne Nelson each went 2-for-4 with a run and an RBI for Basic (25-12).
Box scores: