SUNSET BASEBALL: Loucks makes most of first playoff start as Bulldogs beat Aggies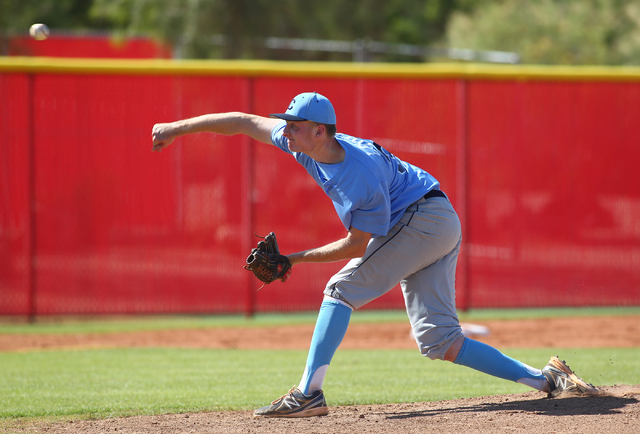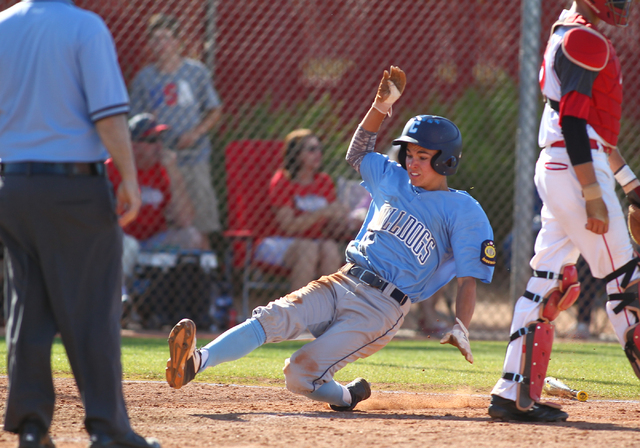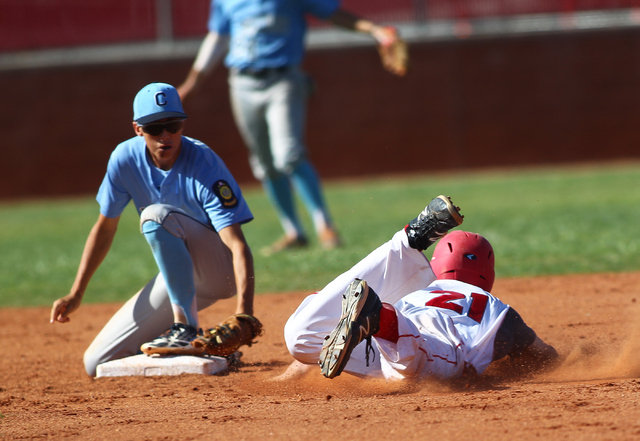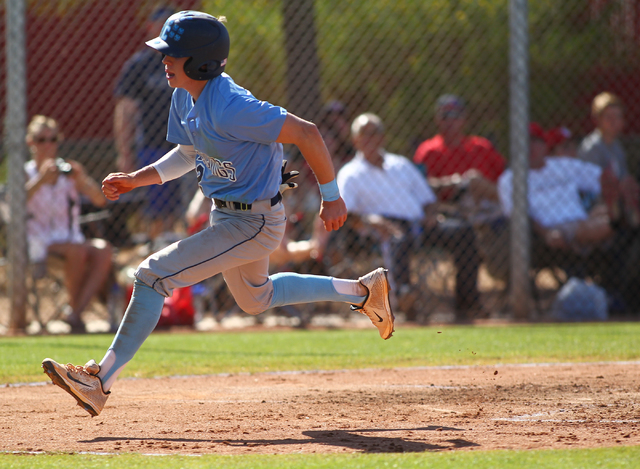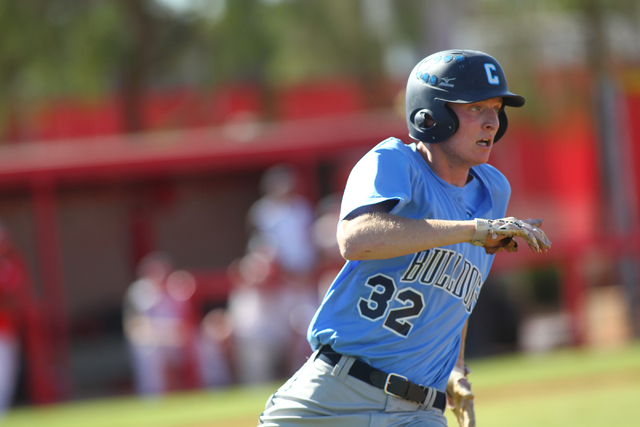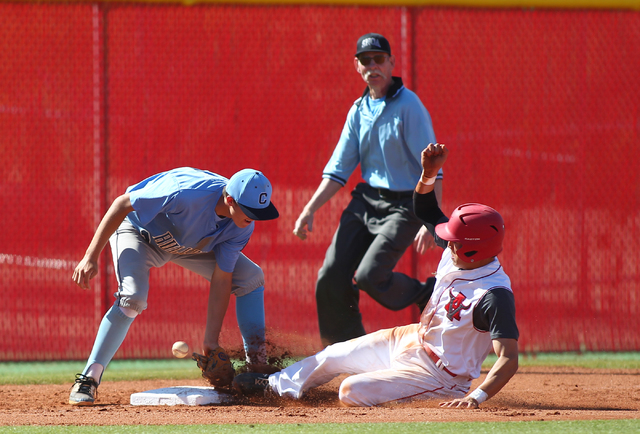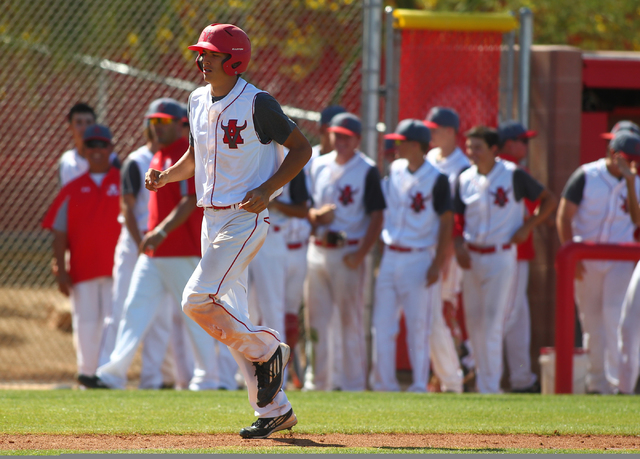 Centennial right-hander Will Loucks had never pitched in a playoff game before Wednesday's matchup at Arbor View.
He couldn't have asked for a better debut.
Loucks threw a complete game and struck out 11, helping the Bulldogs to a 4-2 win over the Aggies. Centennial (23-11) hosts Bishop Gorman (26-4) at 4 p.m. on Thursday, a team it split with in the regular season.
"Will's a senior and I put it on him before the game," Centennial coach Charlie Cerrone said. "I told him, 'Go out there and give it your best effort. This could be your last high school start.' And he gave it his best effort."
After giving up a solo homer to the Kaid Urban to start the bottom of the first, the 6-foot-5-inch Loucks settled down and delivered one of his best performances of the season.
"I really wanted to go out and do well," Loucks said. "That was the biggest thing. I didn't really know what to expect, but I just felt if I did my job, we were going to be okay."
Loucks struck out eight of the nine Aggies in the lineup at least once and walked three batters. He also went 2-for-3 at the plate.
"I was feeling pretty good," Loucks said. "I settled down after having trouble with the first hitter. Then I got settled in and really into the moment."
The biggest moment for Loucks came in the sixth, when he escaped a bases-loaded jam with one out. He struck out Urban and then got Kevin Johns to fly out to right to end the inning.
Cerrone planned on sitting Loucks for the seventh because of a high pitch count, but he was quickly convinced otherwise.
"I just told him to give me a runner," Loucks said. "I felt confident I could do a good job for the team."
Loucks went out and retired the heart of Arbor View's lineup, striking out two. He finished at 119 pitches.
Tanner Wright finished with a double, a hit-by-pitch and two runs for the Bulldogs, who got two singles and a RBI from both Cooper Powell and Jake Portaro. Kyle Horton's RBI double in the fifth plated Wright with the go-ahead run. He came around to score to push the lead to 4-2.
Nick Quintana was 2-for-4 with a run and two stolen bases for the Aggies, who got five strikeouts from starting pitcher Sam Pastrone.
Arbor View (24-9) faces Palo Verde (13-18) in an elimination game at 10 a.m. on Thursday at Centennial.
Bishop Gorman 4, Shadow Ridge 1 — At Gorman, freshman Matt Mitchell fired a six-hitter to lead the Gaels over the Mustangs.
Mitchell struck out eight with no walks.
Brandon Wulff was 1-for-3 with an RBI double, and Drew Newson went 1-for-3 with an RBI for the Gaels.
Cadyn Grenier and Grant Robbins each went 1-for-2 for Gorman.
Jordan Hand had a solo homer in the sixth inning for the Mustangs, and teammate Francisco Robles was 2-for-3.
Shadow Ridge (21-12) will meet Desert Oasis (14-20) at 1 p.m. on Thursday at Centennial.
Palo Verde 6, Cimarron-Memorial 5 — At Palo Verde, Zach Ortale went 2-for-2 and scored two runs as the Panthers built a 5-0 lead in the top of the third inning and held off the Spartans in an elimination game.
Yodai Nakamura went 2-for-3, and Tyler Day was 2-for-4 for Palo Verde.
Logan Bottrell was 4-for-4 with a home run, a triple and an RBI for the Spartans and was on deck when the game ended. Cimarron (21-10) trailed 6-4 entering the bottom of the seventh but cut the lead to one on a one-out sacrifice fly and had runners on first and second when Panther pitcher Matt Rogers got a popout to end the game.
Adam Mitchell was 2-for-4 with a double, and Larry Quaney went 2-for-3 for Cimarron.
Desert Oasis 1, Spring Valley 0 — At Spring Valley, Austin Strong tossed a two-hit shutout with five strikeouts to lead the Diamondbacks by the Grizzlies.
Chris Van Kuren led off the game with a triple, and came home with the game's only run on Dominic Paratore's grounder to shortstop.
Spring Valley (15-16) had the potential tying run at third base with one out in the fourth inning, but Desert Oasis right fielder Zach Rickard caught a fly ball off the bat of Bryce Bullock and threw out Michael Macove trying to score to end the inning.
The Grizzlies also had a runner at third with two outs in the seventh, but Strong got a strikeout to end the game.
Box scores:
Bishop Gorman 4, Shadow Ridge 1
Desert Oasis 1, Spring Valley 0
Palo Verde 6, Cimarron-Memorial 5