Sunset Region: Centennial beats Palo Verde, advances to final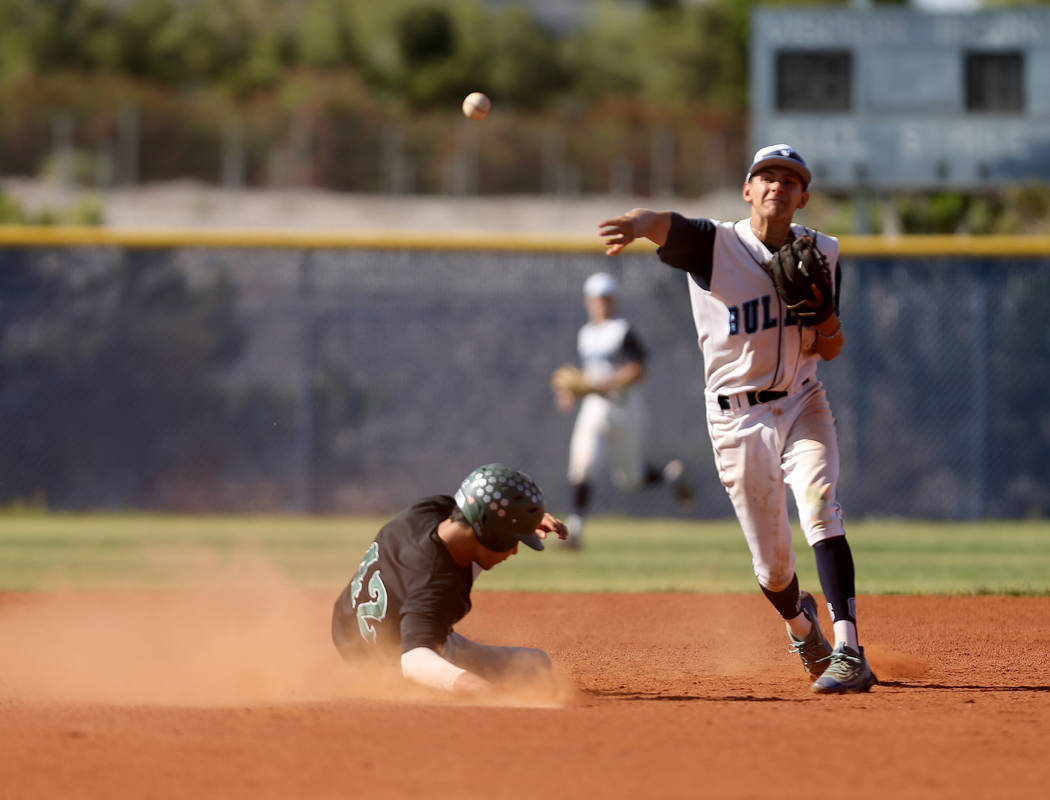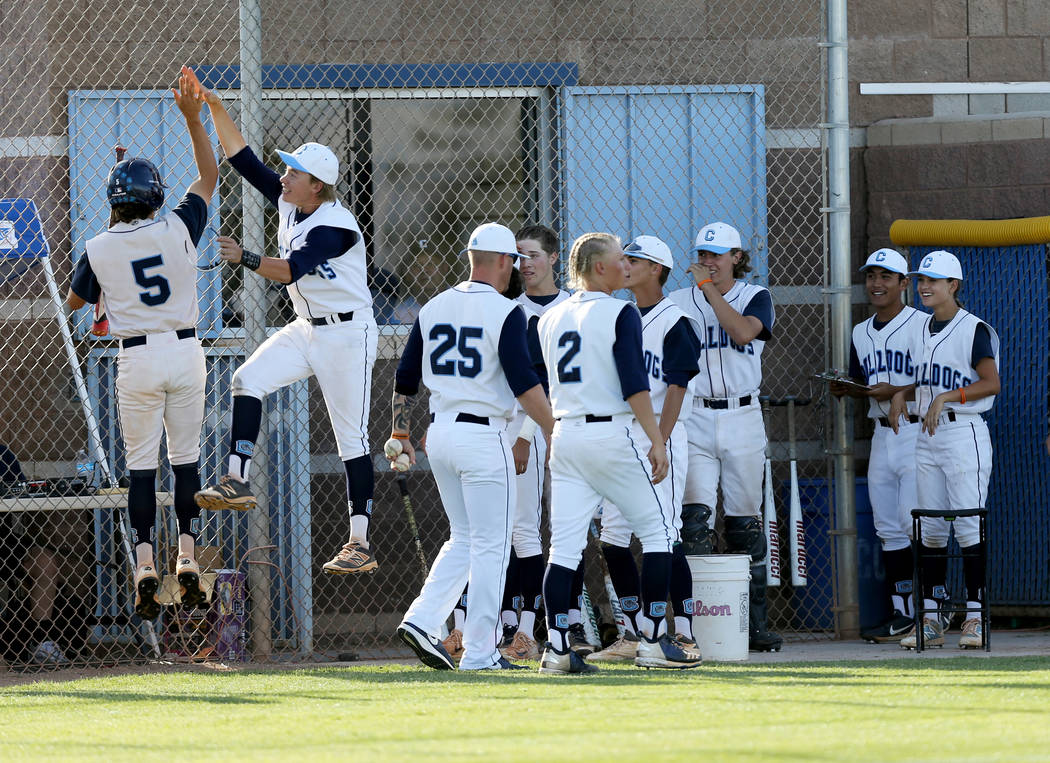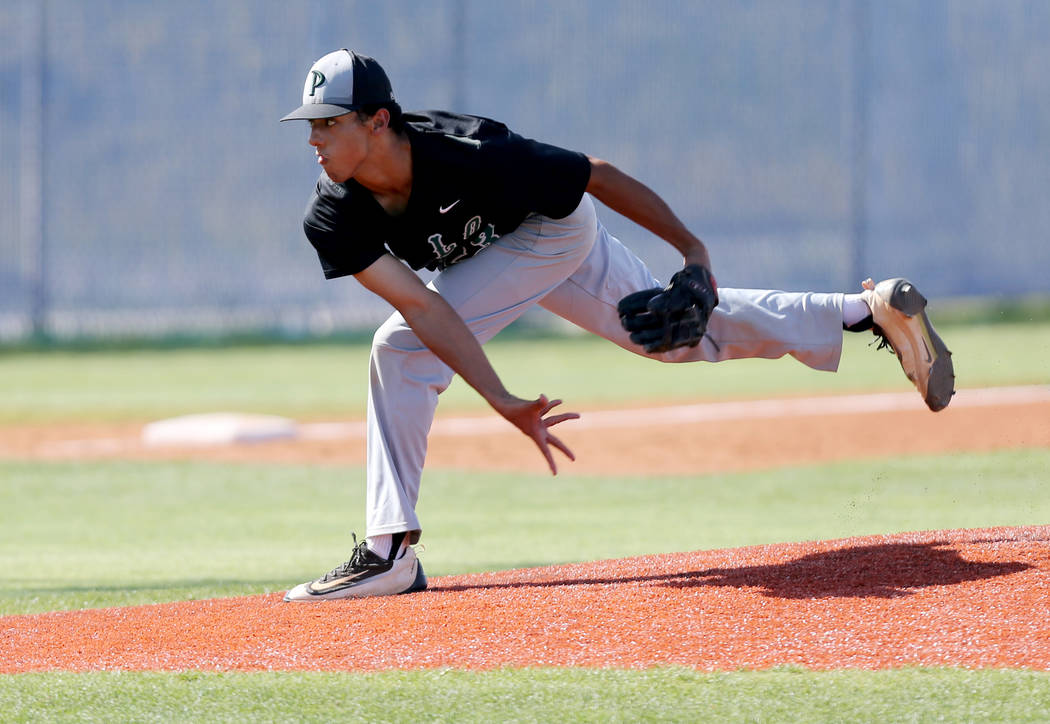 Centennial pitcher Nik Dobar gave up more runs Thursday than he had all season. But the senior's performance was more than good enough to get the Bulldogs into the Sunset Region final.
Dobar pitched a complete game and Centennial took advantage of a six-run fourth inning to claim a 10-4 home win over Palo Verde.
"He's a high school kid, you're going to give up runs," Centennial coach Charlie Cerrone said. "He never gave up the lead, and he's a battler and a competitor."
Dobar had allowed three runs (two earned) all season, but he gave up three earned runs Thursday. The Panthers scored twice in the third inning to snap Dobar's scoreless innings streak at 30. He also matched his season walk total in the fifth inning when he walked two, including one with the bases loaded.
But Centennial's six-run fourth inning helped Dobar battle through that tough stretch and get the complete game.
Garrett Holden had a two-run double to help key the fourth-inning outburst that gave the Bulldogs a 9-2 lead.
"It was real nice knowing that I could just go out and do my thing," Dobar said. "Knowing that I could just let the defense play, come after them a little bit more and have a little bit of a cushion."
Centennial (27-7) continued to play good defense behind Dobar. The Bulldogs committed one error that led to an unearned run, but turned two double plays. And center fielder Trevor Wright set the tone on the game's second at-bat, running down a fly ball in the right-center-field gap.
"That was one of the best catches he's made all year," Cerrone said. "That was a good start for us."
Bishop Gorman (25-8) plays Cimarron-Memorial (22-12) in an elimination game at 1 p.m. Friday at Shadow Ridge. The winner plays Palo Verde (25-9) at 4 p.m. for a chance to face Centennial.
The Bulldogs get Friday off, and their opponent Saturday would have to win twice to take the region title.
"Knowing our coaches, we probably won't have that day off tomorrow, we'll definitely be practicing," Dobar said. "But it's real nice, and we're definitely confident."
Bishop Gorman 16, Desert Oasis 5 — At Desert Oasis, Tyler Curtis was 3-for-4 with a home run, three runs and five RBIs as the Gaels eliminated the Diamondbacks in a five-inning game.
Curtis, Austin Wells, John Gaughan, Christian Lamar and Dutch Landis combined to go 15-for-20 with three homers and 13 RBIs in the No. 2-6 slots in the Gaels' order.
Lamar was 4-for-4 with an RBI. Landis was 3-for-4 with a homer and two RBIs. Wells went 3-for-4 with a triple and three runs, and Gaughan was 2-for-4 with a homer and four RBIs.
Carson Wells added a solo homer for Gorman.
Aaron Roberts was 2-for-3 with an RBI, and Steven Giatti was 1-for-1 with a double and two RBIs for Desert Oasis (30-5).
Cimarron-Memorial 9, Spring Valley 5 — At Cimarron, Derek Decolati went 2-for-4 with a double and two runs, and the Spartans did all of their scoring in the first two innings on their way to a win over the Grizzlies in an elimination game.
Zach Culver was 2-for-3 with a run, and Daniel Valdivia was 2-for-3 with an RBI for Cimarron, which scored six runs in the first inning and three in the second to build a 9-2 lead.
Mitchell Otis went 3-for-3 with a home run, a double, two runs and three RBIs for Spring Valley (19-13).