1A BOYS: Balanced Mineral County tops Pahranagat Valley
February 25, 2017 - 11:09 pm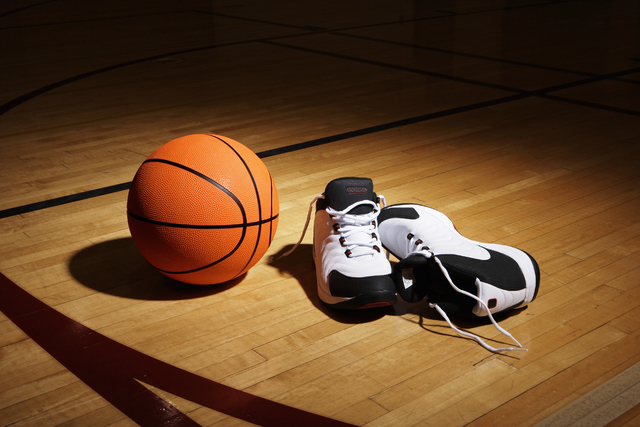 Pahranagat Valley planned to pound the ball inside to 6-foot-9-inch junior Culen Highbe on Saturday, and the plan worked well for the Panthers.
Unfortunately, they had no answer for Mineral County's three-pronged offensive attack.
Taylen Wachsmuth, Robert McFalls and Andre Davis combined for 54 points, and the Serpents rolled to a 63-46 win over Pahranagat Valley for the Class 1A boys state basketball title at Cox Pavilion.
"We knew they were a complete team and a really good team," Pahranagat Valley coach Mike Strong said. "And it just didn't seem like we could contain them."
Highbe turned in an outstanding performance with 28 points and six rebounds. He was 12-for-17 from the field.
"The kids did a good job of getting him the ball and he did a pretty good job of finishing inside," Strong said.
But even with the tallest player on the court, the Panthers (25-3) were no match for Mineral County on the glass.
The Serpents (26-5) outrebounded Pahranagat Valley 36-22.
"Boy, they were tough on the boards and had a number of put-backs," Strong said. "We haven't been outrebounded. I'm sure we were tonight."
The 6-3, 230-pound Wachsmuth led the way with 20 points, 13 rebounds and four assists. McFalls had 17 points, 11 rebounds and five assists, and Davis had 17 points and three assists.
McFalls scored 13 points in the first half to help the Serpents take control and a 35-21 lead.
"The McFalls kid was a beast on both ends of the court and he was really tough for us to handle," Strong said.
Pahranagat Valley turned the ball over 10 times in the first half, which helped Mineral County build its lead.
"That's probably been our Achilles' heel is turnovers," Strong said. "And then it reared its head there, and all of a sudden they'reconverting those for buckets."
The Serpents also did a good job of moving the ball and finding the open man, as the team totaled 16 assists on 26 field goals.
"They move," Strong said. "There's a pass and somebody's moving somewhere. They did a really good job of passing the ball and finding the open guy, for sure,"
Cody Williams added nine points and five assists for the Panthers.
"I'm proud of my kids," Strong said. "We had a heck of a season. They played hard, and sometimes the ball doesn't go in enough for you."
Box score:
Mineral County 63, Pahranagat Valley 46