1A BOYS BASKETBALL: Culen Highbe helps Pahranagat Valley complete league title sweep
February 18, 2017 - 6:59 pm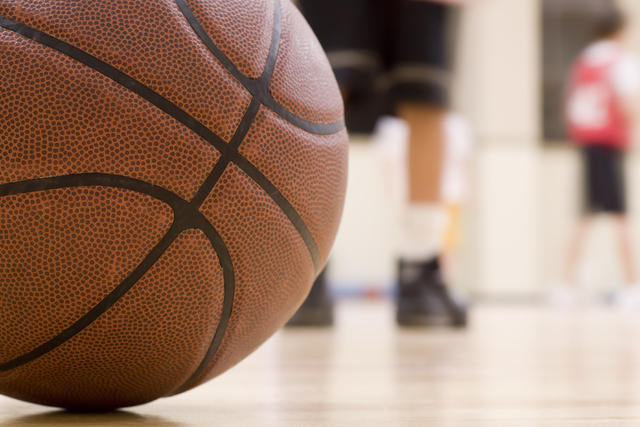 Moments after watching their girls basketball team win a league title on Saturday, Pahranagat Valley's boys made sure they did all they could to keep up.
Buoyed by a big effort from junior Culen Highbe, the Panthers cruised to a 51-33 win over Spring Mountain in the Class 1A Southern League final at Sunrise Mountain.
Both teams advance to the state tournament, which begins Friday at Durango. Pahranagat Valley completed a sweep of the region basketball titles. The girls were 53-31 winners over Round Mountain earlier Saturday.
"It's a big deal for all of our kids," said Pahranagat Valley coach Mike Strong, whose team never trailed Saturday. "Both of our ball teams have worked hard. It's exciting for our school for sure. It's really a weight on us trying to keep up with the girls though."
Pahranagat Valley (23-2) also gained revenge after a 51-47 loss to Spring Mountain in the regular season.
"They beat us up at our place, and they were the better team that day for sure," Strong said. "We were able to take care of the ball enough today and make sure we were fundamentally sound."
Highbe poured in 27 points to lead the Panthers. Senior Tabor Maxwell added 14 points for Pahranagat Valley, which limited the athleticism of Spring Mountain with more pressure on the defensive end of the floor.
"We went to our half-court trap, especially in the second half, and they struggled with it a little bit," Strong said. "Like most teams, we thrive off the defense and we were able to create some turnovers on that end."
Spring Mountain (14-10) was led by 15 points from Kamari Kelly.
"We have to continue to get better," Strong said. "We think every game we can get a little better, every possession we can get a little better. That's kind of the way we look at it."
The Panthers take that mindset into the state tournament as it bids for its 15th state title and first since 2013.
"We're nowhere near where I think we can be," Strong said. "Hopefully in the next week we can prove that we are even a little better than we showed here today. We just have to win that first game. Our hope is just to focus on that game, possession by possession."
Contact reporter Bill Slane at bslane@reviewjournal.com or 702-380-4559. Follow @bill_slane on Twitter.
Box score:
Pahranagat Valley 51, Spring Mountain 33