1A Boys: Shawn Shumpert quarterbacks Spring Mountain to state championship
February 24, 2018 - 3:06 pm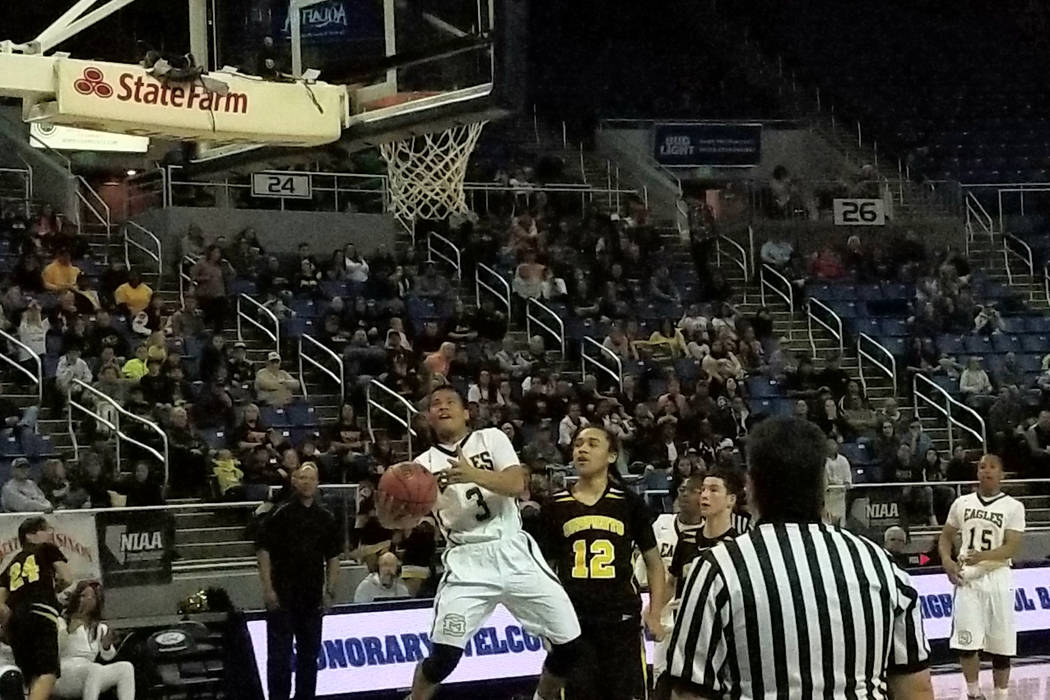 RENO — Senior point guard Shawn Shumpert played quarterback for Spring Mountain's football team that fell flat in the Class 1A state title game in November.
Saturday, he could finally call himself a state champion.
Shumpert scored 19 points and helped the Golden Eagles to a 50-36 victory over Mineral County in the Class 1A boys state championship game at Lawlor Events Center.
"I never thought this would happen," Shumpert said. "It feels super nice. It's like I had something to play for. I couldn't lose two state championships in a row."
The Golden Eagles have a second state championship to pair with their 2015 title. Last year, they lost in the semifinals to Mineral County, which won the 2017 championship.
Like a quarterback, Shumpert was the field general for Spring Mountain (24-5) on Saturday. While he only registered two assists, he engineered an efficient offense that shot 40 percent despite missing several quality looks.
"He's been one of our captains of the team, leader on and off the court, so it showed," Spring Mountain coach Asad Ali said. "All in all, having him on the court is a help for us."
Spring Mountain took a 23-13 lead into halftime, but the Serpents (25-7) scored the first six points of the second half against a stagnant defense.
Ali called a timeout to regroup, Spring Mountain scored 13 of the next 19 points in the quarter and Mineral County did not pull within one possession the rest of the game.
"Third quarter, we're kind of known to come out flat, so I had to get the guys pretty much settled down and refocused on what they're trying to do," Ali said.
Ra'vaun Nibblet had 14 points for the Golden Eagles, and Damariyae Royal had eight points and 10 rebounds.
Robert McFalls led the Serpents with 16 points.
Most of the fans in attendance cheered for Mineral County, and Spring Mountain considered itself the underdog after finishing second in the Southern League and watching Northern League champion Mineral County beat Pahranagat Valley on Friday.
But the Golden Eagles play their home games at Indian Springs, and are accustomed to facing opposing fans.
It's nothing new, and just how they like it.
"It's always been a home-away-from-home type deal with us," Ali said. "Whatever fans we get, we're blessed to have them, but hey, we like to be the underdog."
Box score:
Spring Mountain 50, Mineral County 36