2A BOYS: Allen Merritt stars in lead role as Agassi Prep wins state title
February 25, 2017 - 10:23 pm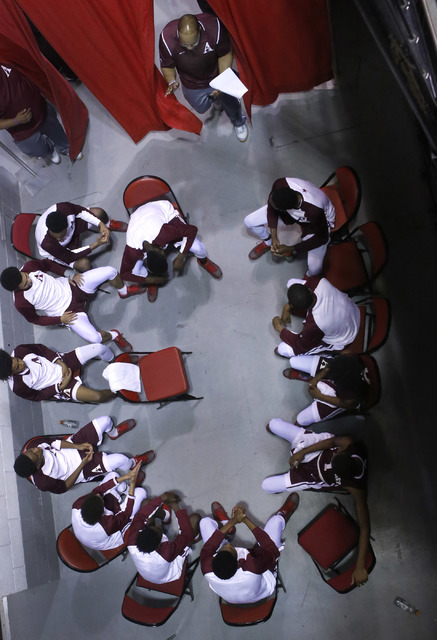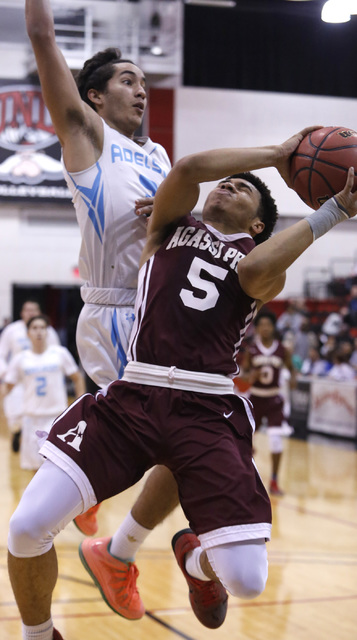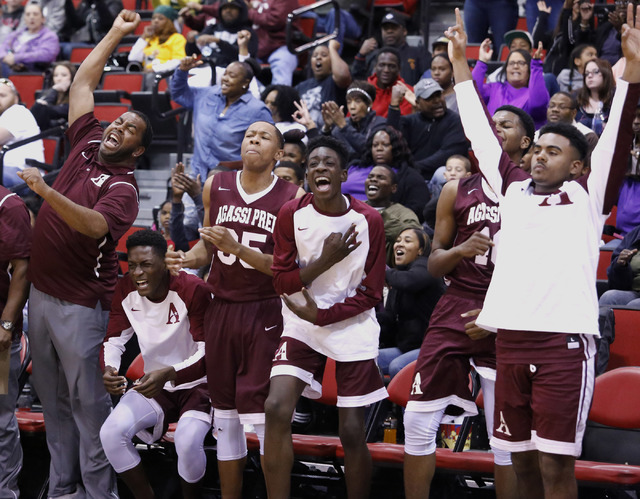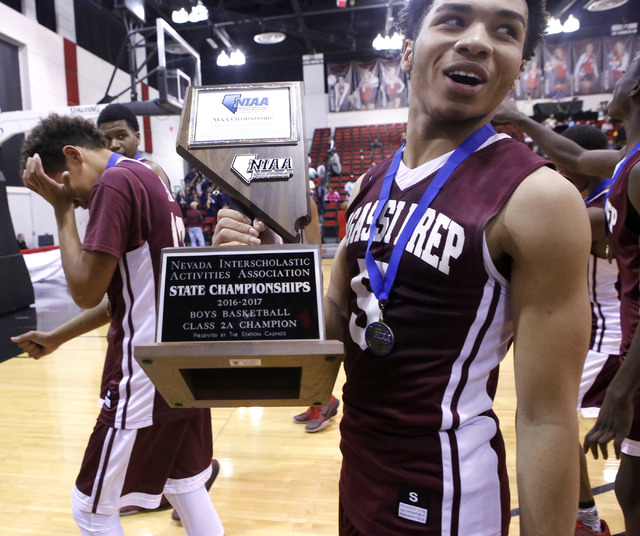 When Jimmy Kimmel hosts the 89th Academy Awards on Sunday, he will have his celebrity friends take the stage and announce the winners of various categories.
If the Class 2A boys state basketball final Saturday was in any way similar to the most famed night in cinema, there wouldn't be any surprise as to whose name was called for "Best Actor in a Leading Role."
And the Oscar goes to … Agassi Prep senior Allen Merritt, for his dazzling performance in his last high school game.
Merritt notched 18 points, nine rebounds and four steals, and had the luxury of playing off several standout supporting roles, as the Stars won their third state title in four years with a 60-43 victory over Adelson School at Cox Pavilion.
"He had a great year for us," Agassi Prep coach Trevor Diggs said. "He brought a lot of energy. I'm just happy for him to see how he performed this year — steals, hands on balls, being active, leading everything. I put a lot on him as my senior, and I told him, 'It's your last high school game. Step up.' And he did."
Merritt, who wasn't a part of the state-winning teams in 2014 and 2015 because of grades, got to the foul line four times and scored nine points in the decisive third quarter as Agassi Prep went on a 7-2 run to grab a 35-25 lead midway through the period.
"My coaches kept telling me to keep attacking the basket and get to the free-throw line and it'll come," Merritt said. "I just had a change of mindset. I had to go out with a bang."
The Stars led 28-23 at halftime, but used the third quarter to take control. Merritt sat atop Agassi Prep's 1-3-1 zone that created five third-quarter turnovers and held Adelson School to 33.3 percent shooting for the game, including 16.7 percent on 3-pointers.
"Adelson's a great team. We watched them all year, so salute to them," Diggs said. "They had a great season. We just went zone, which I don't do. But I looked at it like we were trying to win one game. And it worked."
Merritt's younger teammates made sure all three seniors went out on top.
Junior Jared Holmes had 12 points, 17 rebounds and three blocks, sophomore Najeeb Muhammad added 11 points, four rebounds and seven assists, and junior Akeemis Williams scored a game-high 19 points for the Stars (22-5).
Williams, who made 7 of 13 shots, hit a long 3-pointer in transition off an assist by Muhammad with 3:35 remaining to give Agassi Prep its biggest lead at 54-35.
"We can't win any games if we don't play as a team," Holmes said. "There's not one person who can win a game. So I feel like we accomplished (playing as a team) today. … I just want to say we worked hard and I'm proud of everybody — proud of our coaches, all of my teammates, even our team managers and our girls (basketball team). We had a good season, and I'm proud of us."
Ben Elharrar led Adelson School with 11 points, and Jake Buchman scored 11. Miles Hagan had nine points, eight rebounds and two blocks for the Lions (21-5).
Contact reporter Ashton Ferguson at aferguson@reviewjournal.com or 702-383-0430. Follow @af_ferguson on Twitter.
Box score:
Agassi Prep 60, Adelson School 43