3A Boys: Chaparral tops Democracy Prep, earns state berth
February 23, 2019 - 10:03 pm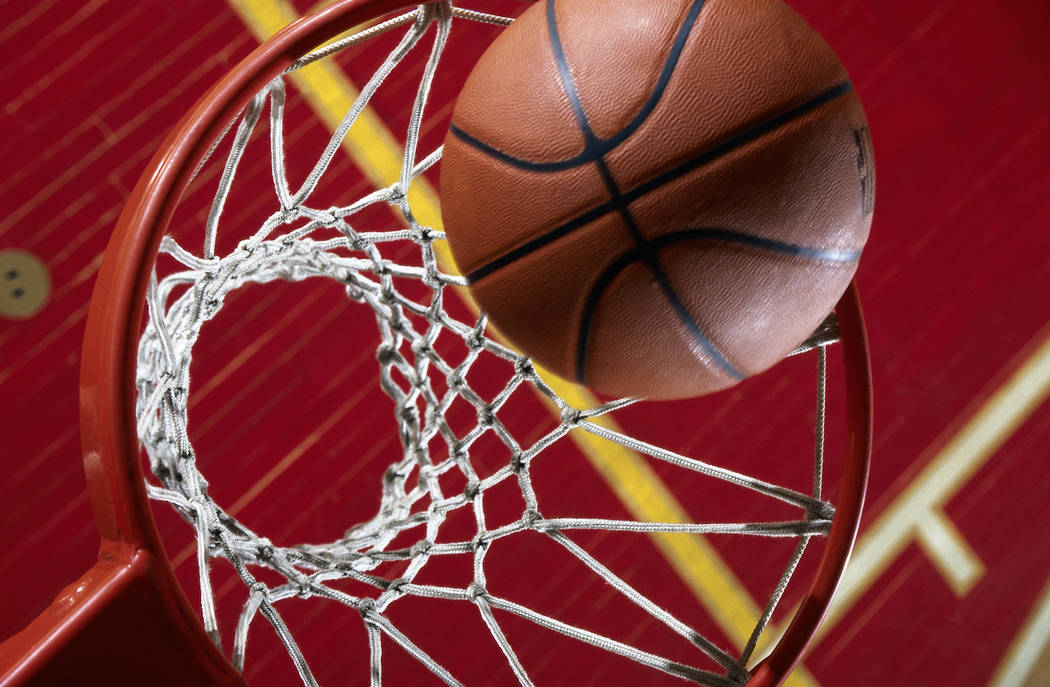 Meshach Hawkins drove in from the left side, found the corner at the baseline and laid in the game-winning basket with 35 seconds left in overtime as Chaparral beat Democracy Prep, 82-80, in the second Class 3A Southern Region semifinal on Saturday at Del Sol.
"It just feels so amazing," Hawkins said. "Speechless. I'm speechless. We were telling each other the whole game, we are going to come back and win."
The Cowboys (17-7) advance to the region final at 7 p.m. Monday at Del Sol, where they will face Mojave (21-7). The Rattlers came back from a seven-point deficit in the final minute to beat Boulder City 67-66 in the first semifinal. Both Chaparral and Mojave advance to next week's state tournament.
For Democracy Prep (23-6) and Boulder City, the losses were their first since the New Year. Both top seeds from the Sunset and Sunrise leagues had their seasons end.
Chaparral faced a deficit of 10 points on three occasions against the Blue Knights. With 6:39 to play, Najeeb Muhammad, who had a game-high 32 points, made two free throws for Democracy Prep to extend the lead back 59-50.
Chaparral went on a 12-0 run to take a 62-59 lead on Sameal Anderson's 3-pointer with 4:38 left.
Daniel Plumer tied the score at 73 for the Blue Knights with 25 seconds to play, getting fouled as the ball went in. But he missed the free throw.
The Cowboys had three chances near the rim in the final 10 seconds of regulation, but couldn't get one to fall.
Chancellor Johnson drained his fifth 3-pointer of the game, part of his 27-point effort, for Democracy Prep with 52 seconds left in overtime to tie it again at 80. On the next possession, Hawkins scored his bucket.
Johnson had a chance to win the game, but his open 3-pointer went long and off the right of the rim at the buzzer.
Hawkins finished with 22 points and Elijah Briggs scored 20 for Chaparral. Anderson added 16 points, and Cairyn Bray scored 15 for the Cowboys.
Mojave 67, Boulder City 66 — For most of Saturday, Mojave's effort at the free-throw line was woeful.
But when the Rattlers needed it most, Damon McDowell knocked down the two biggest free throws of the season to punch Mojave's ticket to state.
McDowell drained two free throws with nine seconds left to cap the Rattlers' furious fourth-quarter rally to defeat Boulder City 67-66 in the semifinals of the Class 3A Southern Region tournament at Del Sol.
Mojave will play Chaparral in the tournament championship game at 7 p.m. Monday at Del Sol, and the Rattlers advance to the state tournament Friday at the Orleans.
McDowell, who finished with 22 points, was fouled going to the basket after Mojave's relentless full-court pressure defense forced Boulder City to turn the ball over in a scramble at half court with less than 20 seconds left.
Mojave had made 11 of 29 free throws as McDowell approached the line.
"It's all on me," McDowell said. "Even though it's a team game. If I miss these free throws, it's on me. It wouldn't have been anybody else's fault. It's all or nothing."
McDowell hit both. Boulder City's last gasp shot fell short as Mojave erased an 11-point fourth-quarter deficit to secure its first trip to state since 2007.
"It feels amazing," McDowell said. "We were kind of seeing the refs weren't on our side. So we just had to play through the adversity. We just knew we just had to keep playing ball. And we came out with the 'W'."
McDowell's game-winning free throws capped a 10-2 run by Mojave during the final 1:20 of the game.
Ethan Speaker's basket for Boulder City (23-4) with 1:30 left in the game pushed the lead to 64-56. But Mojave's full-court defensive pressure rattled Boulder City into three consecutive turnovers, and McDowell scored back-to-back baskets to trim to lead to 64-59 with 1:05 left.
"We just had to keep the intensity up. We could not let them catch any passes. And when there were passes caught, just shoot to the ball, shoot to the ball," McDowell said.
McDowell added a pair of free throws — the first consecutively made of the night for the Rattlers — with 36 seconds left to cut the margin to 64-61.
Ethan Speaker made two free throws for the Eagles, but Saquevian Williams answered with a driving basket with 28 seconds left. After a steal and a foul, Isaiah Harper banked in a pair of free throws to make it a one-point game with 22 seconds left.
Karson Bailey led Boulder City (24-4) with 20 points. Speaker had 18 points, and Derrick Thomas scored 14 the Eagles.
A.J. Woods scored 10 for Mojave.
Box scores:
Chaparral 82, Democracy Prep 80