4A BOYS: Bishop Gorman's late rally stuns Clark in championship game
February 24, 2017 - 11:57 pm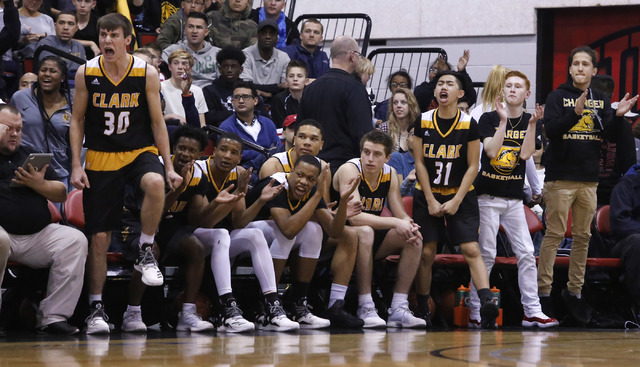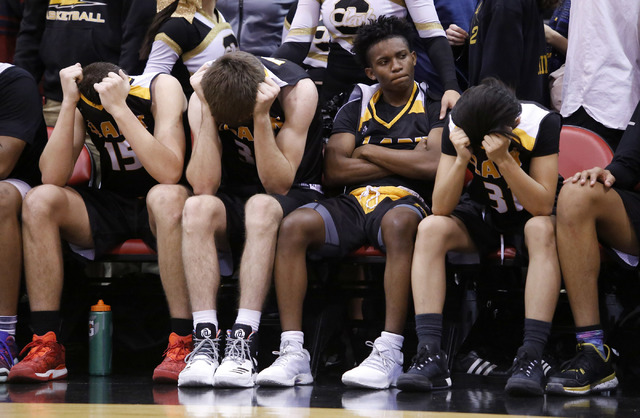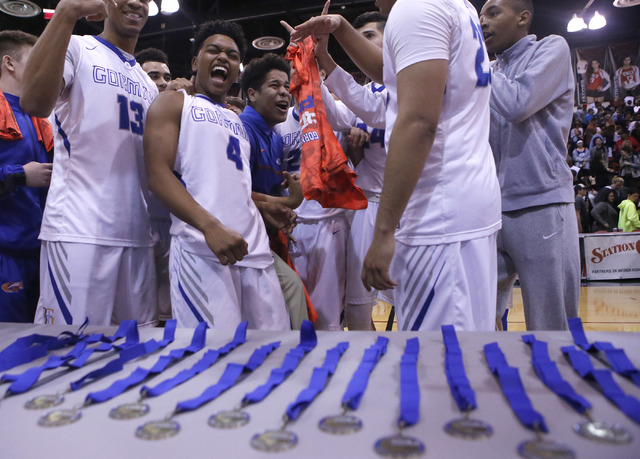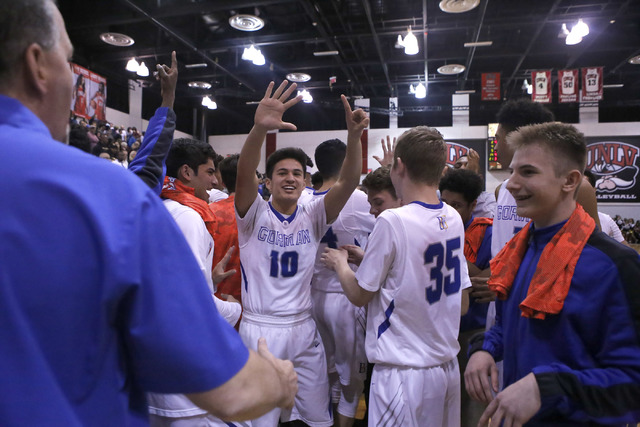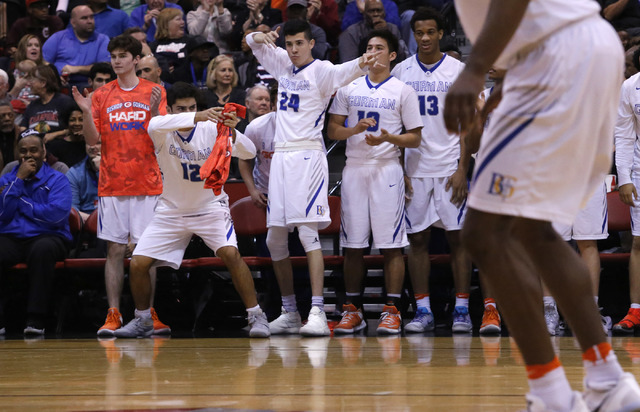 Chuck O'Bannon single-handedly kept Bishop Gorman in the game in the second half Friday night.
His teammates made sure it paid off.
O'Bannon scored 36 points as the Gaels rallied from an eight-point deficit in the final 1:40 to pull out a 62-58 victory over Clark for the Class 4A boys state basketball title at Cox Pavilion.
"We just kept our heads up," O'Bannon said. "We didn't give up on each other. I counted on my teammates the whole game. We came out at the end, made some plays and got the win."
O'Bannon scored Gorman's first 15 points of the second half. He finished 6-for-10 on 3-pointers.
"I can't say how proud I am of Chuck," Gorman coach Grant Rice said. "We didn't play real well. Everyone tried, but we had some guys that had some off games and Chuck just carried us."
Clark (27-5) led 58-50 after Trey Woodbury's spinning basket in the lane with 1:40 left.
That's when Christian Popoola stepped up for Gorman (22-9). Popoola hit a 3-pointer from the top of the key with 1:27 to go, then came up with four steals down the stretch to help the Gaels close out their sixth consecutive state title.
"I think maybe he was trying a little too hard," Rice said of Popoola. "But he's a senior, he's a Division I player, and he came through in the clutch."
Popoola hit two free throws after a turnover with 1:18 left to cut the lead to 58-55.
Clark then tried to stall, and Chargers center Antwon Jackson was dribbling toward the top of the key with Gorman's coaches screaming for their team to foul him to stop the clock. Instead, Jackson lost control of the ball. D.J. Howe came up with it and hit one of two free throws to make the score 58-56 with 41.9 seconds.
Popoola then stole the ball to start a fastbreak. Jamal Bey missed the dunk, but Howe got the rebound and was fouled. He made both free throws to tie the game with 26 seconds left.
Popoola poked the ball away from Jalen Hill to start another break, and O'Bannon threw down a slam with 16 seconds left to give the Gaels the lead for good.
"Pop's one of the most underrated defenders that I know," O'Bannon said. "At practice, he gives it to me every day. To see him come out here and do it against other people makes me feel better about myself. Props to him. He's a great defender."
Howe scored four points in the final 41.9 seconds, and Popoola had all seven of his points in the final 2:48.
"D.J. Howe came in there at the end and sparked us, but we're not even close without Chuck O'Bannon tonight," Rice said.
O'Bannon added 11 rebounds and three steals. He made 11 of 18 shots, including 8-for-11 in the second half.
"I was just playing," O'Bannon said. "I wasn't feeling good, I wasn't feeling bad. I was just out there playing my game. It just came out to be a good game for me."
How good?
"This tops it all," O'Bannon said. "For sure."
Woodbury led Clark with 15 points, including 11 in the fourth quarter. James Bridges scored 14, including a clutch 3-pointer with 2:52 left that pushed the lead to 53-49.
Of the nine players who played for the Chargers, five are sophomores and three juniors.
"Clark's not going away," Rice said. "They're a great team. I feel bad the way that ended. We'll obviously take it, but they're going to be back. This is going to give them motivation in the offseason."
Box score: