4A BOYS: Clark hangs on, to play Bishop Gorman for state title
February 23, 2017 - 11:37 pm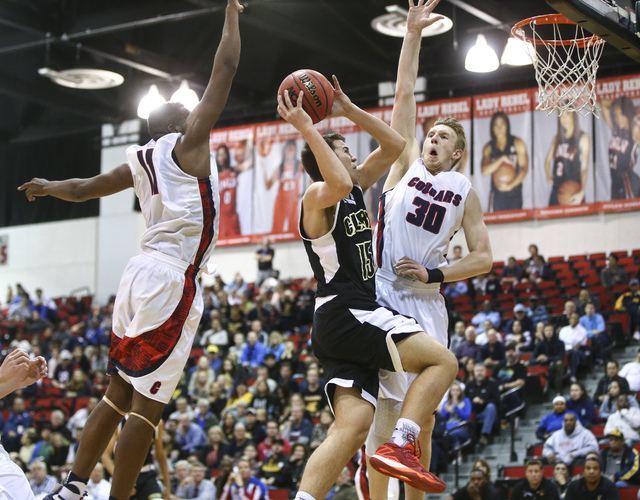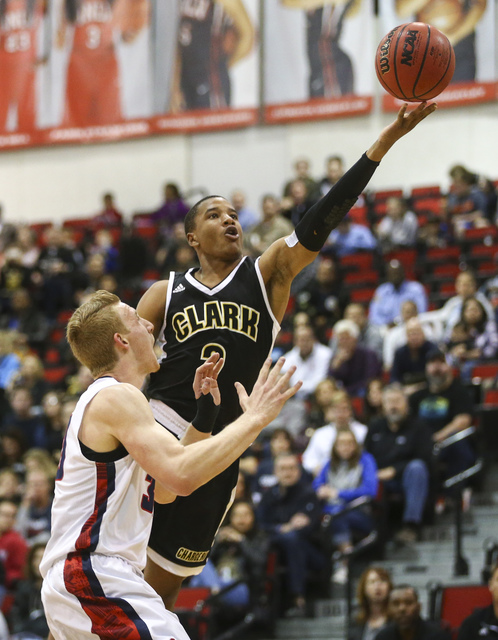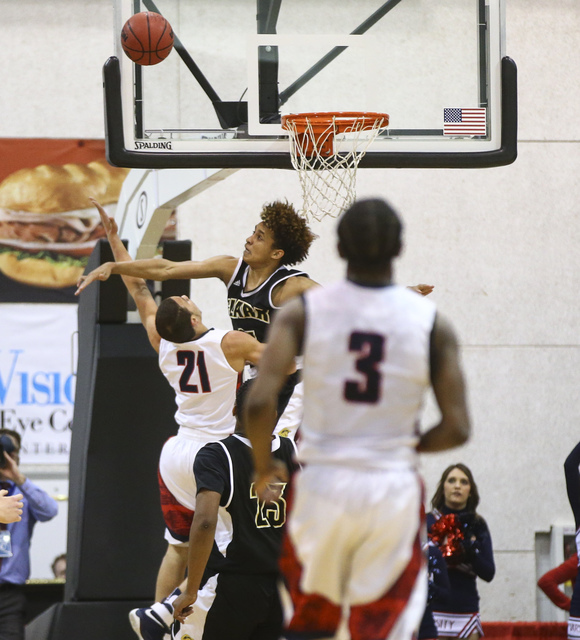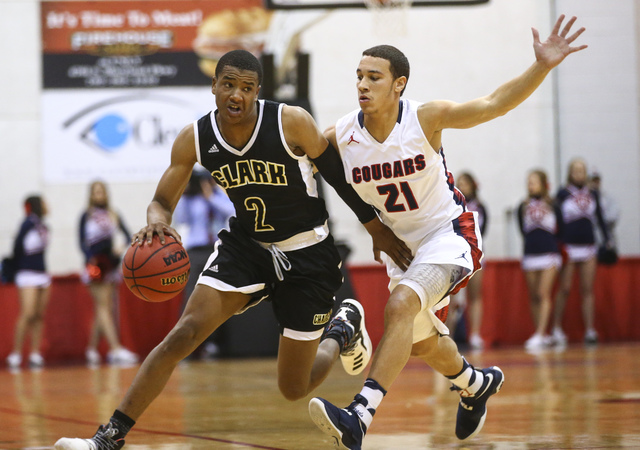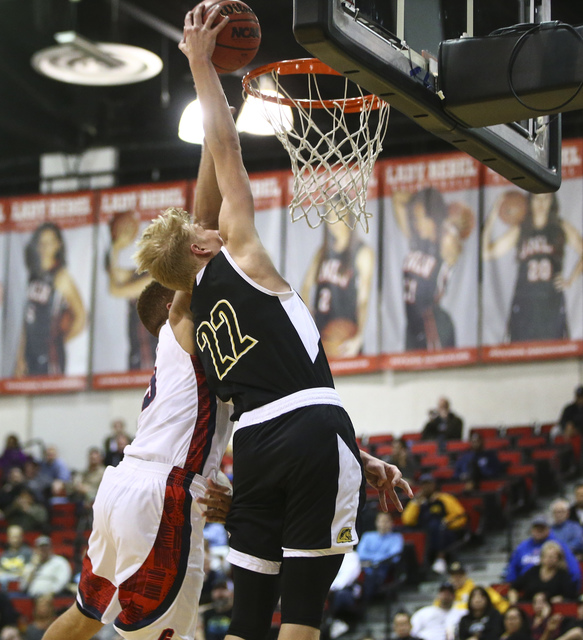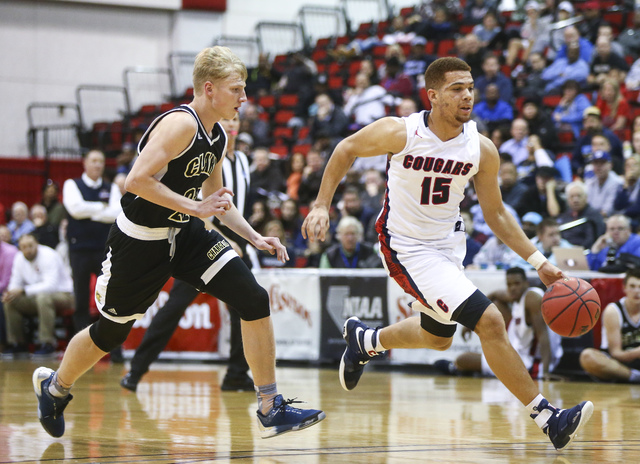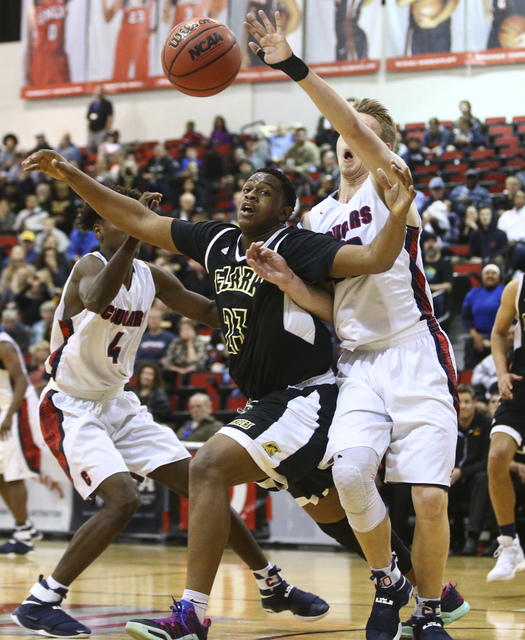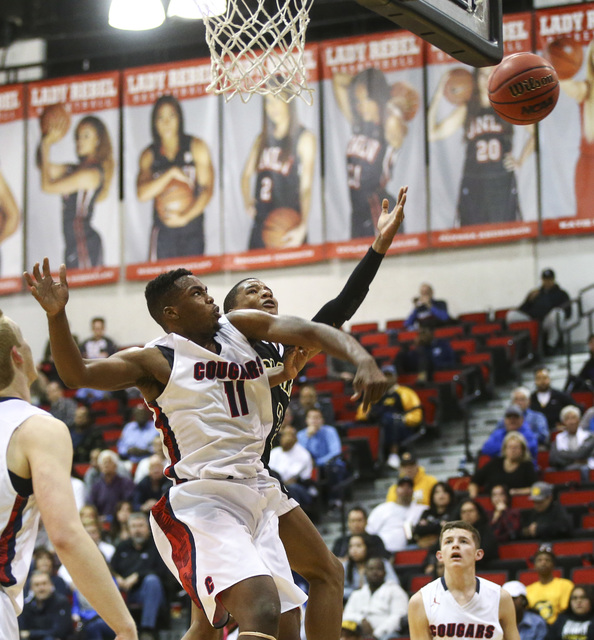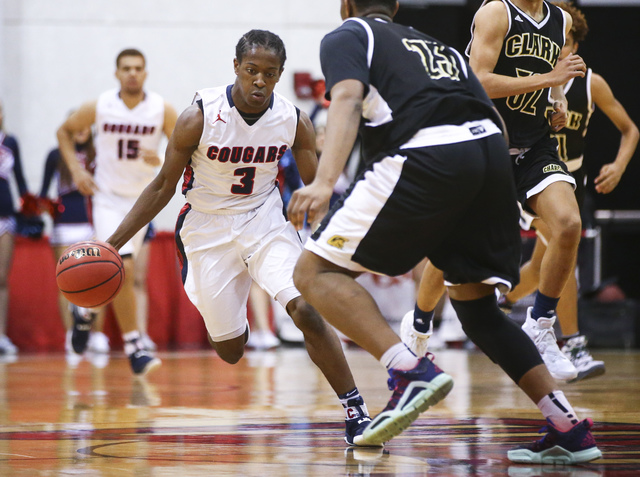 Ian Alexander scored only four points Thursday night. But without him, Clark's season would be over.
Alexander was dominant defensively, blocking seven shots and helping the Chargers withstand a late Coronado surge to claim a 56-48 win in the Class 4A boys state basketball semifinals at Cox Pavilion.
"Ian was phenomenal for us on the defensive end tonight," Clark coach Colin Darfour said. "He had seven blocks tonight, and that's a big-time performance against a really good basketball team that we played tonight. Ian's defense was huge for us."
Clark (27-4) plays Bishop Gorman (21-9) in the title game at 8:10 p.m. Friday at Cox Pavilion. The Gaels whipped Reno 89-60.
The Cougars (18-10) rallied late and pulled within 51-48 after a 3-pointer by Trey Hurlburt with 1:06 to play.
After a free throw by Jalen Hill made the score 52-48, Coronado had numerous chances inside, but Alexander stood strong to help maintain the lead. On one possession, Coronado's Kennedy Koehler had two shots in the paint. Alexander blocked one and contested the second. Will Weems rebounded for the Cougars, and Alexander also contested that shot.
And when Koehler got the rebound, Alexander stripped him on the way to the basket to give Clark possession.
"I just had to make sure that I was straight up and down, be clean with it and try not to foul them so they get their buckets without the clock running and just stay solid at the end of the game," Alexander said.
Alexander also did a fantastic job guarding Koehler, who has signed with UC San Diego. Alexander limited the 6-foot-7-inch forward to six points on 3-for-12 shooting.
"We scouted him, and coach had a list of things for me to do, so I just wanted to go out there and accomplish that," Alexander said. "And I felt like I did my job."
Trey Woodbury scored 15 points to lead the Chargers, and Hill added 10 points and six rebounds. Antwon Jackson grabbed 10 rebounds for Clark.
Will Weems led Coronado with 16 points. He carried the Cougars in the first half, scoring 14 of the team's 22 points on 7-for-9 shooting. But he wore down in the second half and missed his final seven shots.
The victory sets up a fourth meeting with Gorman. The teams split during the regular season, and the Gaels beat Clark 64-51 in the Sunset Region final.
"It's awesome," Alexander said. "We get our rematch and get to see who the best is in the state. It ought to be fun."
Bishop Gorman 89, Reno 60 — Leading scorer Chuck O'Bannon had only six points, but it didn't matter as the Gaels rolled past the Huskies in the other semifinal.
Freshman Noah Taitz came off the bench to score 19 points to lead Gorman.
"Points per minute this year, Noah's probably led our team," Gorman coach Grant Rice said. "He's a big-time freshman player, and he has a great future. He kind of showed glimpses of that all year, and then it kind of all came out in the first half tonight.
"He's going to score a lot of points in his basketball career."
Taitz had 16 points in the first half on 6-for-7 shooting.
"Noah, he's been fearless all year," Rice said. "We made him earn it. From the start we didn't give him anything. He's worked hard in practice. That's probably his sixth or seventh double-digit game of the year. That was the most impressive."
Taitz scored eight points in the first quarter as the Gaels closed the period on a 20-2 run to take a 26-8 lead.
"We turned it on there in the first quarter," Rice said. "And we know what we can do when we play hard. It's just a matter of getting all five guys on the same page at the same time."
Gorman led 8-6 when Rice called timeout with 5:28 left in the quarter. Reno was getting to the basket easily.
"I just wasn't happy with our defensive intensity," Rice said. "I didn't like the look on the guys' face. They were kind of cruising there the first few minutes."
Jamal Bey had 13 points and six rebounds, and Christian Popoola added nine points and eight assists for the Gaels, who made 10 3-pointers.
"I thought Christian Popoola did a good job of hitting the open guys and not really looking for his own shot and being that true point guard out there," Rice said.
Thomas Challis had 14 of his 19 points in the second half to lead Reno (22-7). Andrew Rippingham and Christian Chamberlain each scored 11 for the Huskies.
Contact prep sports editor Damon Seiters at dseiters@reviewjournal.com or 702-380-4587. Follow @DamonSeiters on Twitter.
Box scores: