5 high school boys basketball recruits to watch this season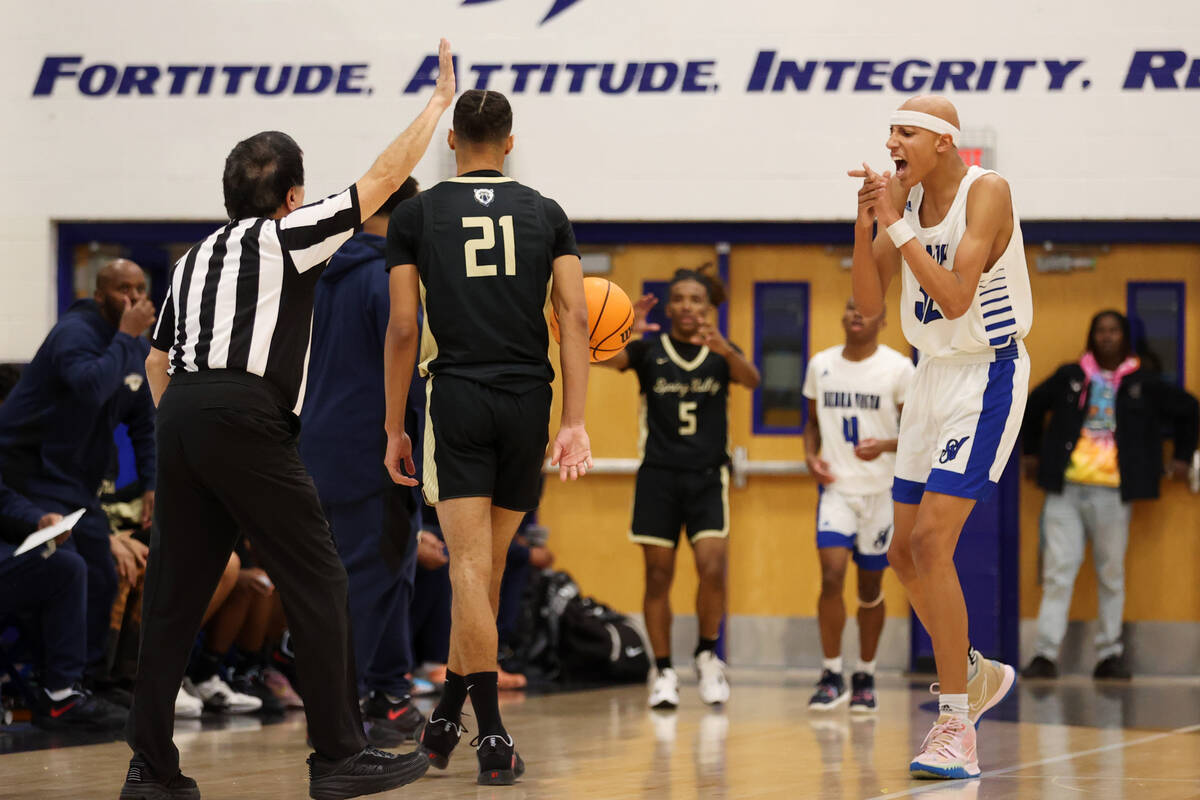 A busy offseason has changed the boys high school basketball landscape in Southern Nevada.
Dedan Thomas Jr., the state's top class of 2024 recruit, committed to UNLV and reclassified to the class of 2023.
Other top 2024 recruits — former Bishop Gorman standouts Jase Richardson and John Mobley Jr., and Durango wing Taj Degourville — transferred out of state.
The turnover has created an opportunity for a new crop of players in the city to emerge and get the attention of college coaches.
Here's a look at five local high school basketball recruits to watch this season:
Tee Bartlett, Coronado (2025)
Notable offers: Arizona State, Kansas State, Minnesota, Southern California, UCF, UNLV.
Bartlett, listed at 6 feet, 10 inches, dominated inside for the Cougars to emerge as one of the top bigs in the city. His height and size give him a scoring and rebounding edge against most competition. The center is the top class of 2025 recruit in the state, ranked by 247Sports with a four-star rating and the No. 65 2025 recruit nationally.
Pharaoh Compton, Arbor View (2024)
Notable offers: Iowa, Louisiana State, San Diego State, Tennessee, UNLV.
Compton released his top-five list earlier this month, which featured UNLV. Compton, a 6-7 forward, is a four-star and the No. 85 prospect nationally by 247Sports. A Las Vegas native, Compton transferred to Arbor View for his senior year after spending last season at Arizona Compass Prep in Chandler, and he plays AAU with Vegas Elite.
CJ Shaw, Mojave (2025)
Offers: UNLV, Southern Utah, Utah Tech, UC San Diego.
Shaw averaged 22.2 points per game last season and was the Rattlers' top player as they won their second consecutive Class 4A state championship. After winning the title, the offers started to come Shaw's way this summer. A 6-4 guard, Shaw's length and athleticism allow him to score in a variety of ways and be dynamic on both ends of the floor.
Xavion Staton, Sierra Vista (2025)
Notable offers: Arizona State, Creighton, Illinois, Iowa, UNLV, Xavier.
Staton is another young center that is getting the attention of college coaches. Standing at 7 feet, Staton has gained multiple Division I offers from power conferences throughout the offseason. With his size, Staton holds an advantage inside against most opponents and will look to continue to develop in his third varsity season with Sierra Vista.
Tyus Thomas, Liberty (2026)
Offers: UNLV, Creighton.
Thomas, the younger brother of Dedan Thomas Jr., came off the bench for Liberty last season and shined in a limited role. With his brother graduating and at UNLV, expect the younger Thomas to have an expanded role for the Patriots this season as their lead ball-handler and primary scorer. A point guard with the ability to knock down an outside shot and drive to the basket will appeal to most college coaches, and Thomas will look to take another step this season.
Contact Alex Wright at awright@reviewjournal.com with any recruiting information. Follow @AlexWright1028 on X.