Bishop Gorman product Zach Collins goes No. 10 overall in NBA draft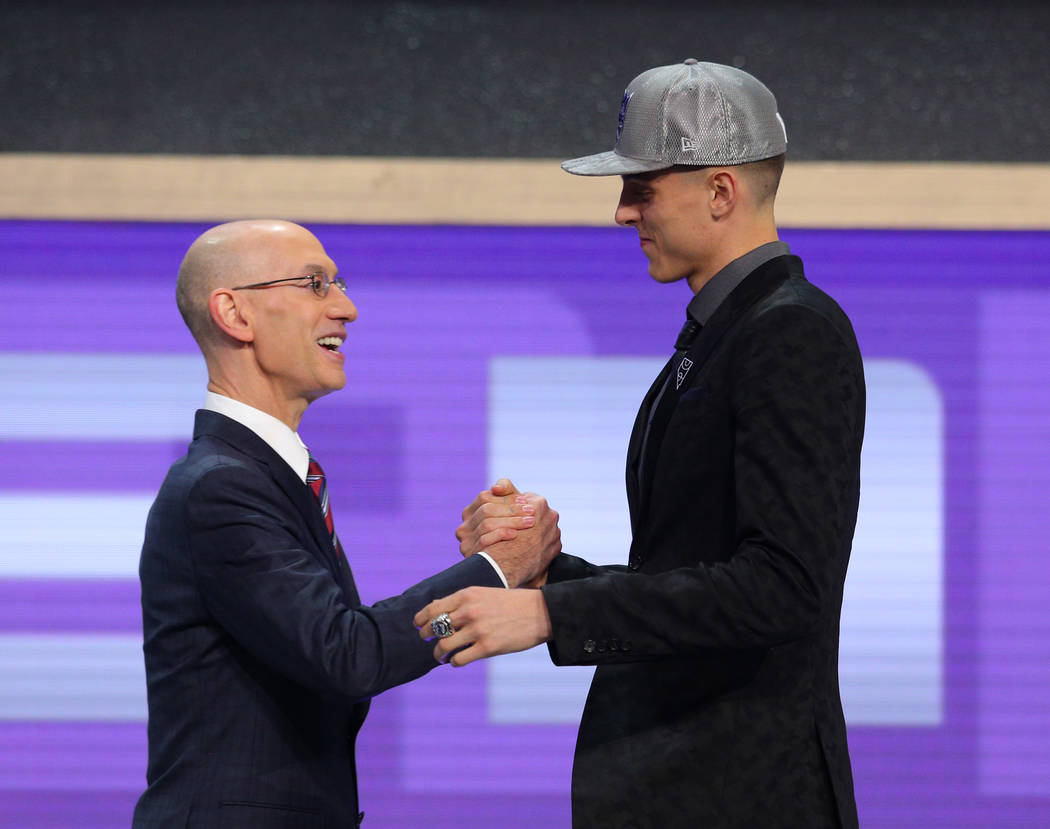 Zach Collins arrived to the NBA draft in New York City on Thursday night with the city of Las Vegas on his back.
Literally.
The 7-foot Bishop Gorman High School graduate wore a custom suit with the "Welcome to Fabulous Las Vegas" sign sewn into the jacket lining.
Gonzaga's Zach Collins making sure his hometown of Las Vegas is part of his outfit tonight. pic.twitter.com/oKP8hsNG4v

— Darren Rovell (@darrenrovell) June 22, 2017
He will be trading it in for a Portland Trail Blazers jersey, though.
The Sacramento Kings selected Collins No. 10 overall Thursday and traded him to Portland for the draft rights to North Carolina wing Justin Jackson (No. 15 pick) and Duke forward Harry Giles (No. 20).
Thursday capped a supersonic ascension for Collins, who backed up five-star recruits Chase Jeter and Stephen Zimmerman until his senior year at Gorman and then came off the bench in his only season at Gonzaga.
"I envisioned (being drafted) some day. I didn't know it would happen this quick," Collins said. "My mindset was always 'stay in the gym' and everything else would take care of itself. Honestly, I couldn't imagine it being one year."
Collins averaged 10 points and 5.9 rebounds as a freshman for the Bulldogs.
He averaged 17.3 minutes, came off the bench in every game, and skied draft boards after strong play in the West Coast Conference and NCAA tournaments.
A family affair for @zcollins_33 tonight! Zags for life. #NBADraft pic.twitter.com/jlIV9LTK2o

— Gonzaga Basketball (@ZagMBB) June 23, 2017
Gonzaga unleashed Collins in the postseason, and scouts salivated over a 7-footer who can run the floor, shoot the 3-pointer and protect the rim.
He said he developed his game with a focus on how modern basketball is played — with pace and space.
"The way the NBA is going, you have to be able to do multiple things on the court," Collins said. "My whole life, I've tried to do multiple things on the court. Not just be a guy who stands under the rim and block shots.'
Gorman coach Grant Rice praised Collins' work ethic and patience, and said "Zach understood the bigger picture.
"Everyone wants everything right now. Kids just want the spotlight," Rice said. "(Collins) was in the right spot. He had good people around him … It just shows how much better you can get when you're in the right situation."
Collins said he's excited to come home for the NBA Summer League, which begins July 7 at UNLV. He conceived the idea for his draft day suit a few weeks ago and wanted to showcase the pride he has for his hometown.
"I love that city. Hopefully when I retire I can live there, live out the rest of my life there," Collins said. "I was raised there … I love to show appreciation."
Collins wasn't the only Gonzaga player drafted.
Findlay Prep product Nigel Williams-Goss was taken with the 25th pick of the second round, 55th overall, by the Utah Jazz. The 6-3 point guard averaged 16.8 points, six rebounds and 4.7 assists as a junior last season.
Contact Sam Gordon at sgordon@reviewjournal.com. Follow @BySamGordon on Twitter.
Zach Collins stats at Gonzaga
2016-17
G PTS RB AST FG%
39 10.0 5.9 0.4 65.2