BOYS BASKETBALL: Brevin Walter's clutch 3-pointer sends Faith Lutheran past Thousand Oaks
December 30, 2016 - 12:11 am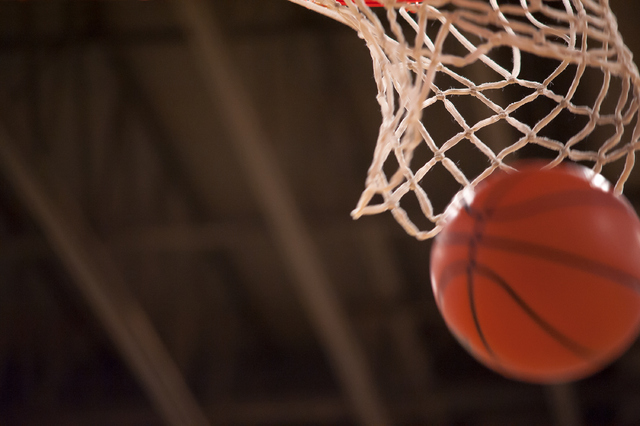 Brevin Walter hit a go-ahead 3-pointer with nine seconds to play Thursday, and Faith Lutheran's boys basketball team earned a 63-60 win over Thousand Oaks (California) in the Rancho Mirage Holiday Invitational in Rancho Mirage, California.
The Crusaders trailed 60-58 before Walter's 3-pointer gave them the lead. Nic Maccioni then hit a pair of free throws with five seconds to go to seal the win.
Walter, Maccioni and Connor Nichols each had 15 points to pace Faith Lutheran. Elijah Kothe added 11 points for the Crusaders.
Tyler Clem led the Lancers with 15 points.
Sierra Vista 69, Cathedral City (Calif.) 37 — At Cathedral City, California, Maka Ellis scored 15 points as the Mountain Lions rolled past the Lions in the Rancho Mirage Holiday Invitational.
Maui SeraJosef added 10 points for Sierra Vista, which led 32-15 at the half.
Kavonte Kinney led Cathedral City with 13 points.
Saddleback Valley Christian (Calif.) 59, Foothill 56 — At Rancho Mirage, California, Trey Smith and Jonah Tolmarie each had 15 points to lead the Warriors by the Falcons in the semifinals of the Nike Division at the Rancho Mirage Holiday Shootout.
Mauricio Smith had 19 points and eight rebounds to lead Foothill, which outscored Saddleback Valley 17-9 in the fourth quarter to make it close.
Marvin Coleman added 10 points and nine rebounds for the Falcons.
Canyon Springs 78, Benicia (Calif.) 43 — At Rancho Mirage, California, Michael Washington had 15 points as the Pioneers rolled past the Panthers in the Rancho Mirage Holiday Invitational.
Christopher Hawkins, Kevin Legardy and Elbert Bibbs each added 12 points for Canyon Springs, which led 20-6 after one quarter. The Pioneers advanced to the Gatorade Division championship game against Capistrano Valley (California) at 2:20 p.m. Friday.
Dylan Bandle had 11 points to lead Benicia.
Boulder City 73, Paloma Valley (Calif.) 56 — At Menifee, California, Carson Balistere had 26 points to lead the Eagles over the Wildcats in the Paloma Valley Winter Shootout.
Justus Green added 17 points and 14 rebounds, and Karson Bailey had 12 points for Boulder City.
Chance Nolan and Adrian Contreras each had 13 points for Paloma Valley.
Del Sol 67, La Quinta (Calif.) 50 — At Costa Mesa, California, Jonathan Spearman had 24 points to lead the Dragons over the Aztecs in the Estancia Coast Classic.
Keith Seldon added 19 points for Del Sol.
Michael Nadeau led La Quinta with 14 points.
Roosevelt (Ore.) 71, Liberty 57 — At Gillette, Wyoming, Daviony Armstrong scored 14 of his 21 points in the first half to propel the Roughriders by the Patriots in the consolation semifinals of the Energy Classic.
Max Britton-Jackson added 17 points for Roosevelt, which used a 27-14 second-quarter burst to build a 43-28 halftime lead.
Dyllan Robinson led Liberty with 21 points. Damahny Whittle scored 11, and Cameron Burist added 10 points for the Patriots.
Santa Fe Christian (Calif.) 58, Cimarron-Memorial 54 — At Solana Beach, California, Owen Aschieris had 21 points as the Eagles rallied by the Spartans in the Senators' Division semifinals of the Under Armour Holiday Classic.
Derek Moore added 12 points for Santa Fe Christian, which trailed 43-39 entering the fourth quarter.
Demarco Alexander led Cimarron with 20 points. Keiron Hatchett had 13 points, and Kamakana Winquist scored 10 for the Spartans.
Windermere Prep (Fla.) 81, Coronado 42 — At Orlando, Florida, David Nickelberry had 12 points, 11 rebounds and 10 assists as the Lakers routed the Cougars in the third-place game of the Rock Holiday Classic.
Rashaan Lewis had 16 points, and Xion Golding and Shaquan Jules each added 12 points for Windermere, which also got 10 points from Ryan Swoboda.
Coronado's Will Weems was named to the all-tournament team.
Pahranagat Valley 49, Lake Mead 43 — At Lake Mead, the Panthers placed four players in double figures to defeat the Eagles.
Tabor Maxwell, Culen Highbe and Tyson Jorgensen each had 12 points for Pahranagat Valley, and teammate Cody Williams scored 11.
Kaiaokumulani Madela led Lake Mead with 15 points. Shay Rutledge added 11 points for the Eagles.
Kanab (Utah) 56, Lincoln County 36 — At Kanab, Utah, Monte Glover had 15 points to lead the Cowboys over the Lynx.
Elijah Harr had 13 points, five rebounds and three assists to pace Lincoln County, which led 16-5 after one quarter. Kanab rallied to take a 22-19 halftime lead, and outsored the Lynx 16-3 in the fourth quarter to pull away.
Box scores:
Boulder City 73, Paloma Valley (Calif.) 56
Canyon Springs 78, Benicia (Calif.) 43
Del Sol 67, La Quinta (Calif.) 50
Faith Lutheran 63, Thousand Oaks (Calif.) 60
Kanab (Utah) 56, Lincoln County 36
Pahranagat Valley 49, Lake Mead 43
Roosevelt (Ore.) 71, Liberty 57
Saddleback Valley Christian (Calif.) 59, Foothill 56
Santa Fe Christian (Calif.) 58, Cimarron-Memorial 54
Sierra Vista 69, Cathedral City (Calif.) 37