BOYS BASKETBALL: Christopher Hawkins, Canyon Springs pull away from Eldorado in third quarter
January 31, 2017 - 11:08 pm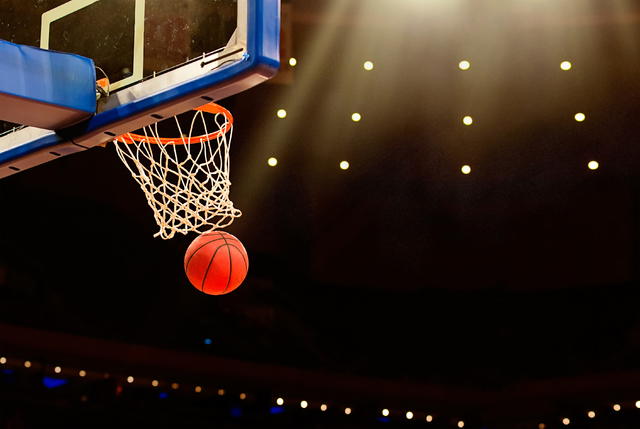 Christopher Hawkins poured in 24 points to lift Canyon Springs' boys basketball team to an 81-65 win over visiting Eldorado on Tuesday.
Kevin Legardy added 16 points for Canyon Springs, which led 30-24 at halftime before taking control with a 26-14 third quarter.
Kemo Bell led Eldorado with 18 points. Patrick Parkes had 15 points, Jordan Carter added 12 points and Dexter Davis scored 10 for the Sundevils.
Chaparral 62, Virgin Valley 42 — At Chaparral, Samuel Porras scored 17 points to lead the Cowboys to an easy win over the Bulldogs.
John Brooks had 12 points, and teammate Jonathan Tendale added 10 points for Chaparral, which knocked down seven 3-pointers. The Cowboys took a two-game lead over Virgin Valley for first place in the Class 3A Sunrise League with three games remaining.
Andrew Memmott led Virgin Valley with 15 points.
Las Vegas 70, Valley 61 — At Las Vegas, Donovan Joyner scored 25 points to send the Wildcats past the Vikings.
Zach Matlock and Mory Souhamoro each added 11 points for Las Vegas, which raced out to a 40-23 halftime lead.
Valley's Tommy Anderson scored 24 points, and teammate Ti'Mar Fullmer supplied 18 for the Vikings.
Del Sol 51, Moapa Valley 45 — At Overton, Mekhi Duncan scored 16 points as the Dragons stormed back to beat the Pirates.
Jonathan Spearman added 10 points for Del Sol, which trailed 17-9 after the first quarter. After tying it up at 23 at halftime, the Dragons pulled away with a 15-9 third quarter.
Nathaniel Thompson scored 17 points for Moapa Valley.
Sierra Vista 73, Spring Valley 49 — At Spring Valley, Maka Ellis scored 22 points to lead the Mountain Lions to an easy win over the Grizzlies.
Maui SeraJosef added 14 points for Sierra Vista, which got eight points apiece from Isaiah Veal and Chris McCoy.
Justin Bonner and Demetrius McWhorter each scored 11 points for Spring Valley.
Durango 62, Bonanza 33 — At Bonanza, Zyare Ruffin and Jeremie Portuondo each scored 16 points as the Trailblazers routed the Bengals in a game that was called with two minutes remaining because of a fire alarm.
Demetrius Valdez and LeAndre McIntyre each scored 10 points for Durango, which led 37-12 at halftime.
Brandon Noone led Bonanza with 17 points.
Boulder City 72, Tech 59 — At Boulder City, Tanner Montgomery and Carson Balistere each scored 15 points to lead the Eagles to victory over the Roadrunners.
Karson Bailey had 14 points, and teammate Justus Green added 11 points for Boulder City, which drained nine 3-pointers.
Jurelle Orbino scored 13 points, and Gary Johnson had 11 points to lead Tech.
The Meadows 51, Calvary Chapel 46 — At The Meadows, Jake Epstein led three double-figure scorers with 16 points, and the Mustangs outscored the Lions 20-13 in the fourth quarter to prevail.
Asheesh Chopra and Joe Epstein each added 10 points for The Meadows, which trailed 33-31 after three quarters.
Elijah Martinez led Calvary Chapel with 27 points.
Adelson School 68, Laughlin 24 — At Laughlin, Jake Buchman scored 21 points as the Lions routed the Cougars.
Jalen Pitts added 15 points, and Brandon Pappas and Miles Hagan each had 10 points for Adelson School, which led 49-8 at halftime.
Michael McCloskey and Edward Petrich scored six points apiece for Laughlin.
Needles 75, Mountain View 65 — At Mountain View, Trey Tsosie scored 19 points to lift the Mustangs over the Saints.
Irving Juarez added 16 points for Needles, which got 12 points from Derek Wagstaff.
Terrence Brooks and Tyrell Brooks each scored 25 points for Mountain View. Terrence Brooks also had 10 rebounds.
Beaver Dam 50, Word of Life 44 — At Littlefield, Arizona, Manny Villareal had 17 points, and Uriel Perez scored 16 as the Diamondbacks held off the Eagles.
Oscar Plancarte added 11 points for Beaver Dam, which trailed 25-23 at halftime but outscored Word of Life 27-19 in the second half.
Jared House had 17 points for Word of Life.
Spring Mountain 63, Sandy Valley 35 — At Sandy Valley, Kamari Kelly and Randell Mosely each scored 16 points to lead the Golden Eagles by the Sidewinders.
Anthony Garrett added 11 points, and Jaylon McKenzie scored nine for Spring Mountain, which led 27-16 at halftime.
Wyatt Robinson led Sandy Valley with 18 points.
Round Mountain 52, Tonopah 47 — At Round Mountain, the Knights defeated the Muckers.
Box scores:
Canyon Springs 81, Eldorado 65
Sierra Vista 73, Spring Valley 49
Chaparral 62, Virgin Valley 42
The Meadows 51, Calvary Chapel 46
Adelson School 68, Laughlin 24
Beaver Dam 50, Word of Life 44
Spring Mountain 63, Sandy Valley 35