BOYS BASKETBALL: James Camp, Palo Verde down Legacy
February 3, 2017 - 11:57 pm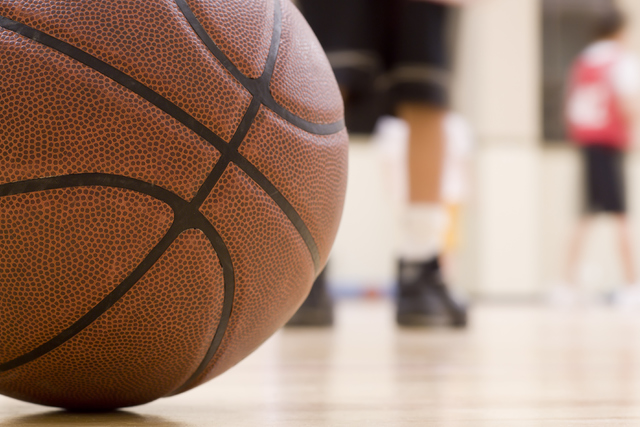 James Camp finished with 21 points, and Palo Verde's boys basketball team used a big third quarter en route to a 70-58 victory over visiting Legacy on Friday.
Mitchell Olsen also scored 14 points for Palo Verde, which outscored the Longhorns 28-7 in the third quarter.
Chris White led Legacy with 15 points. D'Eric Marlowe had 12 points, and Quentin Brewster scored 10 for the Longhorns.
Centennial 56, Desert Pines 43 — At Centennial, Troy Brown led all scorers with 23 points as the Bulldogs defeated the Jaguars.
Isaiah Banks added 17 points for Centennial, which led 36-22 at halftime.
Capri Uzan led Desert Pines with 17 points, and Trevon Abdullah-Booker and Lorenzo Brown scored 10 points each for the Jaguars.
Cimarron-Memorial 70, Silverado 52 — At Silverado, Demarco Alexander led all scorers with 23 points as the Spartans defeated the Skyhawks.
Cimarron-Memorial's Kamakana Winquist had 11 points, and teammate Elijah Coleman scored 10.
Wesley Bryan had 11 points to lead Silverado, and Devin Ross added 10 points.
Sierra Vista 73, Tech 39 — At Sierra Vista, Maka Ellis had 17 points as the Mountain Lions routed the Roadrunners.
Mathias Aaiva added 11 points, and Chris McCoy scored 10 for Sierra Vista, which led 41-21 at the break.
Collin Faught had 10 points to lead Tech.
Virgin Valley 57, Moapa Valley 44 — At Overton, Hogan Fowles had a game-high 16 points to help the Bulldogs defeat the Pirates.
Andrew Memmott added 12 points for Virgin Valley, which opened the game on a 16-5 run.
Trey Jones led Moapa Valley with 13 points, and teammate Ryan Foster scored 10.
Findlay Prep 62, Mesa (Ariz.) 43 — At Phoenix, P.J. Washington scored 18 points to lead the Pilots by the Jackrabbits.
Reggie Chaney added 13 points for Findlay Prep.
Lake Mead 52, Calvary Chapel 51 — At Lake Mead, Noah Tassi scored on a putback at the buzzer to lift the Eagles past the Lions.
Elijah Martinez had given Calvary Chapel a 51-50 lead with a baseline jumper with seven seconds remaining. Martinez had 17 of his game-high 20 points in the fourth quarter for the Lions, who outscored Lake Mead 24-11 in the fourth quarter.
Kaiaokumulani Madela led Lake Mead with 14 points. Joshua Thorell had 12 points, and Ryan Kennedy scored 11 for the Eagles.
Laughlin 52, Mountain View 50 — At Laughlin, Corey Anderson had 22 points, and the Cougars held on late in the fourth quarter to beat the Saints.
Michael Bishop added 10 points for Laughlin.
Terrence Brooks led all scorers with 24 points, and brother Tyrell Brooks scored 20 for Mountain View, which trailed 37-28 after three quarters.
Needles 54, Lincoln County 38 — At Panaca, Trey Tsosie scored 11 of his game-high 28 points in the third quarter as the Mustangs pulled away to down the Lynx.
Irving Juarez added 10 points for Needles, which outscored Lincoln County 17-2 in the third quarter. The Mustangs won the rebounding margin, 31-18.
Elijah Harr, Brady Lawrence, Justin Barton and Kobe Walker each scored seven points for Lincoln County.
Agassi Prep 57, The Meadows 39 — At The Meadows, Akeemis Williams had 25 points as the Stars topped the Mustangs.
Allen Merritt added 18 points for Agassi Prep.
Jake Epstein paced The Meadows with 21 points.
Beaver Dam 62, Indian Springs 33 — At Littlefield, Arizona, Uriel Perez poured in 23 points, and the Diamondbacks routed the Thunderbirds.
Manny Villarreal, Jacob Allen and Janson Sherman added eight points apiece for Beaver Dam.
Dallin Davis led Indian Springs with 17 points.
SLAM Academy 61, Somerset-Sky Pointe 42 — At Somerset-Sky Pointe, Jake Balsterholt and London Coleman led all scorers with 17 points as the Bulls defeated the Eagles.
SLAM Academy's Walter Kirk also scored 11 points.
Somerset-Sky Pointe's Preston Davis led the team with 11 points. Isaiah Brooks and Danny Cox each scored 10 points.
Box scores:
Agassi Prep 57, The Meadows 39
Beaver Dam 62, Indian Springs 33
Centennial 56, Desert Pines 43
Cimarron-Memorial 70, Silverado 52
Findlay Prep 62, Mesa (Ariz.) 43
Lake Mead 52, Calvary Chapel 51
SLAM Academy 61, Somerset-Sky Pointe 42
Virgin Valley 57, Moapa Valley 44