BOYS BASKETBALL: Nic Maccioni scores 24 to lead Crusaders over Aggies
December 14, 2016 - 10:29 pm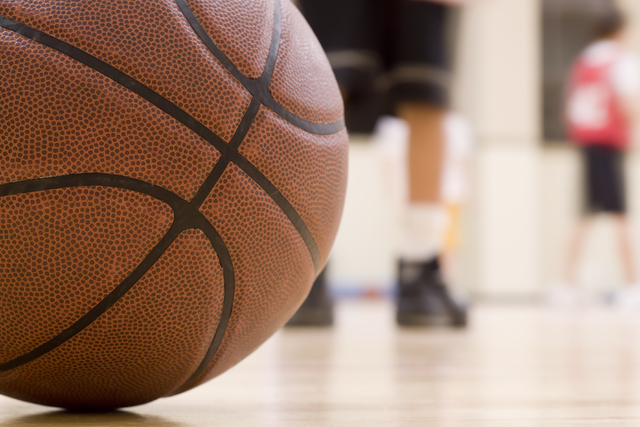 Nic Maccioni had 24 points Wednesday to lead Faith Lutheran's boys basketball team to to a 90-79 road victory over Arbor View.
Jaylen Fox scored 23 for the Crusaders, who made seven 3-pointers.
Brevin Walter added 19 points, and teammate Elijah Kothe had 18 points for Faith Lutheran.
Jarrod Brooks led Arbor View with 16 points. Lucas Lawrence and Palmer Adams each supplied 11 points for the Aggies.
Canyon Springs 56, Chaparral 50 — At Chaparral, Christopher Hawkins scored 18 points to lead the Pioneers past the Cowboys.
Joseph Haulcy added 11 points for Canyon Springs, which led 25-17 at halftime.
Jonathan Tendale scored 16 points to lead the Cowboys.
Pahrump Valley 70, Boulder City 66 — At Boulder City, Parker Hart scored 20 points as the Trojans held off the Eagles.
Antonio Fortin scored 15 points, and David Sidhu added 12 points for Pahrump, which led 41-28 at halftime.
Karson Bailey scored 20 points to lead Boulder City, which rallied to cut the Trojans lead to two points in the final minute of the game.
Justus Green scored 14 points, and Carson Balistere added 10 points for the Eagles.
Sunrise Mountain 54, Moapa Valley 48 — At Sunrise Mountain, Stephen Wright scored 12 points to lead the Miners past the Pirates.
Steven Adeyemi and Daltyn Pytrysson each scored 10 points for Sunrise Mountain, which outscored Moapa Valley 21-13 in the fourth quarter to earn the win.
Chase Kruse scored 15 points to pace the Pirates, who led 35-33 heading into the fourth quarter.
Trey Jones added 10 points for Moapa Valley.
Silverado 58, Del Sol 50 — At Silverado, Devin Ross led all scorers with 22 points as the Skyhawks took down the Dragons.
Martell Williams scored 14 for Silverado, which led 29-18 at halftime.
Jonathan Spearman led the Dragons with 13 points.
Bishop Gorman 78, Spring Valley 44 — At Gorman, Jamal Bey had 21 points, five rebounds and five assists to power the Gaels by the Grizzlies.
Noah Taitz scored 14 points, and teammate Ryan Kiley supplied 10 points and 10 rebounds for Gorman, which sank eight 3-pointers. Christian Popoola and Jarrett Jordan each added 10 points for the Gaels.
Keelan Wickersham had 14 points, and Ryan Frazier scored 13 to lead Spring Valley.
Desert Pines 62, Green Valley 45 — At Green Valley, Capri Uzan scored 27 points to lead the Jaguars past the Gators.
Trevor Abdullah-Booker added 12 points for Desert Pines, which outscored Green Valley 18-5 in the fourth quarter to take control.
Steven Fojas scored 13 points, and Cameron Bower added 11 points for the Gators, who were missing three starters.
Cimarron-Memorial 76, Legacy 49 — At Legacy, Demarco Alexander had 23 points to power the Spartans past the Longhorns.
Kamakana Winquist added 15 points, and Elijah Coleman scored 13 for Cimarron, which led 45-25 at the half.
Chris White paced Legacy with nine points.
Centennial 79, Shadow Ridge 53 — At Centennial, Ishon Hardin had 19 points, and Darian Scott scored 18 to lead the Bulldogs over the Mustangs.
Isaiah Banks scored 17 for Centennial, which shot 26-for-31 from the free-throw line (83.9 percent).
James Fuller had 16 points for Shadow Ridge, and teammate Kevin Branch scored 12.
Las Vegas 67, Mojave 45 — At Mojave, Marquise Raybon had 16 points to lead the Wildcats over the Rattlers.
Deondre Northey and Donovan Joyner each scored 11 for Las Vegas, which led 17-8 after one quarter.
Jonathan Rodriguez led Mojave with 13 points.
Lake Mead 68, Spring Mountain 46 — At Lake Mead, Kaiaokumulani Madela had 17 points as the Eagles routed the Golden Eagles.
Shay Rutledge scored 14 points, Sean Fuller scored 12 points, and Noah Tassi added 10 points for Lake Mead, which led 36-18 at the half.
Anthony Garrett scored 11 points to lead Spring Mountain.
Box scores:
Bishop Gorman 78, Spring Valley 44
Canyon Springs 56, Chaparral 50
Cimarron-Memorial 76, Legacy 49
Desert Pines 62, Green Valley 45
Faith Lutheran 90, Arbor View 79
Lake Mead 68, Spring Mountain 46
Pahrump Valley 70, Boulder City 66
Sunrise Mountain 54, Moapa Valley 48