Canyon Springs' defense spurs shot at state title
February 28, 2014 - 12:21 am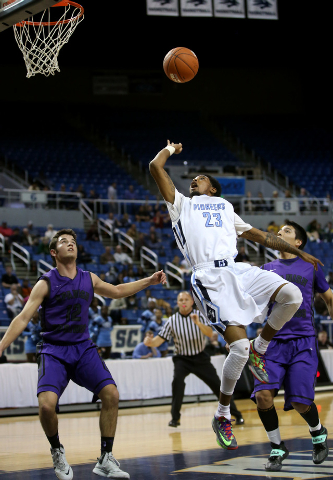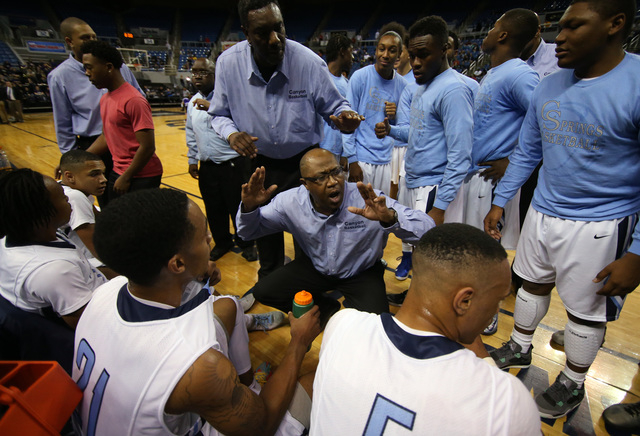 RENO — The fundamental difference between the boys basketball teams from Spanish Springs and Canyon Springs showed itself in the first minute of the fourth quarter Thursday.
The Cougars worked the ball around the court for close to a minute before getting a post bucket from Dupree Kness. But it took Canyon Springs just six seconds to answer, as Shaquile Carr flew down the court for a layup.
And ultimately, the Pioneers got the game going at their pace and rallied for a 66-51 win in the Division I boys state basketball semifinal at Lawlor Events Center.
"It was important because they wanted to slow us down," Canyon Springs senior Gerad Davis said. "When we started getting faster, it got them tired and we were still up. So that's what we kept doing."
Canyon Springs (24-4) plays Bishop Gorman, a 68-27 winner over Reno in the other semifinal, in the final at 8:10 p.m. today at Lawlor. The Gaels are seeking their fifth title in six years.
Canyon Springs trailed 29-19 after what coach Freddie Banks said was "the worst half we ever played."
But Davis helped spark things in the third quarter. He had eight points, three rebounds, two assists, four blocked shots and two steals in the quarter as the Pioneers regained control.
Davis' fast-break basket with 4:19 left in the third quarter gave the Pioneers a 33-31 lead, their first since it was 2-0.
Davis finished with 23 points, eight rebounds, three assists, seven steals and five blocks.
"Gerad Davis played tremendous tonight," Banks said. "He just went out and did what he's supposed to do. He went out and played hard the second half and did some great things tonight."
Spanish Springs (18-12) stayed with the Pioneers until Davis hit two free throws with 49.6 seconds left in the third quarter to give Canyon Springs the lead for good.
"We told each other in the locker room, 'We've been here before with tougher teams,' " Davis said. " 'We've just got to come together with heart.' "
Improved shooting certainly didn't hurt, either. Canyon Springs was 5-for-19 (26.3 percent) from the field in the first half, including an 0-for-10 mark from 3-point range.
But the Pioneers were 20-for-24 (83.3 percent) in the second half, including a 9-for-10 mark in the fourth quarter.
Chris Nelson hit the team's only 3-point attempt of the second half with 1:58 left in the third quarter.
"I always go in there (at halftime) and just tell them what I want them to do," Banks said. "I said, 'No more 3-pointers. Anybody shoots a 3 is coming out.' We shot one and made it, and he's lucky he made it, because he was coming out of the game."
Canyon Springs forced 26 turnovers and scored 18 points off 12 second-half miscues by Spanish Springs.
"We told them at halftime, 'If you don't want to play defense, you're coming out,' " Banks said. "We played pressure defense, and that's what made them turn the ball over."
Carr had 17 points and four assists, and Jordan Davis added 10 points for Canyon Springs, which is looking for its first title since 2011.
"It feels great," Banks said. "It ain't over yet. We've got one more to go. But it feels good to be in the finals."
Kenny Meyer paced Spanish Springs with 14 points and seven assists, but he had just three points in the second half.
Contact prep sports editor Damon Seiters at dseiters@reviewjournal.com or 702-380-4587. Follow @DamonSeiters on Twitter.
Box score:
Canyon Springs 66, Spanish Springs 51