Cheyenne hopes to turn 'Chey-Town' into Title Town this weekend
February 23, 2017 - 10:14 pm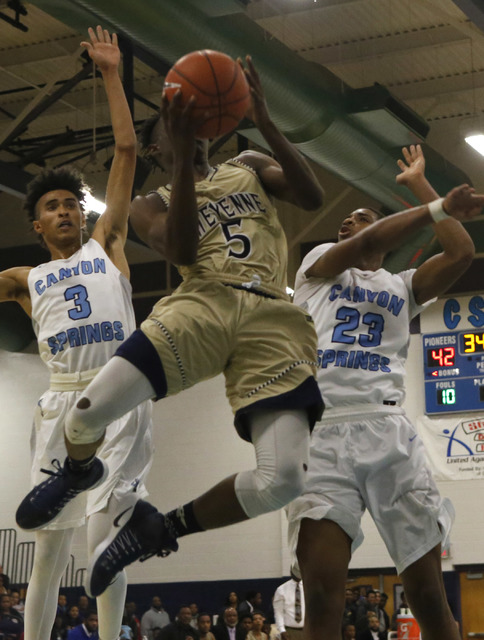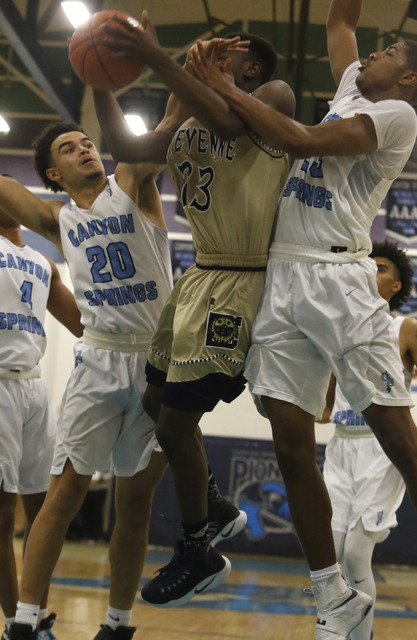 "The Town" adorns the uniforms and warmups of the Cheyenne boys basketball team. It's a play on the school's nickname, "Chey-Town," which is written on the door near the locker room in the gym.
After this weekend, "The Town" can be less of a motto and more of a representation of what the Desert Shields have done. Cheyenne has a chance to become the talk of the town when it begins the Class 3A state tournament at 12:45 p.m. Friday against Elko at Cox Pavilion.
"Our goal every season is to play in the last game of the season every year," Cheyenne coach Teral Fair said. "This is a two-game season for us."
It's been awhile since the Desert Shields have had that chance. Not since 2008 has Cheyenne been in the tournament, and 2003 was the only time the Desert Shields have hoisted the championship.
To do it, the Desert Shields will need to get through one team that has beaten them this season, with a chance of facing another.
Cheyenne fell to Elko 46-26 in the Battle Born Classic on Jan. 14. The other state semifinal, Desert Pines against Fernley, has another familiar foe.
The Desert Shields rolled through the regular season with a 17-5 record, 10-0 in Sunset League play, which included two wins in the regular season against Desert Pines. But as the football mantra goes, it's tough to beat a time three times in a season. The Jaguars routed Cheyenne 63-35 Saturday to win the Southern Region title.
"They were clearly the better team that night," Fair said. "If we get an opportunity to play them again, it will be another game, and we won't think about the prior three games, and it will have a life of its own as well."
Should the Desert Shields make a run at the state title, they will need production from their big three: senior Dewayne Alexander, junior Kavon Williams and senior D'Andre Houston.
Alexander leads the team, averaging 18.5 points, 9.9 rebounds and eight assists. Williams is right behind with 17.5 points, and Houston averages 15.5 points.
Alexander knows this is his last time putting on the uniform with "The Town" written on it, and he plans on making the best of his opportunity. And if he gets to do it with the teammates who are closest to him, all the better.
"I get to do things with my brothers and have some memories," Alexander said. "We have a lot of players that get you hyped, and when you get hyped, you can go out with a lot of energy and you really do things."
Fair said that factoring in the expectations for the team and the program's lack of recent postseason success, Cheyenne's season already has been a success. But it doesn't mean the Desert Shields are satisfied.
"We have to have everybody locked in on the court," Williams said. "These are our last two games, so it's either go home or go home with a win."
Contact Justin Emerson at jemerson@reviewjournal.com or (702) 387-2944. Follow @J15Emerson on Twitter.
Class 3A Boys State Tournament
At Cox Pavilion
Friday's Games
Cheyenne (18-6) vs. Elko (25-2), 12:45 p.m.
Fernley (20-8) vs. Desert Pines (18-11), 4:15 p.m.
Saturday's Game
Championship, 12:50 p.m.
Class 3A Girls State Tournament
At Cox Pavilion
Friday's Games
Virgin Valley (22-4) vs. Churchill County (24-3), 11 a.m.
Lowry (23-4) vs. Moapa Valley (26-5), 2:30 p.m.
Saturday's Game
Championship, 11 a.m.