Clark boys rally in second half
December 13, 2013 - 11:54 pm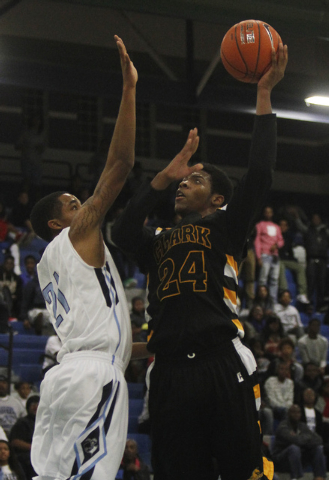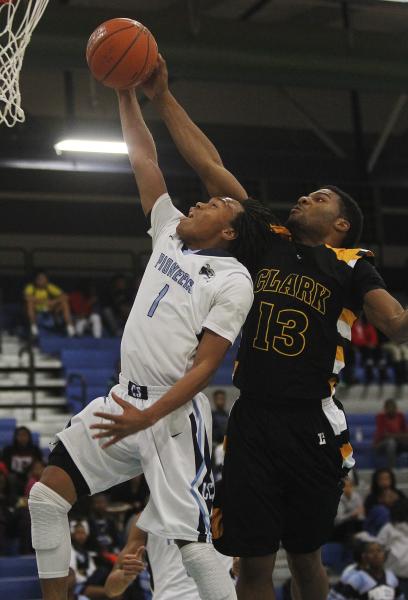 Clark boys basketball coach Chad Beeten didn't mince words when he gave his assessment of Friday's first half.
"I thought we were a disaster. Offensively, I don't think I've ever seen a team of mine play that bad," Beeten said. "Fortunately, we have tough kids that came out ready to play in the second half."
The visiting Chargers went on two big second-half runs and pulled away from No. 2 Canyon Springs for a 63-53 victory in a battle of top-four teams.
Diontae Jones finished with 19 points and 10 rebounds before fouling out late for No. 4 Clark (4-0), which shot 64 percent from the field in the second half after going 4-for-17 with 14 turnovers in the first two quarters.
The Chargers trailed 26-19 with 6:03 remaining in the third quarter before going on an 11-0 run. After Canyon Springs (5-1) went ahead 33-32 on a 3-pointer by Jordan Davis late in the third, the Chargers regained control with a 15-4 run in the next 2:53 to go up 47-37.
The Pioneers closed to within 55-51 with 2:02 to play on Davis' fast-break basket, but Colby Jackson and Jordan Turner combined to go 8-for-8 from the free-throw line in the final 1:02 for Clark.
The Chargers were 13-for-13 from the line in the second half after missing six of their first 11 foul shots.
Sherron Wilson had 13 points and nine rebounds, and Carter Olsen added 13 points and five steals for the Chargers. Turner added 10 points and eight rebounds as Clark used its size advantage to outrebound the Pioneers 37-24.
"This felt like a playoff game," Beeten said.
Canyon Springs led 21-15 at halftime despite starters Shaquile Carr and Gerad Davis sitting most of the first half with two fouls. But the Pioneers were forced to become a jump-shooting team in the second half, as Clark switched to a 2-3 zone defense midway through the third quarter.
"At the end of the first half, they started to get in the lane too much," Beeten said. "If we kept them out of the lane, I was pretty confident we could chip away and come back and win the game."
Jordan Davis led Canyon Springs with 19 points, and teammate Chris Nelson scored 15 on five 3-pointers. But the Pioneers were 8-for-31 from behind the 3-point line and shot only four free throws.
"They're big, and if you try to drive, they'll block your shot or take a charge," Canyon Springs coach Freddie Banks said. "That kind of took us out of our game. We usually go to the basket and get to the line. Four free throws, that's not my style of play or how we play at Canyon Springs."
Box score: