Deshawn Wilson provides spark as Clark boys top Foothill
February 21, 2017 - 10:57 pm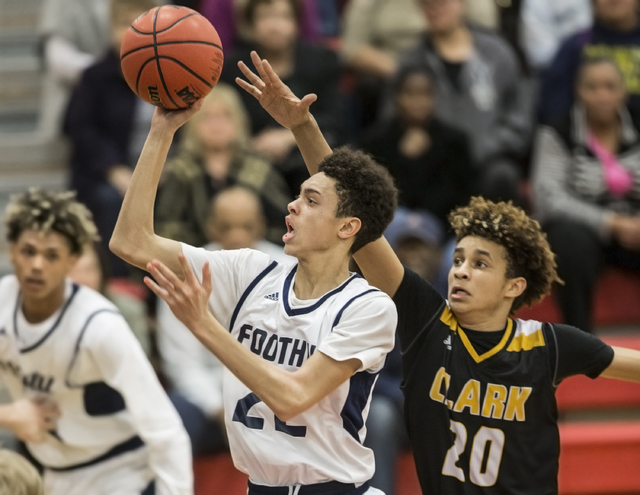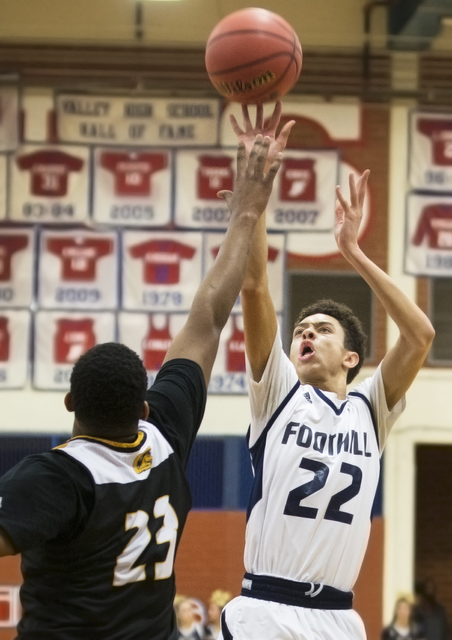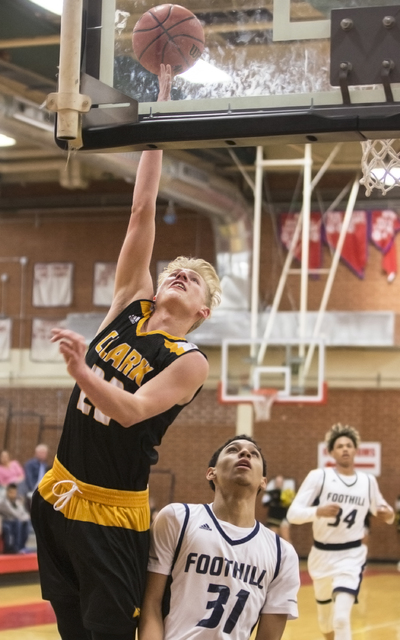 Clark's boys basketball team may not have a true star, but the Chargers have shown plenty of balance all season.
The team put another offensive tool on display Tuesday night.
Deshawn Wilson came off the bench to score 10 points, including six in the third quarter, as Clark defeated Foothill 68-48 at Valley to earn the final berth in the Class 4A state tournament.
"Deshawn's our secret weapon, although it's not so secret," Clark coach Colin Darfour said. "Nobody accounts for him, and he's a man out there. And the reason people don't account for him is probably because we bring him off the bench. But he'd start on any team in the city. He's that kind of player. We're just fortunate to be able to bring him off the bench."
The Chargers (26-4) face Sunrise Region champion Coronado (18-9) in the state semifinals at 8:15 p.m. on Thursday at Cox Pavilion.
Clark led just 29-28 at the half, but Wilson helped ignite the Chargers in the third quarter. Clark led 39-33 when Wilson scored the team's next four points, including a powerful follow slam that made it 43-33 with 2:43 to go in the third quarter.
"Those are the type of plays Deshawn is capable of making," Darfour said. "I think that really gave us the extra boost of confidence and snatched away what little piece of confidence Foothill was starting to get."
Trey Woodbury took over in the fourth quarter for Clark, scoring 10 of his game-high 18 points. He also had five steals. James Bridges added 17 points, four rebounds and four assists for the Chargers. Bridges knocked down three 3-pointers, including one with 6:04 to go in the third quarter that pushed the team's lead to 34-29.
"He hit some huge 3s in the game, and I was really happy for him," Darfour said. "He hasn't been shooting it how he feels is adequate this year. I feel like he's been shooting it OK, but he knows he can shoot it much better. He put some of that on display."
Antwon Jackson added eight points and eight rebounds for Clark, which used nine players for significant minutes in the first half.
"That's something I learned from the (Bishop) Gorman game, that we're not going to be able to get it done with six, seven guys," Darfour said. "It's going to take us eight, nine, possibly 10 guys."
Mauricio Smith led Foothill with 11 points and five rebounds, and Marvin Coleman added 10 points, eight rebounds and four assists for the Falcons (23-10).
Clark led 19-11 after a bucket by Wilson with 7:40 to go in the first half before Foothill responded with an 8-2 run capped by a 3-pointer by Smith from the right corner. The Falcons took a 28-26 lead on a 3-pointer by Jace Roquemore with 1:06 to go in the half, but Clark scored the final three points of the half and didn't trail again.
Box score: