DIVISION I-A BOYS: Jackson's slick play keeps Clark on roll
February 21, 2015 - 11:48 pm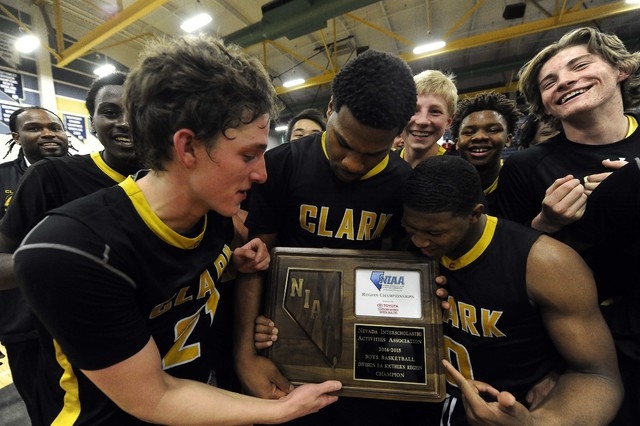 Clark's boys basketball team put the ball in the hands of senior point guard Colby Jackson at the end of the third quarter on Saturday at Spring Valley.
And Jackson made a play that turned the game in the Chargers' favor, dishing to forward Ty'Rek Wells for a dunk that put the Chargers ahead for good, as they topped Desert Pines 56-51 for the Division I-A Southern Region title.
"That was a momentum changer," Jackson said. "We changed the tempo of the game. And it got everybody hyped up."
Clark (21-8) held for a final shot in the quarter, and got the ball to Jackson near midcourt with less than 10 seconds to go. He drove to his left, drew the defense and dropped a pass to Wells who was cutting from the right corner. Wells threw down an emphatic dunk to put Clark up 41-40, and the Chargers wouldn't trail again.
"You want a bucket no matter what, but we certainly don't want them getting the ball back," Clark coach Chad Beeten said of the decision to hold for one shot. "Then you get a dunk like that, just a breakdown play, it gives you all the momentum going into the fourth quarter. They're kids, man, so that hype and energy goes a long way."
The Chargers don't have much size, but got big efforts in the second half from the closest things they have to big men. Wells, a 6-foot-3-inch senior, scored 10 of his 13 points in the second half, and 6-4 junior Darius Jackson scored all eight of his points after halftime.
Desert Pines' Coby Myles scored eight points in the first 3:45 of the third quarter, and the Jaguars (21-9) led 38-32 after a drive by Jordan Simon with 4:27 left to go in the third quarter.
But Darius Jackson scored on a tip-in, then hit a 12-foot jumper to help start the comeback for Clark.
"Earlier in the third we kind of played a little bit tentatively on offense," Beeten said. "And they were hitting some shots and (we) kind of got out of our flow a little bit."
Colby Jackson finished with a game-high 19 points, and added five rebounds, six assists and three steals.
He missed the front end of two one-and-one opportunities in the final minute, but knocked down two free throws with one second left to seal the win.
"It was a big reliever, because I hardly ever miss free throws down the stretch," Colby Jackson said. "But I missed two front ends of one-and-ones, which I should have made. Making that last one, it felt really good, because it closed the game out."
Carter Olsen added 12 points, all in the first half for Clark, which faces Lowry in the I-A state semifinals on Friday.
Myles had 18 points for Desert Pines. Capri Uzan scored 12, and Trevon Abdullah had 13 rebounds for the Jaguars, who also advance to state and will face Northern champion Elko in the semifinals.
"At the end of the day, this is the Southern Region championship and everybody's goal in the beginning of the season is to win a state championship," Beeten said. "I'm sure Desert Pines is the same as well. They're probably going back there and saying, 'Listen, we've got one more shot next weekend and we're not done.' We're happy, but we're not satisfied."
Box score: