DIVISION I BOYS: Loss of key player doesn't derail Pioneers' state goals
February 20, 2013 - 7:39 pm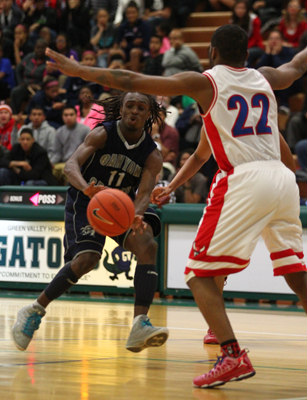 It would have been easy for the Canyon Springs boys basketball team to shut down in mid-January.
The Pioneers were 11-8, and grades had just shelved their highest-profile player, point guard Shaquile Carr, for the season.
But instead of packing it in, the Pioneers came together.
They won seven of nine games down the stretch, captured the Division I Sunrise Region title and will play Centennial (22-9) in the Division I state semifinals at 8 p.m. Thursday at Orleans Arena. Bishop Gorman (27-3) plays Hug (23-6) in the other semifinal at 4:40.
"We lost one of our point guards, and they knew they had to step up without Shaquile," Canyon Springs coach Freddie Banks said. "They have to go ahead and just do what they're supposed to do."
Carr, ranked No. 78 among the nation's juniors by rivals.com, hasn't played since Jan. 11.
But after losing their first game without him, the Pioneers (18-10) have won seven of eight and seem to be on a roll heading into the state tournament.
"It actually made all of us have to step up so we have to play harder," senior guard Chris Swanson said. "Everybody has to step up and play a huge role. And we actually did it."
Banks said Carr has accepted his fate after not getting the required grade point average.
"Shaq is a good kid; he's a 3.0 or 3.5 (GPA) student, but he's kind of lazy," Banks said. "That's all kids. They're lazy, and they don't want to do the most important thing, and that's schoolwork. He understands now that he cannot sit back thinking everyone is going to feel sorry for him."
Swanson and the team's other senior, post player Tim Straghter, said defense has played a key role in the team's surge. Canyon Springs has allowed an average of 51.3 points in the past eight games.
"Our coach, he pushes us hard playing defense," Swanson said. "We've been playing defense excellent these last six games. Everybody came together as a team, and our young cats, they're really stepping up. Our sophomore, Jordan (Davis), he's been awesome."
Davis spent almost the entire regular season on the team's junior varsity but has stepped into a key role without Carr. Davis got his first taste of varsity action in the final regular-season game and scored 19 points in a 62-57 victory over Valley. He's averaged 17.8 points in his four varsity games and scored 27 in an 81-74 win over Valley in the Sunrise final.
"That kid's going to be great," Banks said. "Everyone kept asking why I didn't put him at varsity right away. My thing is, varsity level and JV are two different leagues. You have to be mature when you're playing varsity. They're bigger, they're faster and they're stronger. I just wanted him to get a lot of reps playing JV and tearing that up like he did and then come up here and be ready to go."
Straghter could be a key if the Pioneers are going to make a run for the title. The 6-foot-6-inch senior moved to Las Vegas from Georgia this year.
"Tim's starting to play basketball now," Banks said of Straghter, who had 19 points and 14 rebounds in the region title game. "He's starting to rebound and starting to block shots. And when he doesn't do things that I ask him to do, then I look at him with a mean face. And that's when he starts to pick it up. Because there's guys on the bench that want to play. If you can't do what I ask you to do, then you can't play."
Centennial features high-scoring twin guards Marcus and Malcolm Allen, who combined for 59 points in the Bulldogs' 82-69 victory over Valley in the state play-in game.
"They're a great matchup for us," Banks said. "They've got small guards that play hard. We've got small guards that play hard. It's going to be a great game."
Straghter said his team is focused on the chance to go out with a title.
"We work hard, and we just put it all on the line," Straghter said. "The time is now."