DIVISION III BOYS: Agassi Prep holds off late rally to win second straight title
February 28, 2015 - 11:54 pm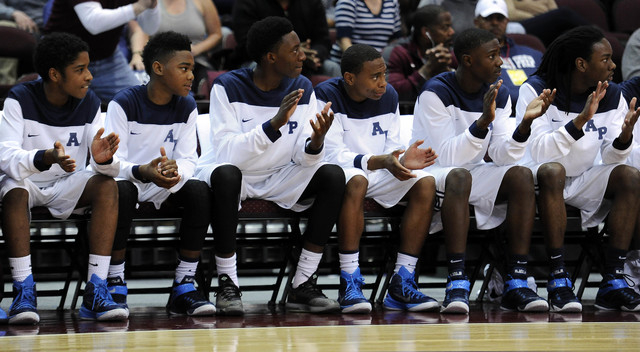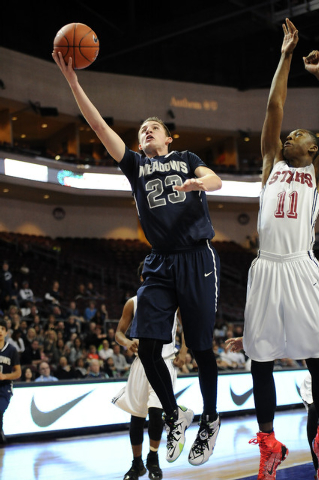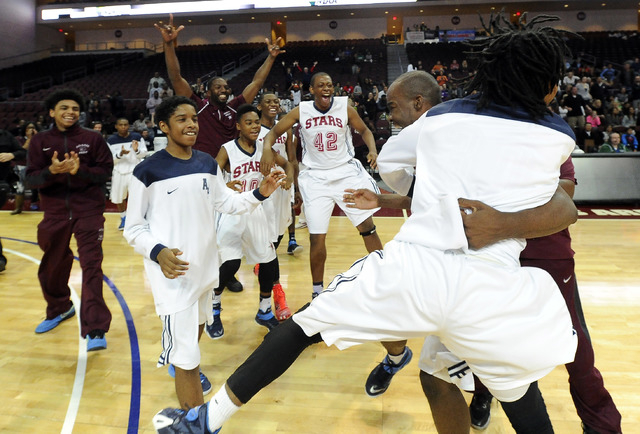 With its seemingly insurmountable lead fading away and its star player having already fouled out of the game Saturday night, Agassi Prep's boys basketball team needed someone to save its perfect season.
Dennis Walker found the starring role to his liking.
The senior forward went 4-for-4 from the field and grabbed 11 rebounds, including four in the fourth quarter, to lead the Stars to a 57-48 win over The Meadows in the Division III state final at Orleans Arena.
Agassi Prep (26-0) won its 45th straight game and captured its second consecutive state title in the process.
"Dennis is a worker. He won this game by dominating the boards when we got in foul trouble," Agassi Prep coach Trevor Diggs said. "He does not stop working."
The Stars appeared to be on their way to an easy win, leading 43-23 after Deishuan Booker scored on an inbounds play with five minutes left in the third quarter.
But the Mustangs (18-9) responded with a 10-0 run, and Booker, the team's leading scorer at 27.7 points per game, picked up his fourth foul with 3:06 to go in the quarter.
When Booker fouled out with 2:47 left in the game, the Mustangs started a 6-0 run that cut the gap to 54-48 with 35 seconds left.
Walker, who finished with nine points, made sure The Meadows got no closer, clogging up the middle and grabbing four rebounds in the final two minutes.
"We all knew our roles," said Walker, who picked up his fourth foul with 5:32 left. "My teammates trusted me at the end of the game. My coach trusted me. I had to play through foul trouble and still contribute for my team."
Booker had 13 points for Agassi Prep, but didn't take a shot in the fourth quarter.
"He got in foul trouble early, and they played great defense against him," Diggs said. "It wasn't an easy game for him. He had to work for everything."
Jordan Smith came off the bench to score 10 points. Kobe Williams and Walker each had nine points.
"We had to understand that we could win without Deishuan if we had to," Walker said.
Jake Epstein had 18 points for The Meadows, which had starters Max Hisatake and Ethan Fridman foul out. Asheesh Chopra had 11 points for the Mustangs.
"We dug ourselves too deep of a hole," The Meadows coach Gary Hannig said. "We worked hard, and our kids competed. We did everything we wanted to do defensively. We wanted a game in the 50s. We just came up short."
Agassi Prep won its third state title overall and hasn't lost since Jan. 4, 2014.
"We just stayed level-headed," Walker said. "We understood what we were doing was rare and that it doesn't come easy. Our coach doesn't care about our record. He cares that we're developing, and that's what keeps us humble."
Contact reporter Bartt Davis at bdavis@reviewjournal.com or 702-387-5230.
Box score:
Agassi Prep 57, The Meadows 48