Findlay Prep standout, UNLV target in no rush to pick college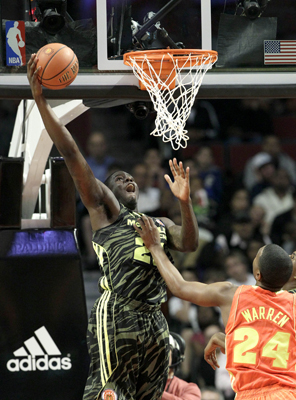 CHICAGO — Anthony Bennett isn't one to hurry many bad shots on the basketball court.
Findlay Prep's senior power forward also is patient with the recruiting process.
Bennett, one of UNLV's top recruiting targets, said Wednesday night after playing in the McDonald's All-American Game at the United Center that he might wait until deep in the spring to sign a national letter of intent.
"Probably the beginning of May," Bennett said. "I'm not sure. Hopefully it'll be done by then."
Bennett, from Brampton, Ontario, said he is considering scholarship offers from Florida, Kentucky, Oregon and Washington, as well as UNLV. The spring signing period runs from April 11 to May 16.
The 6-foot-8-inch, 230-pound Bennett has emerged as a primary target for UNLV, especially after Bishop Gorman senior wing Shabazz Muhammad said Wednesday that he has trimmed his finalists to UCLA, Kentucky and Duke.
Bennett said he doesn't have a leader at this point.
"To be honest, all of them, they all have great coaching staffs. I know a player from each team," Bennett said.
UNLV has an ally recruiting Bennett in freshman post player Khem Birch, a Pittsburgh transfer who, like Bennett, is a native of Canada.
"I talk to (Birch) every now and then. We went out to eat, just talked about the situation, and he sounded like he liked it a lot," Bennett said.
Bennett called it "really important" to take his time on choosing a college until the carousel of coaching changes and players transferring or entering the NBA Draft slows down.
"UConn, all that situation, how they can't play next year in the (NCAA) Tournament, it's affecting a lot of people there," Bennett said. "I think they're trying to transfer. So I think it's really important for me to just settle down and take things easy, see how they play out."
Bennett missed 19 regular-season games with a hamstring injury, but it has healed. He had nine points and six rebounds to help the West team to a 106-102 victory over the East in Wednesday's McDonald's game.
Rivals.com ranks Bennett the nation's No. 7 player, regardless of position, in the 2012 class.