Findlay Prep's Wood shows off 'unique' versatility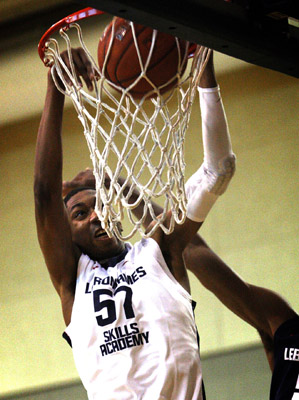 Jerome Williams carved out a nine-year career as a blue-collar power forward in the NBA.
So the player nicknamed "Junkyard Dog" for his toughness and rebounding knows a thing or two about NBA talent. Now serving as director of player development for Findlay Prep, Williams sees some of that potential in one of the Pilots.
That would be Chris Wood, who will be a senior forward for the Pilots next season. Wood, who has committed to UNLV, has a rare shooting touch for a player with a 6-foot-10-inch frame.
"It's very unique. That's NBA potential," Williams said. "But a lot of guys have to put together the total package, and he's no different. If he puts together the total package with his work ethic, the sky is the limit."
Wood is honing his skills this week in the LeBron James Skills Academy at Rancho, where he has been one of the camp's most intriguing prospects.
Wood said he was about 6-8 and 180 pounds when he made an oral commitment to UNLV last July. Now 6-10 and 205 pounds, Wood has risen to No. 35 in Rivals.com's overall rankings for the class of 2013.
"He is 6-10 and maybe a little more," Pilots coach Michael Peck said. "For the things that he can do at that size, let me tell you, I stand next to him and I'm more impressed."
Wood has a 7-2 wingspan, and his blend of post size and perimeter skills has created a buzz among Rebels fans.
Will Wood fit as a small forward? On the low block? At shooting guard? If he continues to bulk up, the answer may be all of the above.
"I want to get stronger, I want to get bigger," Wood said. "If I can play multiple positions, that's the thing I want to do. I want to be able to play the two, three, four, five (spots). It doesn't matter."
Wood came off the bench with seven points, five rebounds and two blocks in his second game Sunday for Team Florida, which lost 92-87 to Team Syracuse. Team Florida fell 107-77 to Team Michigan State earlier Sunday.
Wood flashed his talent during the game against Team Syracuse with a 3-pointer from the right corner and a thunderous two-handed dunk late in the first half.
After transferring from Knight High in Palmdale, Calif., Wood played sparingly for Findlay Prep as a junior. The Pilots capped a 32-1 season with their third National High School Invitational title in four years, and Wood is driven to be a bigger part of their success.
"This summer's been great," he said. "I've been working on my off-the-dribble game, driving to the basket and trying to get stronger."
Wood has represented the Rebels' future at the event, but UNLV's present also had a positive showing.
UNLV junior Mike Moser was one of less than 30 college players invited to the camp, and the 6-8 forward felt good about displaying his talents for NBA scouts.
Moser flirted with the idea of entering the NBA Draft after his rebound-gobbling breakout season last year, but opted to return to UNLV.
"Every time I come to these camps, I just try to be as competitive as possible, really just be aggressive and go at guys," Moser said. "This is the best weekend to compete and get better. I really just wanted to take advantage of that."
NOTES — Several members of the U.S. Olympic men's basketball team, including James, watched from the baseline during afternoon high school games. … College workouts have wrapped, but the event continues Monday with the final rounds of high school games. The title game is set for 8 p.m. Monday. The event is not open to the public.