FOOTHILL CLASSIC: Echols, Foothill boys stand tallest as hosts win holiday tournament
January 5, 2013 - 12:05 am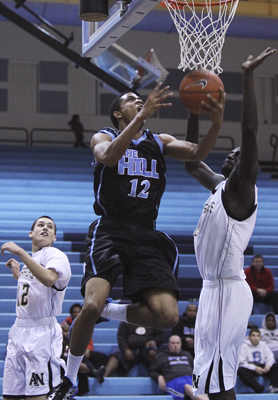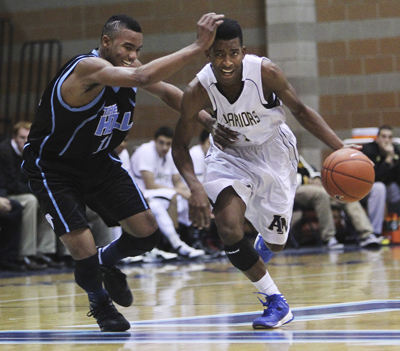 On paper, Foothill's boys basketball team was facing a monumental mismatch inside on Friday night.
But on the court, the Falcons turned it to their advantage.
Chris Echols scored 21 points despite giving up 8 inches inside, and the Falcons defeated visiting Army-Navy (Calif.) 62-55 to win the Foothill Holiday Classic.
The 6-foot-5-inch Echols was going up against 7-1 Cheikh N'Diaye. But Foothill coach Kevin Soares got Echols the ball on the perimeter and let the senior attack the basket off the dribble.
"We noticed in prior games that (N'Diaye) wouldn't come out and guard whoever he was guarding," Soares said. "And Chris can handle the ball just a little bit. He did a pretty good job tonight. We just wanted to pull (N'Diaye) away from the basket and try to go by him."
That offensive strategy worked, and the Falcons also did a good job on the defensive side of the ball against N'Diaye, who has signed with Oregon State.
N'Diaye was 2-for-9 from the field and finished with six points. He had 13 rebounds and four blocked shots.
"We played some defense, especially against the big guy," Soares said. "He's a load down there. You don't see too many 7-footers in town, so you have to adjust throughout the game, and I thought we did a pretty good job tonight."
Senior guard Elijah Smith did an outstanding job against Army-Navy point guard Devin Watson. Watson had scored 81 points in the Warriors' two previous games. Smith held him to 21, and Watson also turned the ball over nine times.
"Elijah's probably one of the best defenders in town, and he took on the challenge tonight of guarding a guy that put up 40 points in consecutive nights," Soares said. "Kudos to him for stepping up to the challenge."
Foothill junior guard Austin Starr was 3-for-12 on 3-pointers, but two of those came just when the Falcons needed them the most. Soares challenged Starr, yelling out that he had "to make a jump shot sometime."
Starr responded by knocking down back-to-back 3-pointers, the second one a long trey from the right wing that gave Foothill a 35-34 lead with 13:34 to play.
"He's got to become more consistent," Soares said. "He made two big 3s when we needed them to give us a little momentum."
Smith added 13 points, Starr had 11 points and six rebounds, and Taylor Mongtomery had nine rebounds for Foothill (13-3). Starr was the tournament's Most Valuable Player.
The Falcons won their 10th consecutive game, and the team did it without last year's leading scorer, Brannon Cresanto, who didn't play in the tournament because of a leg injury.
"It was a total team effort tonight," Soares said. "Basketball's a team spot. And we won this championship as a team."
Denver East 83, Green Valley 44 – Dominique Collier had 22 points as the Angels routed the Gators for third place in the Gold Division.
Brian Carey added 15 points and eight assists for Denver East, which was 20-for-29 (69 percent) from the field in the first half to take a 47-25 lead.
Troy Cropper had 16 points and seven rebounds to lead the Gators.
Desert Pines 53, Redemption Christian (N.Y.) 42 – Julian Jacobs had 12 points, seven rebounds, six assists and three steals as the Jaguars beat the Lions for fourth place.
Donavin Wright and Re'meake Keith each added 10 points for Desert Pines, which turned 20 Redemption turnovers into 19 points.
Trevion Turner had just four points, but his runner with 4:42 to go in the first half gave the Jaguars a 20-19 lead, and they wouldn't trail again.
Angel Delgado had 16 points and six rebounds to pace the Lions.
Canyon Springs 67, Arbor View 56 –
Shaquile Carr had 18 points, seven rebounds, five steals and four assists as the Pioneers beat the Aggies to finish fifth.
Chris Swanson added 17 points, and Nick Roberson had 11 points and six rebounds for Canyon Springs, which used a 9-0 run late in the first half to take control.
Justin Burks had 17 points, 10 rebounds and three blocked shots for Arbor View, which got as close as five on a 3-pointer by Navonte Hill with 1:29 to play that cut the lead to 59-54.
Terrell Butler added 14 points and six rebounds for the Aggies, and Hill scored 13.
Basic 63, Las Vegas 55 – Isaiah Villaros had 17 points, six rebounds and three assists to lead the Wolves over the Wildcats in a consolation game.
Antraye Johnson and Jaylen Rose each added 10 points for Basic.
James Robinson led Las Vegas with 12 points, and teammate Devon Colley scored 11. Aziz Leeks had 13 rebounds for the Wildcats.
Palo Verde 59, Shadow Ridge 51 – Eris Winder had 22 points to help the Panthers top the Mustangs in a consolation game.
Joey Randazzo added 14 points for Palo Verde, which led 28-20 at the half.
Kealyn Butler had 21 points and eight rebounds for Shadow Ridge.
Valley 79, Liberty 67 – Spencer Mathis had 20 points and five assists as the Vikings topped the Patriots in a consolation game.
Daniel Young added 18 points, 10 rebounds and three blocked shots, and Eric Burrell had 12 points and seven rebounds for Valley, which led 35-27 at the half. Cameron Burton had eight points and nine assists for the Vikings.
Tyler Newman hit four 3-pointers and scored 18 points to pace Liberty, which got 17 points from Jeremy Lontayao.
Centennial 82, Coronado 57 – Marcus Allen had 32 points and six rebounds to lead the Bulldogs over the Cougars in a consolation game.
Malcolm Allen added 14 points for Centennial, which led 42-23 at the half.
Jordan Willis led Coronado with 12 points.
WHITE DIVISION
Chaparral 64, Valhalla (Calif.) 51 – Patrick Savoy scored 14 of his 18 points in the first half to help the Cowboys beat the Norsemen for third place in the White Division.
Savoy added nine rebounds and three assists.
Kamron Alexander added 12 points and three blocked shots for Chaparral, and teammate Tyree McNeal had 11 points and seven rebounds.
Kevin Mills led Valhalla with 14 points.
Bonanza 44, Del Sol 37 – Cameron Ladson had 16 points and 13 rebounds as the Bengals beat the Dragons.
Tyrone Rouse paced Del Sol with 13 points.