FOOTHILL HOLIDAY CLASSIC: Dressler, Panthers roll past Wolves from start
December 20, 2014 - 1:06 am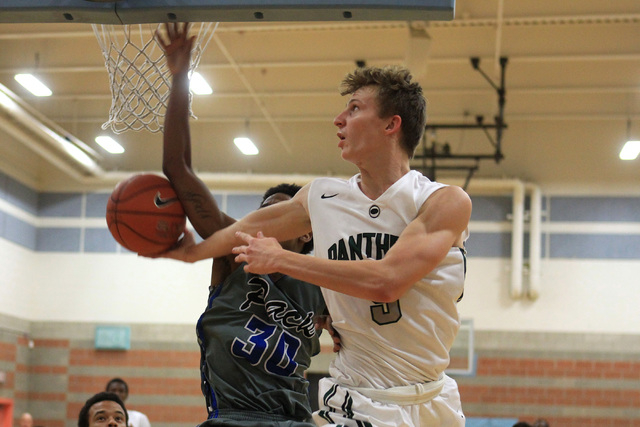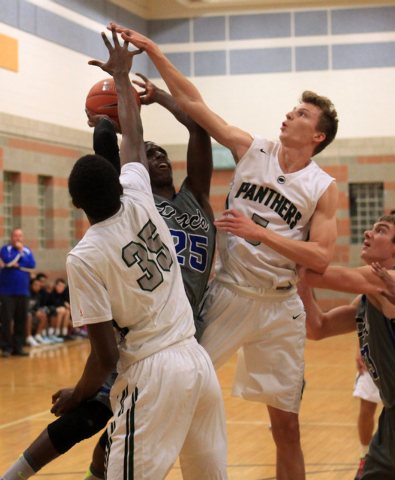 Palo Verde's boys basketball team already had played two games this week, so coach Paul Sanchez was a bit apprehensive about his team heading into its opener in the Foothill Holiday Classic on Friday.
He needn't have worried.
The Panthers opened the game on an 8-0 run and rolled to a 78-37 win over Basic in the tournament's Gold Division.
"I was concerned; this was our third game of the week," Sanchez said. "So I was concerned about our legs and energy. Once we got warmed up and started doing what we're supposed to do. … I was real pleased we were able to get out, run and do what we're supposed to do."
The Panthers forced 16 first-half turnovers and turned them into 16 points as they raced to a 44-16 halftime lead.
Grant Dressler, a 6-foot-7-inch senior forward, scored 16 of his game-high 22 points in the first half for the Panthers.
He finished with 22 points and seven rebounds before heading to the bench for good with 11:29 remaining. Dressler has become one of the team's go-to scorers after spending his junior year more as a role player.
"He had a great summer," Sanchez said. "I think he really realizes how good he can be. He can still get better, but it's nice to see him take advantage of his skills and use them and not be bashful about it. He's working hard, and he's working harder to get better."
Sanchez said one of the main areas Dressler has improved is in the energy he brings to the court.
"His work ethic has gotten better," Sanchez said. "We always knew he had the offensive skills, but his defensive skills have picked up and he's excited about playing."
Dressler shot 6-for-11 from the field and 3-for-5 on 3-pointers. He made 7 of 8 free throws.
Ja Morgan added 15 points, six rebounds, four assists and four steals for Palo Verde, and teammate Taylor Miller scored 11.
Sanchez said he thinks his team is beginning to play to its potential. The Panthers, who lost 87-85 to second-ranked Centennial on Tuesday, improved their record to 7-4. He said the team's fall practice was hindered by injuries and because three key players were on the football team.
"We are coming together," Sanchez said. "We've got a nice group of kids. They play well with each other, they like each other, and it's fun to watch them."
Robert Sutton scored 11 points to lead Basic, which struggled offensively for the second consecutive night. The Wolves, who scored 90 points earlier this season against Legacy, were held to 19 on Thursday against Valley.
Contact prep sports editor Damon Seiters at dseiters@reviewjournal.com or 702-380-4587. Follow him on Twitter: @DamonSeiters.
Legacy 65, Silverado 43 — At Foothill, the Longhorns opened the second half on an 11-0 run and rolled past the Skyhawks in the Gold Division.
Shakir Arrey had 17 points and 12 rebounds, and Brody Olenslager had 15 points, 16 rebounds and five blocked shots to lead Legacy, which led 26-24 at the half.
Nicholas Jackson had 16 points, five rebounds and two blocked shots to lead Silverado, which got 10 points from Michael Larson.
National Prep (Ga.) 53, Legacy 47 — At Foothill, Jeremy Nixon scored 23 points as the Rebels held off the Longhorns in the Gold Division.
Raimond Tribuntsov added 15 points for National Prep, which led 22-21 at the half.
Arrey had 13 points and nine rebounds to lead Legacy. Anthony Boone notched 12 points and 10 rebounds, and Olenslager added 10 points, six rebounds and two blocks.
Valley 68, Denver East 62 — At Foothill, Cameron Burton had 21 points as the Vikings held off the Angels in the Gold Division to remain undefeated.
Nick Brannon added 16 points, and Darrion Daniels scored 13 for Valley.
Deron Harrell led Denver East with 22 points.
Foothill 56, National Prep (Ga.) 47 — At Foothill, Torrance Littles scored 25 points to lead the Falcons over the Rebels in the Gold Division.
Osa Wilson led National Prep with 12 points.
Foothill 80, Silverado 30 — At Foothill, Colin Curi scored 22 points as the Falcons routed the Skyhawks in the Gold Division.
Te'Vion Reed added 16 points, and Littles scored 12 for Foothill.
Jackon had nine points for Silverado.
Cimarron-Memorial 69, Southern Australia 1 22 — At Del Sol, Jeremiah Broussard scored 18 points to help the Spartans cruise to a first-round victory in the White Division.
Jadon Brown had 12 points to help Cimarron, which pulled away early in the second half. Teammate Deondrick Nicholson added nine points.
Arbor View 58, Mt. Miguel (Calif.) 32 — At Del Sol, Trent Hunt scored 22 points to lead the Aggies past the Matadors in the White Division.
Jesse Vogel scored 10 points for Arbor View, which outscored Mt. Miguel 32-15 in the second half.
Valhalla (Calif.) 59, Del Sol 54 — At Del Sol, Cole Henderson scored 13 points to help the Norsemen edge the Dragons in the White Division.
Rashaun Lawson scored 14 points, and Jared Moreda scored 11 to lead Del Sol.
Rancho 46, Spring Valley 34 — At Del Sol, David McKeever and Ciriman Keita scored 12 points apiece to lead the Rams past the Grizzlies in the White Division.
Lamont Traylor added 11 points for Rancho.
Samuel Menghisteab led Spring Valley with seven points.
Green Valley 81, Southern Australia 2 21 — At Del Sol, Brandon Burke and Romello Jones each scored 15 points to help the Gators roll to a victory in the White Division.
Dylan Trejo added 10 points for Green Valley, which took control early en route to a 52-11 halftime lead.
Shadow Ridge 74, Eldorado 60 — At Del Sol, Jerell Springer scored 25 points to help the Mustangs rally past the Sundevils in the White Division.
Preston Echols had 20 points to help Shadow Ridge, which trailed 40-32 at halftime. Teammate Brian Freeman added 15 points.
Carl Crayon led Eldorado with 21 points.
Chaparral 65, Western 42 — At Del Sol, Marc Silas scored 15 points to help the Cowboys beat the Warriors in the White Division.
Edgar Ramirez added 12 points for Chaparral.
Desert Oasis 75, Granite Hills (Calif.) 30 — At Del Sol, Drevin Cannon scored 19 points to help the Diamondbacks get an easy victory in the White Division.
Rodrick Moore scored 13 points, and Aamondae Coleman added 12 points for Desert Oasis, which got 10 points from Andrue Aguilera.
Box scores:
Arbor View 58, Mount Miguel (Calif.) 32
Cimarron-Memorial 69, Southern Australia 22
Desert Oasis 75, Granite Hills (Calif.) 30
Foothill 56, National Prep (Ga.) 47
Green Valley 81, Southern Australia 21
National Prep (Ga.) 53, Legacy 47
Valhalla (Calif.) 59, Del Sol 54