FOOTHILL HOLIDAY CLASSIC: Falcons show inexperience, fall in title game
December 22, 2014 - 11:45 pm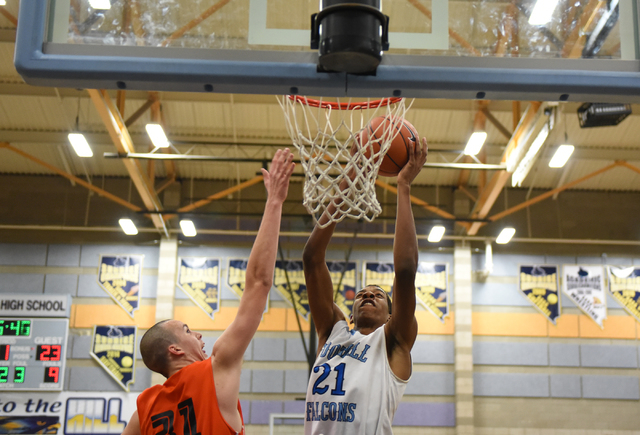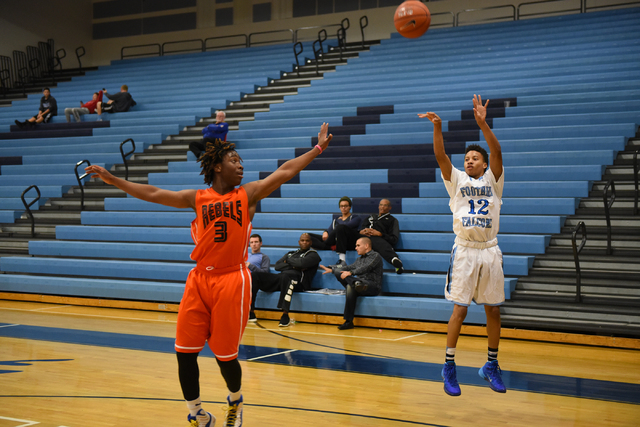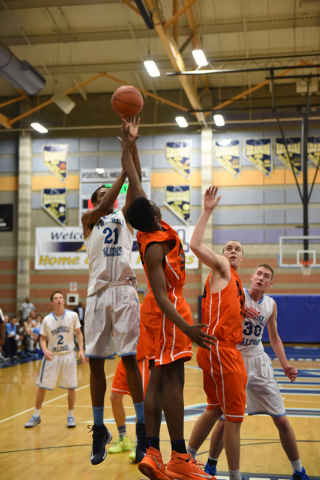 It's not often that a team that loses in the semifinals finds a way to win a tournament.
But when ThunderRidge (Colo.) couldn't play in the championship game of the Foothill Holiday Classic because it had reached its game limit, National Prep (Ga.) got a second chance. And the Rebels forced 27 turnovers Monday on the way to a 65-54 win over Foothill for the Gold Division title.
"Our inexperience showed, finally," Foothill coach Kevin Soares said. "It was the last game, unfortunately, but we're going to learn from it and get better."
Foothill led 35-29 at the half and held a 42-40 advantage after a Colin Curi basket with 11:03 remaining.
But that was the last time the Falcons would lead. Yahaya Sedibeh's follow slam with 10:33 to go tied the game and sparked an 11-2 run that helped the Rebels take over for good.
National Prep forced 15 second-half turnovers and scored 21 points off turnovers in the game.
"We've just got to do a better job of taking care of the ball," Soares said.
Darius Simmons scored all 16 of his points in the second half for National Prep, which lost 62-47 to ThunderRidge in the semifinals.
The Falcons pulled within five several times in the final seven minutes but could get no closer. The last time was on a drive by Kevin Woodland with 3:00 to play that cut the Rebels' lead to 59-54.
The Falcons wouldn't score again.
"Our whole goal is to win a regional title and hopefully make the state tournament," Soares said. "Losing this championship, yeah it sucks, but I tell you what, if it's going to benefit us down the stretch, we'll take it."
Gold Division Most Valuable Player Raimond Tribuntsov added 12 points and four assists for the Rebels.
Torrance Littles led the Falcons with 16 points, 11 rebounds and three blocked shots. The 6-foot, 7-inch senior fouled out with 1:57 to play.
Ryan Rapp hit four 3-pointers and scored 12 points, and Woodland added 10 points, seven rebounds and seven assists for Foothill. The Falcons were 6 for 15 on 3-pointers after making just 10 3-pointers in their first five games.
"We're going to need it, because we've got an inside game this year, finally," Soares said of the perimeter shooting. "So people are going to start keying on Torrance a little bit more, and our perimeter guys are going to have to be able to knock down 3s."
Foothill 73, Redemption Christian (N.Y.) 66 — Littles had 26 points, nine rebounds, eight blocked shots and three steals as the Falcons rallied for the semifinal win.
Redemption scored the first 12 points of the game and led until Rapp's 3-pointer from the left corner with 2:32 to play gave Foothill its first lead, 63-62.
The Falcons didn't hit a field goal until Curi's 15-footer from the baseline with 10:56 to go in the first half.
Jeron Bodin had 15 points, and Rapp scored 12 for the Falcons, who got 10 points from Curi.
Te'Vion Reed had six rebounds for Foothill.
Palo Verde 69, Silverado 58 — Grant Dressler had 21 points and seven rebounds as the Panthers beat the Skyhawks.
Palo Verde's Taylor Miller had 18 points, and teammate Ja Morgan added 10 points, seven rebounds and five assists.
Silverado's Michael Larson led all scorers with 26 points. Matthew Arnold added 10 points for the Skyhawks, and teammate Nicholas Jackson had nine rebounds.
Basic 61, Legacy Charter (S.C.) 59 — Jared Meacham had 23 points to help the Wolves hold off the Lions.
Jaimen Williams and Robert Sutton each added 12 points for Basic.
Mohamed Touray led Legacy Charter with 26 points and eight rebounds.
Coolidge (D.C.) 61, Legacy 39 — Shakir Arrey scored 11 points in the Longhorns' loss to the Colts.
Brody Olenslager had nine points, and Donte Avery scored eight for Legacy.
Justin Route had 16 points to lead Coolidge.
WHITE DIVISION
Green Valley 59, Valhalla (Calif.) 57 — Xavier Jarvis hit two free throws with 5.6 seconds left in overtime to lift the Gators over the Norsemen in the White Division championship game.
Valhalla had a final chance, but Cole Henderson's 3-pointer from the right corner was no good at the buzzer.
Green Valley's Kevin Omojola hit 1 of 2 free throws with 18.6 seconds left in regulation to give the Gators a 49-47 lead.
But Henderson scored on a drive with five seconds to play to tie the game, and Jarvis missed a 3-pointer from the left wing at the buzzer, forcing overtime.
White Division MVP Romello Jones had 17 points and 11 rebounds to lead the Gators, and teammate Kris Nicholas scored 10.
Henderson had 22 points and 11 rebounds, and Jacob Hammett scored 18 for the Norsemen.
Del Sol 66, Granite Hills (Calif.) 43 — Brian Greer had 18 points as the Dragons rolled to the win in the consolation championship game.
JonRoss Juhas added 17 points, and Rashaun Lawson scored nine for Del Sol, which led 41-21 at the half.
Antonio Read led Granite Hills with 16 points.
Desert Oasis 70, Arbor View 65 — Rodrick Moore scored 20 points as the Diamondbacks topped the Aggies.
Aamondae Coleman added 12 points, and Kodi Leslie scored 10 for Desert Oasis.
Trent Hunt led Arbor View with 19 points. Quemaree Harris added 15 points, and Jesse Vogel scored 11 for the Aggies.
Chaparral 62, Cimarron-Memorial 43 — Marc Silas scored 16 points to lead the Cowboys over the Spartans.
Robin Rosales added 11 points for Chaparral.
Jaron Ponder and Jadon Brown each scored 10 for Cimarron.
Rancho 67, Shadow Ridge 59 — Kenneth Smith had 21 points and six rebounds, and the Rams rallied to beat the Mustangs.
Ciriman Keita's fastbreak bucket with 4:47 to play gave the Rams a 55-54 lead, and they didn't trail again.
Michael Hernandez had 14 points and seven rebounds, and Chrys Jackson had 13 points and five assists for Rancho, which got 11 points and 13 rebounds from Lamont Traylor.
Preston Echols led Shadow Ridge with 24 points and 13 rebounds. Jerrell Springer added 15 points and eight rebounds for the Mustangs, and teammate Brett Meci had 10 points.
Mount Miguel (Calif.) 54, Eldorado 42 — Donnell Payne scored 24 points to help the Matadors beat the Sundevils.
Carl Crayon paced Eldorado with 13 points.
Box scores:
Basic 61, Legacy Charter (S.C.) 59
Chaparral 62, Cimarron-Memorial 43
Del Sol 66, Granite Hills (Calif.) 43
Desert Oasis 70, Arbor View 65
Foothill 73, Redemption Christian (N.Y.) 66
Green Valley 59, Valhalla (Calif.) 57
Mount Miguel (Calif.) 54, Eldorado 42
National Prep (Ga.) 65, Foothill 54